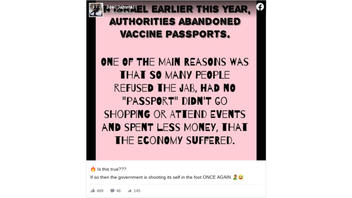 Did Israel get rid of its version of a vaccine passport because not enough citizens want to get the vaccine? No, that's not true: Israel got rid of Green and Purple Badges program because the number of COVID-19 infections decreased in their country.
The story originated from a Facebook post (archived here) where it was published on June 9, 2021, with the caption "🔥 Is this true??? If so then the government is shooting its self in the foot ONCE AGAIN 🤦🏽‍♂️😅". It opened:
In Israel earlier this year, authorities abandoned vaccine passports. One of the main reasons was that so many people refused the jab, had no "passport" didn't go shopping or attend events and spent less money, that the economy suffered.
This is what the post looked like on Facebook at the time of writing:
(Source: Facebook screenshot taken on Fri Jun 11 17:01:49 2021 UTC)
On May 23, 2021, Israel's Ministry of Health released a statement about lifting all COVID-19 restrictions. The health minister, Yuli (Yoel) Edelstein said, "Israel returns to normal life, but stays alert." The press release lists statistics as of May 23 that are indicative of Israel's progression through the pandemic.
Daily infection rate: At the peak of infection there were over 10,000 patients per day; As of yesterday there were only 12.
Weekly infection rate; At the peak there were over 8,600 patients; As of yesterday there are only 27.
Patients in critical condition: At the peak there were 1,228; Today - 59.
Active cases: At the peak there were about 88,000; Today - 510.
Infection rate: At the peak we reached about 10% confirmed cases. Today we are at about 0.1%-0.2%.
Israel's Ministry of Health also released a press release on June 1, 2021, that the Green Pass and Purple Badge were "cancelled". Effective June 1, "it will no longer be required to present Green Pass or valid negative coronavirus test results." Cancellation of the Purple Badges, "means that there will no longer be any restrictions on gatherings or occupancy ratios."
A notice at the bottom of the page reads as follows:
Therefore, alongside the extensive reopening of the economy and the resumption of nearly completely normal day-to-day routine in Israel, it is a matter of utmost importance to follow the guideline and restrictions to the letter with all that pertains to entry and departure to and from Israel.