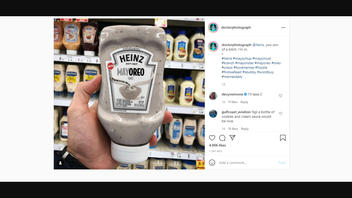 Did the Kraft Heinz Company release a condiment called Mayoreo, a mix of mayonnaise and Oreos? No, that's not true: The company confirmed that Mayoreo is not a real product and that a viral image of the product is Photoshopped.
The claim appeared in an Instagram post (archived here) published on June 23, 2021, by the account @doctorphotograph. The post features an image of a condiment attributed to Heinz called "Mayoreo." The caption reads:
@heinz, you son of a bitch. I'm in.
•
#heinz #mayochup #mayomust #kranch #mayonster #mayoreo #oreo #oreos #foodmemes #foodie #firstwefeast #sbubby #worstbuy #memesdaily
This is how the post looked on Instagram on June 25, 2021:
(Source: Instagram screenshot taken on Fri Jun 25 14:43:12 2021 UTC)
In an email to Lead Stories, Jenna Thornton, director for brand public relations and media in the U.S. at the Kraft Heinz Company, said:
This is a photoshopped image. We do not produce Mayoreo.
@doctorpotograph is known for creating and posting Photoshopped images for humor. Also, the account has created Photoshopped images of products attributed to Heinz and Oreo before, as shown in the embedded posts below:
(Source: Instagram screenshot taken on Fri Jun 25 14:46:59 2021 UTC)
(Source: Instagram screenshot taken on Fri Jun 25 14:47:52 2021 UTC)