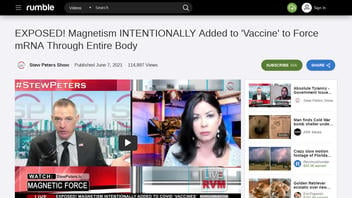 Did makers of the COVID-19 vaccine "intentionally" add a component in order to force mRNA into body parts -- a process called magnetofection -- which made vaccinated people magnetized? No, that's not true: While magnetofection is a real thing, this developing nanotechnology was not used in the production of the vaccines from Pfizer and Moderna. There is nothing in the vaccines that would make people magnetic.
The claims were presented in an interview with Jane Ruby on the Stew Peters Show. The video, "EXPOSED! Magnetism INTENTIONALLY Added to 'Vaccine' to Force mRNA Through Entire Body" (archived here), was posted on Rumble by the Stew Peters Show on June 7, 2021. The introductory caption reads:
Rumble -- BREAKING! Dr. Jane Ruby joined Stew Peters with a horrific revelation regarding the 'magnetism' videos circulating the world of social media in self-recorded videos of people sticking metal objects to themselves.

The CDC has said receiving the 'vaccine' will not make you magnetic, including at the site of 'vaccination' which is usually your arm.

Dr. Ruby says, "They're lying", and provided evidence in support of her claim, as well as a disturbing warning about the ingredients in the jab, directly from the source.
www.StewPeters.tv www.DrJaneRuby.com
Users on social media only saw this title, description and thumbnail:
BREAKING! Dr. Jane Ruby joined Stew Peters with a horrific revelation regarding the 'magnetism' videos circulating the world of social media in self-recorded videos of people sticking metal objects to
Ruby, currently president of her own health consulting firm (while she uses the title Dr., she is not an M.D.), provides no evidence to support her claim that the Centers for Disease Control and Prevention is lying that nothing in the vaccines could make a person magnetic. She also claims, without any evidence, a bioscience company's magnetofection product is in the vaccines.
The website of the Berlin company, chemicell, includes a disclaimer Ruby points to; saying the last sentence is "the frightening part":
The Magnetofection™ reagents and all of its components are developed, designed, intended and sold for research use only. They are not to be used for human diagnostic or any drug intended.
Stew Peters asks Ruby to clarify if this is in the vaccine. She responds at five minutes 27 seconds:
These components are what they use, Pfizer and Moderna at least -- used in their injections, in these vials.

This is why, people -- You have to get an informed consent. You must be given the ingredients of anything going into your body. And last but not least, just wait! We are learning more every day, Stew.
Pfizer and Moderna list their vaccine ingredients in fact sheets for recipients and caregivers. No magnetofection components from chemicell are listed in the ingredients:
WHAT ARE THE INGREDIENTS IN THE PFIZER-BIONTECH COVID-19 VACCINE?
The Pfizer-BioNTech COVID-19 Vaccine includes the following ingredients: mRNA, lipids ((4-hydroxybutyl)azanediyl)bis(hexane-6,1-diyl)bis(2-hexyldecanoate), 2 [(polyethylene glycol)-2000]-N,N-ditetradecylacetamide, 1,2-Distearoyl-sn-glycero-3- phosphocholine, and cholesterol), potassium chloride, monobasic potassium phosphate, sodium chloride, dibasic sodium phosphate dihydrate, and sucrose.

WHAT ARE THE INGREDIENTS IN THE MODERNA COVID-19 VACCINE?
The Moderna COVID-19 Vaccine contains the following ingredients: messenger ribonucleic acid (mRNA), lipids (SM-102, polyethylene glycol [PEG] 2000 dimyristoyl glycerol [DMG], cholesterol, and 1,2-distearoyl-sn-glycero-3-phosphocholine [DSPC]), tromethamine, tromethamine hydrochloride, acetic acid, sodium acetate trihydrate, and sucrose.
Ruby predicts that everyone who has been vaccinated, fully or partially, is "headed for disaster." She says at seven minutes 10 seconds:
While you may not have had an initial reaction that was any concern, you are headed for disaster. Please do not -- if you've gotten one, do not get a second one. If you have gotten the two-shot deal, do not get any boosters. This is going to get worse and worse and worse, and very soon, Stew.
Peters shares the graphic from the CDC website as he predicts that fact checkers might point to the CDC fact sheet that had already addressed this.

(Source: screenshot CDC.gov taken on Fri Jun 11 16:57:39 2021 UTC)
Lead Stories has reached out by email to the chemicell company in Germany for comment and will update as appropriate.