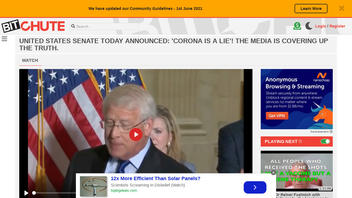 Does this video say that the Senate has declared "Corona is a lie" and the media are covering up the truth? No, that's not true: The Senate has made no such statement. Sen. Marsha Blackburn, R-Tenn., and four colleagues, shown in the video, can't speak for the entire Senate, plus they don't say "Corona is a lie" or "the media is covering up the truth" in the video.
The claims appeared in the headline and caption of a BitChute video (archived here) published June 12, 2021, on the "miguelba" account and titled "UNITED STATES SENATE TODAY ANNOUNCED: 'CORONA IS A LIE'! THE MEDIA IS COVERING UP THE TRUTH." The description underneath the video read:
It is official. The United States Senate today announced: 'Corona is a lie'! The media is covering up the truth. Big Pharma, Big Tech, Big Media, the WHO, and other traitors will be all held accountable. Share if you care
Users on social media saw only this title, description and thumbnail:
Caption Error #1: The five senators never say coronavirus is not real
The 15-minute video about the health threat posed by COVID-19 was shot at a June 10, 2021, press conference led by Blackburn and fellow Republican sens. Roger Marshall of Kansas, Mike Braun of Indiana, Ron Johnson of Wisconsin and Roger Wicker of Mississippi.
At 8 minutes, 17 seconds, Johnson emphasizes the reality of coronavirus by saying:
I held two hearings on early treatment. Dr. Peter McCullough laid out the four pillars of pandemic response. The first one is: try and stop the spread -- well, China is guilty of not doing that. The second pillar is early treatment; basically how we apply medicine to every other condition. Early detection, early treatment. Then in-hospital treatment, then vaccine. ... We've seen studies where 50 to 85% of lives could have been saved, prevents that much death. Apply that percentage to the 600,000 Americans that lost their lives. ... It's not too late. Lives can be saved. We are still going to need early treatment no matter how effective the vaccine is, no matter how effective immunity from having been infected is, other people will get infected, other people will need early treatment.
At 14 minutes, 49 seconds, Blackburn lists the number of people around the world who (at the time) have died due to coronavirus:
Now look, we've got 3½ million people that have lost their life -- three and a half million people.
Caption Error #2: The senators never say the media is "covering up" or blocking the truth
At 3 minutes, 53 seconds, Marshall explains how he concluded that "big tech" and national journalists are "suppressing" those who believed in the alleged Wuhan "lab-leak":
You know I was shocked as I went back and reviewed some of the letters that were written, but really what rose my suspicion was somewhere back in January of 2020 and the Chinese were saying that there was no person-to-person transmission. The WTO agreed and the CDC didn't stand up to him and that led for me to have a phone call with the CDC, and all the national journalists were reporting that the United States scientists were investigating this new novel virus and when I talked to the CDC they said, well, we've got scientists in Beijing but they're thousands of miles from Wuhan so we really don't have anything to tell you, and then the next thing I see is a letter signed by a group of scientists who have ignored even the possibility that this virus could have risen from the laboratory. They totally ignored it they threw out the scientific hypothesis that this was even feasible and didn't come to find out most of those scientists, if not all of them, were receiving some type of funding then and in the future from the NIH and our CDC sat there and nodded their head in agreement and then national journalists, big tech companies that they worked together to suppress this story. They worked together to censor those of us who thought that ... this virus may have originated there.
The senators merely infer that larger media companies have not done their due diligence in embracing the "lab-leak hypothesis." However, this claim is freely available on social media platforms. Moreover, mainstream media organizations, including the Washington Post (see report here) and Wall Street Journal (see report here), have, since May 2021, covered the lab leak theory as new evidence has been unearthed.