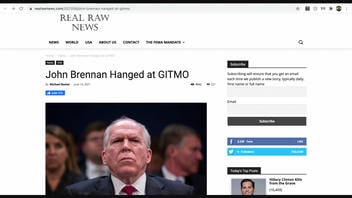 Has former CIA Director John Brennan been hanged at Guantanamo Bay? No, that's not true: A spokesperson at the Defense Department told Lead Stories that this is "completely false."
The claim appeared in an article published by Real Raw News on June 14, 2021, titled "John Brennan Hanged at GITMO" (archived here). Real Raw News has a disclaimer on their website to tell readers they are not a legitimate news source. The John Brennan article opens with this paragraph:
The psychopath John Brennan is no more. On Monday, June 7, Brennan shared Hillary Clinton's macabre fate--death by hanging after a military tribunal convicted him of murder and treason. Unlike Clinton, who remained steadfastly silent until the very moment the noose was slipped around her neck, a loudmouthed Brennan cussed out the guards who offered him a last meal, which he declined, berated his MP escort to gallows, and rebuked the small assembly of military and civilian personnel who had gathered near the Windward Point Lighthouse to witness his death.
Users on social media saw only this title and thumbnail at the time of writing: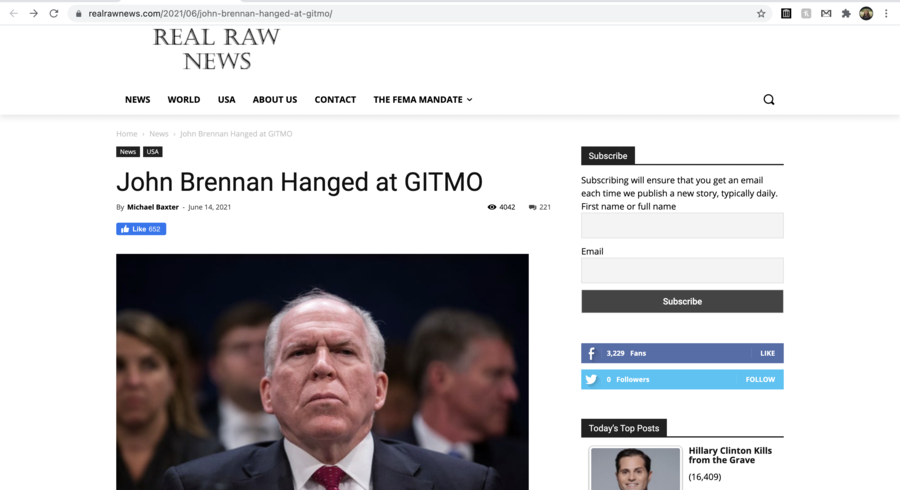 (Screenshot taken on Wed Jun 16 12:17:09 2021 UTC)
Websites similar to Real Raw News, like BeforeItsNews.com, RestoredRepublic.co and AmericasCivilWarRising.org, have also posted an article about this false claim.
The story continues:
In fact, Brennan had scarcely shut his mouth in the weeks between conviction and execution, said a GITMO source speaking on condition of anonymity. He told Real Raw News that Brennan availed himself of every opportunity to express contempt at the U.S. military and the citizenry. Brennan spent much of his incarceration deriding Donald J. Trump, calling him society's great mistake and a threat to national security. He said Trump ought to have been 'aborted.'
Former President Trump and Brennan often butted heads while working together during the Trump administration, as CNN and Politico, among others, reported.
Lead Stories reached out to both Guantanamo Bay and the Defense Department's Public Affairs offices on June 16, 2021, by phone and email, respectively.
A Defense Department spokesperson responded by email on June 16, 2021, that "This is completely false."
We will update accordingly if a spokesperson for Guantanamo Bay responds.
Lead Stories has debunked multiple stories about Real Raw News' fictional Hillary Clinton hanging, John Podesta execution and a James Comey arrest.