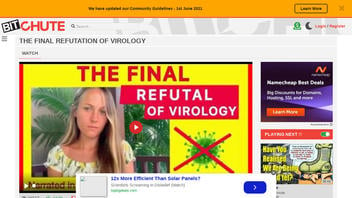 Does microbiologist Stefan Lanka prove that virology is not based on scientific methods? No, that's not true: The known conspiracy theorist and debunked anti-vaccination activist gives no evidence that an experiment "refutes the theory on which virology is built," and does not show proof that the COVID-19 virus does not exist.
The claim appeared as a video published on BitChute on June 3, 2021, titled "The Final Refutation of Virology" (archived here) which opened:
Hello dear friends! Today we talk about a very important historical event.
Users on social media only saw this title, description and thumbnail:
Mirror - Original Upload here: https://brandnewtube.com/watch/the-final-refutal-of-virology_qI429ODGLmoRotN.html The final refutal of virology. English version. Narrated in English by Heather Bruno ( [email protected] ) Dear friends, in thi...
The video features a woman named Ekaterina Sugak speaking, who is a "naturopath and researcher," according to BitChute's description of the video. In the 26-minute video she repeats claims by Lanka, who has been discredited for his false claims that the measles virus and HIV don't exist. In this case, he claims the COVID-19 virus, SARS-COV-2, also does not exist.
The video states at :20, "Thanks to the microbiologist Stefan Lanka on April 21, 2021, we've got an irrefutable proof that virology is not based on scientific methods."
The video claims at 50 seconds the ways to prove existence of a virus are:
1 - Isolate, in other words, extract the virus from a sick person and purify it, so you have an isolate ...
2 - Visualize the virus under a microscope, take a photo, characterize it as a unique biochemical structure. Sequence its genome and determine which proteins it is made of.
3 - Transfer the purified virus into an experimental host and cause disease.
If you follow these steps excessively, only then can you prove that the virus exists and causes disease.
At four minutes, 34 seconds, the video claims these steps have not been taken a single time in the "one and a half year old story named COVID-19."
The claims of studies that there is not a virus were debunked in an article titled, "The Psychiatrist Who Calmly Denies Reality." This article does not address Lanka but explains why that theory is false.
At 4:40 the video claims:
Despite the fact that there are huge numbers of publications, the title of which claims that the sars-cov-2 was isolated, in fact, this was never done."
According to the Centers for Disease Control the virus was isolated and the steps and methods for testing for the virus are listed on the website.
SARS-CoV-2 Viral Culturing at CDC
Updated Dec. 29, 2020

SARS-CoV-2, the virus that causes COVID-19, was isolated in the laboratory and is available for research by the scientific and medical community.
One important way that CDC has supported global efforts to study and learn about SARS-CoV-2 in the laboratory was by growing the virus in cell culture and ensuring that it was widely available. Researchers in the scientific and medical community can use virus obtained from this work in their studies.

Timeline:
On January 20, 2020, CDC received a clinical specimen collected from the first reported U.S. patient infected with SARS-CoV-2. CDC immediately placed the specimen into cell culture to grow a sufficient amount of virus for study.
On February 2, 2020, CDC generated enough SARS-CoV-2 grown in cell culture to distribute to medical and scientific researchers.
On February 4, 2020, CDC shipped SARS-CoV-2 to the BEI Resources Repository.
An article discussing the isolation and characterization of this virus specimen is available in Emerging Infectious Diseases.
Here is the abstract from the article:
The etiologic agent of an outbreak of pneumonia in Wuhan, China, was identified as severe acute respiratory syndrome coronavirus 2 in January 2020. A patient in the United States was given a diagnosis of infection with this virus by the state of Washington and the US Centers for Disease Control and Prevention on January 20, 2020. We isolated virus from nasopharyngeal and oropharyngeal specimens from this patient and characterized the viral sequence, replication properties, and cell culture tropism. We found that the virus replicates to high titer in Vero-CCL81 cells and Vero E6 cells in the absence of trypsin. We also deposited the virus into 2 virus repositories, making it broadly available to the public health and research communities. We hope that open access to this reagent will expedite development of medical countermeasures."
The video notes Lanka "... performed control experiments. What results do you think he got? The same as John Enders. Exactly the same cytopathic effect occurred in cell culture, without any infectious material added, but with the same conditions, such as high doses of antibiotics and decreased nutrition."

At 19 minutes, 54 seconds, no proof of an "experiment," is offered, just a claim that the virus doesn't exist:
This experiment refutes all the theory on which virology is built. The theory that viruses exist and cause disease has now been completely disproved. These experiments show that what virologists call evidence of the presence of a virus in a tissue sample are just consequences caused by the very conditions of the experiment in the laboratory, and they are never caused by the presence of a non existent virus. So let's summarize, If the sars-cov-2 virus does not exist, and now has been definitely scientifically proven, this means that: there is no virus structure, and no spike protein exists."
Lanka's claim is known as germ-theory denial which has been debunked for other diseases as well as COVID-19.