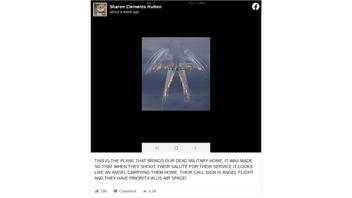 Are there special airplanes called "Angel Flight" that bring fallen soldiers home, and do those aircraft shoot a flare salute designed to resemble an angel? No, that's not true: This is a photo of a plane firing decoy flares. This is intended as a defensive measure against heat-seeking weapons. In the Americas, "Angel Flight" is the name of the service provided by several groups staffed by civilian volunteers who provide air travel, free of charge, to people who need to travel for medical care.
The claims in this post about "Angel Flight" have circulated since at least 2017. It resurfaced again in a post (archived here) on Facebook where it was published on May 29, 2021 With this caption:
THIS IS THE PLANE THAT BRINGS OUR DEAD MILITARY HOME. IT WAS MADE SO THAT WHEN THEY SHOOT THEIR SALUTE FOR THEIR SERVICE IT LOOKS LIKE AN ANGEL CARRYING THEM HOME. THEIR CALL SIGN IS ANGEL FLIGHT AND THEY HAVE PRIORITY IN US AIR SPACE!
This is what the post looked like on Facebook at the time of writing:
(Source: Facebook screenshot taken on Mon Jun 7 18:21:55 2021 UTC)
A May 26, 2017, post features the same image with the caption:

"Angel Flight" is the call sign for the USAF, carrying a fallen hero on board. Their "salute" with flares looks like an angel with wings. #MilitaryAppreciationMonth #MemorialDay
Another post on May 29, 2017, has a different image and was captioned:
---Angel Flight---
I was moved to tears by this image today and had to share. Angel Flights are the U.S. Air Force C-130 planes used to fly home our Fallen Soldiers. Their "salute" with flares looks like an angel with wings. #memorialday#gratitude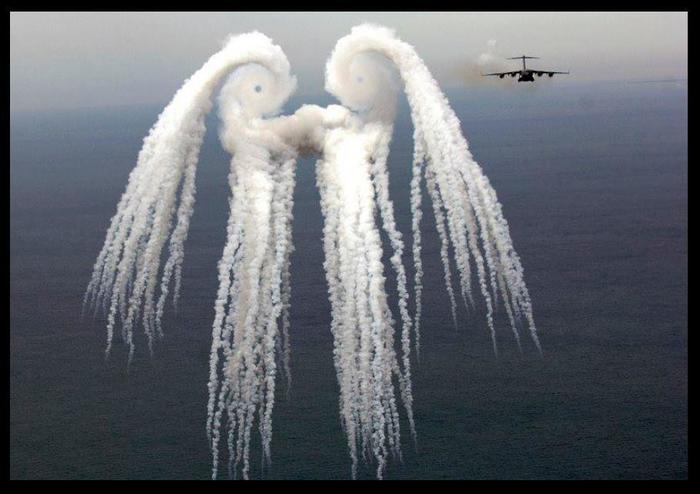 Lead Stories reached out by email to the public affairs duty officer at the office of the secretary of defense to find out if there was any truth to the claims of this meme. They replied:
This is false. Flares are not used on any U.S. military aircraft for this purpose. They are only used for defensive maneuvers.

Angel Flight is not an official military term either, and for more information about the formal military mission to return deceased service members from war zones, visit here: Dignified Transfer Mission
The characteristics and purpose of "Chaff and Flares" are described on page 13 of this Environmental Assessment document prepared by the National Guard Bureau:
Chaff has been used by DOD for over 50 years, both in combat and in training and testing. Chaff consists of small, extremely fine fibers of aluminum or, since the 1980s, aluminum coated glass. These fibers disperse widely in the air when ejected from the aircraft, forming the electromagnetic equivalent of a visual smoke screen to temporarily hide the aircraft from radar. It also decoys radar, allowing aircraft to maneuver or egress from the area. In the air, the initial burst from a chaff bundle forms a sphere that shows up on radar screens as an electronic cloud. The aircraft is obscured by the cloud, which confuses enemy radar. Because chaff can obstruct radar, its use is coordinated with the Federal Aviation Administration (FAA).

Self-protection flares are magnesium pellets that, when ignited, burn for a short period of time (less than 10 seconds) at 2,000 degrees Fahrenheit. The burn temperature is hotter than the exhaust of an aircraft and therefore attracts and decoys heat-seeking weapons targeted on the aircraft.
There is no one specific aircraft that is capable of firing off chaff and flares. A variety of aircraft appear in these Google image search results. The aircraft pictured in the original photo appears to be the Russian military transporter Ilyushin IL-76.
Angel Flight is a real thing, but does not have anything to do with military operations. There are several volunteer organizations in North and South America that coordinate air travel, free of charge, for people in need of medical care. Many of these groups have the words "Angel Flight" in their name. Air Care Alliance maintains a state-by-state directory of groups that match volunteer "Public Benefit Flying" pilots with people and also animals who need to travel by air.