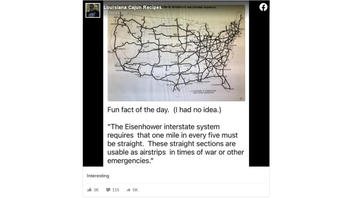 Was the Interstate Highway System designed so that one in every five miles is straight to use as airstrips in an emergency? No, that's not true: the Federal Highway Administration has confirmed that the decades-old claim is not based in fact.
The claim, which has circulated on the internet since at least 2000, reappeared in a Facebook post (archived here) published on June 6, 2021. The post featured an image of the national system of interstate and defense highways and text that read:
Fun fact of the day. (I had no idea.)

"The Eisenhower interstate system requires that one mile in every five must be straight. These straight sections are usable as airstrips in time of war or other emergencies."
This is what the post looked like on Facebook:
(Source: Facebook screenshot taken on Mon Jun 7 17:40:15 2021 UTC)
The Federal Highway Administration has directly stated that the claim is untrue. According to its webpage titled "Interstate Highway System - The Myths":
This myth is widespread on the Internet and in reference sources, but has no basis in law, regulation, design manual--or fact. Airplanes occasionally land on Interstates when no alternative is available in an emergency, not because the Interstates are designed for that purpose.
Richard F. Weingroff, an information liaison specialist for the highway administration, provided possible context for the creation of the claim in his debunk, published in 2000. He suggested that the Defense Highway Act of 1941 may have led to the development of the claim. Section 108 of the act, which described a flight strip program, says:
In order to insure greater safety for traffic on the public highways by providing additional facilities in connection therewith to be available for the landing and take-off of aircraft, the Commissioner of Public Roads is authorized to provide, in cooperation with the Army Air Corps, for studies and for the construction of flight strips adjacent to public highways or roadside-development areas along such highways. The acquisition of new or additional lands necessary for such projects may, to the extent determined by the Federal Works Administrator, be included as part of the construction thereof and Federal funds shall be available to pay the cost of such acquisition.
Weingroff further explained:
In that spirit, Congress considered including a flight strip program in the Federal-Aid Highway Act of 1944 -- the law that authorized designation of a 'National System of Interstate Highways.' However, the 1944 act did not include the flight strip program.
Weingroff put forth another possibility that the claim may have originated from the Federal-Aid Highway Act of 1956. However, the act makes no mention of the every-five-miles rule.