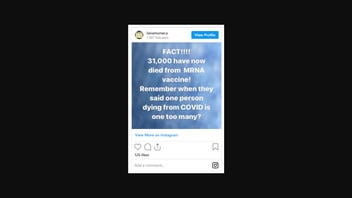 Have 31,000 people died from messenger RNA (mRNA) vaccines? No, that's not true: The first mRNA vaccines approved for use in humans are two of the COVID-19 vaccines, which had not been causally linked to any deaths at the time of writing, according to the U.S. Centers for Disease Control and Prevention (CDC).
The claim appeared in an Instagram post (archived here) published on June 5, 2021. It read:
FACT!!!! 31,000 have now died from MRNA vaccine! Remember when they said one person dying from COVID is one too many?
Users on social media saw this at the time of writing: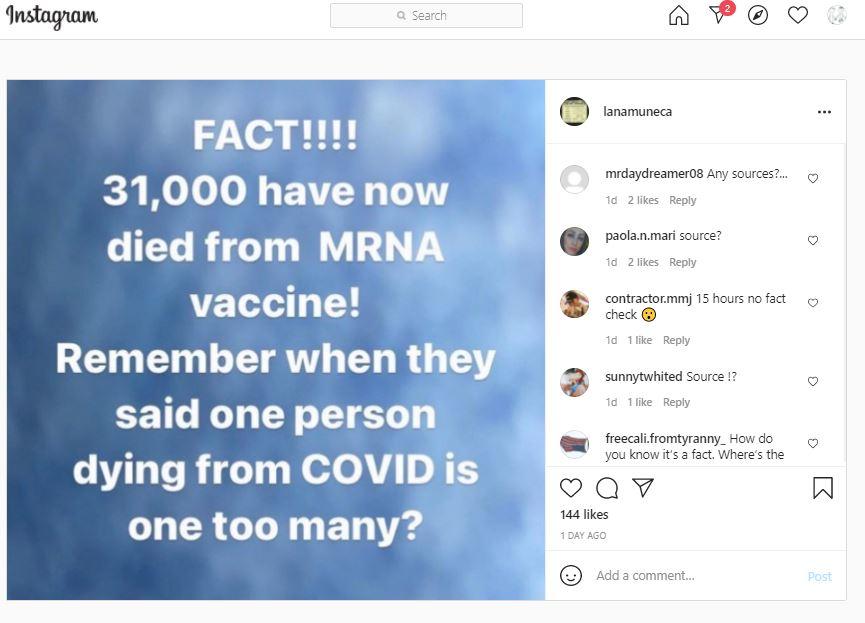 (Source: Instagram screengrab taken 21:36 UTC 2021)
Below is a live link to the post:
The post did not include any sourcing to substantiate its claim about mRNA vaccines, which are a new type of vaccine used to protect against infectious diseases. They trigger an immune response by teaching our cells how to make a protein or part of a protein, which the immune system recognizes as a threat, developing antigens to attack. See here for a more detailed explanation of how the science behind the shots works.
The first mRNA vaccines approved for use in humans are two of the COVID-19 vaccines, specifically the ones made by Moderna and Pfizer-BioNTech. The post, then, is saying that 31,000 people have died from getting a COVID-19 shot. That's not true.
At the time of writing, June 7, 2021, there have been no documented deaths due to the COVID-19 vaccine.
The CDC reports on its website that more than 285 million doses of COVID-19 vaccines were administered in the United States between December 14, 2020, and May 24, 2021. During that time, VAERS -- the government's informal, unverified reporting system -- received 4,863 reports of death of patients who had been vaccinated against COVID-19. The CDC looks into each death report to determine what happened, whether the death was caused by the vaccine or unrelated. As Lead Stories has reported previously, it's statistically inevitable that some people will get sick and die of unrelated causes after getting the COVID-19 vaccine.
The CDC says (emphasis ours):
A review of available clinical information, including death certificates, autopsy, and medical records has not established a causal link to COVID-19 vaccines. However, recent reports indicate a plausible causal relationship between the J&J/Janssen COVID-19 Vaccine and a rare and serious adverse event--blood clots with low platelets--which has caused deaths.
By comparison, at the time of writing, the CDC reports that 594,381 people in the United States have died from COVID-19, while the global death toll sits at more than 3.7 million.