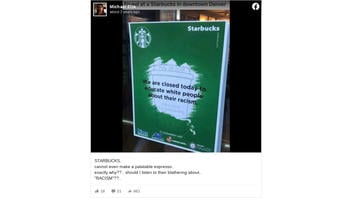 Did a Starbucks in downtown Denver post a sign in their window that told customers it was closed to "educate white people about their racism"? No, that's not true: That sign is a doctored image that mocks racial bias training Starbucks hosted on May 29, 2018. The training was the company's response to backlash after a store manager at a Philadelphia location called the police on two Black men who declined to buy anything and refused to leave, leading to their arrest. The men were waiting for a friend.
The claim, which first appeared in a Facebook post (archived here) on May 31, 2018 was again circulating at the time of this writing in 2021. The post included an image with the headline "Found at a Starbucks in downtown Denver" and showed a sign featuring a Starbucks coffee cup with the following words:
May 29, 2018
We are closed today to educate white people about their racism.
Thank you for your understanding.
The caption of the post read:
STARBUCKS..
cannot even make a palatable espresso..
exactly why??.. should I listen to their blathering about..
"RACISM"??..
This is what the post looked like on Facebook on June 4, 2021:
(Source: Facebook screenshot taken on Fri Jun 4 17:51:16 2021 UTC)
While it is true that more than 8,000 Starbucks locations nationwide closed early on the date noted in the image, the sign featured in the post was an Internet creation.
Starbucks did post signs at their locations that told customers when and why they were closing. An image of a variation of the actual sign is included in this open letter from Starbucks executive chairman Howard Schultz and is featured in the screenshot below: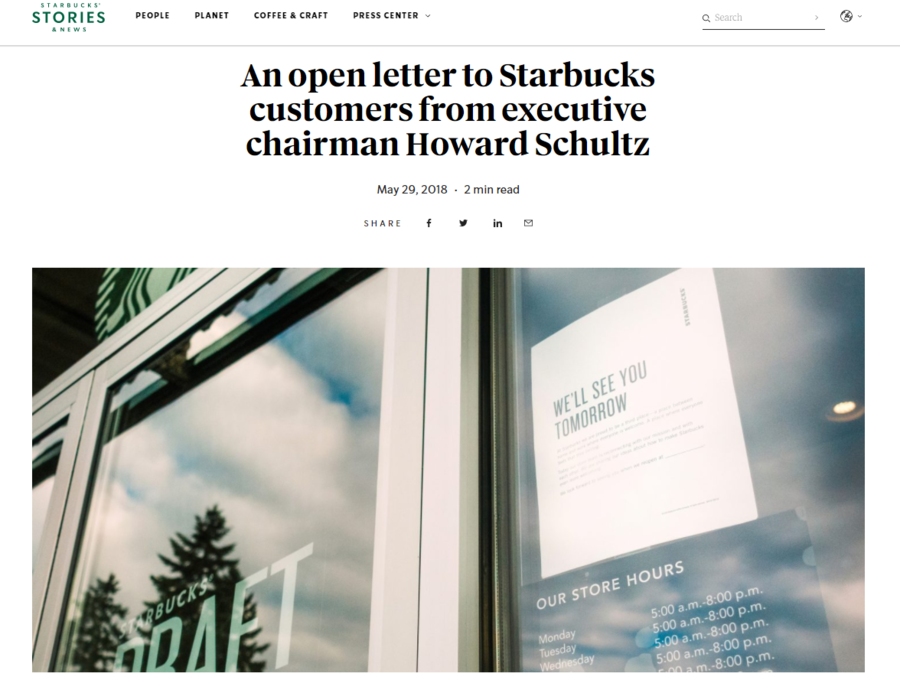 (Source: Starbucks screenshot taken on Fri Jun 4 17:05:53 2021 UTC)
The text on the sign read:
We'll see you tomorrow

At Starbucks we are proud to be a third place -- a place between home and work where everyone is welcome. A place where everyone feels that they belong.

Today our store team is reconnecting with our mission and with each other. We are sharing our ideas about how to make Starbucks even more welcoming.

We look forward to seeing you when we reopen at ________.
The sign was also posted on the Starbucks Stories Instagram account. The post is included below:
In a phone call with Lead Stories on June 4, 2021, a Starbucks spokesperson confirmed that the "We'll see you tomorrow" sign was the one posted at locations to notify customers about the training.
Snopes published a 2018 fact check about the fake sign featured in the Facebook post, and identified an earlier posting of the sign on an IMDB2 forum.
Lead Stories previously debunked claims that Starbucks and KFC were offering coupons for Black Lives Matter supporters and Black customers, respectively.