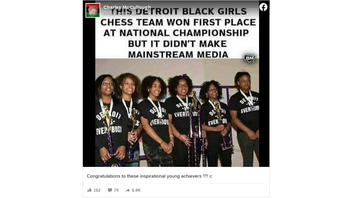 Did a team of all-Black, all-female chess champions get snubbed by mainstream media? No, that's not true: the middle-school-aged team, which competed in 2016, was recognized by both local and national media outlets.
The claim appeared in a Facebook post (archived here) published on July 14, 2021. It featured an image of the all-female University Prep Science & Math team from Detroit, which was headed with text that read:
THIS DETROIT BLACK GIRLS CHESS TEAM WON FIRST PLACE AT NATIONAL CHAMPIONSHIP BUT IT DIDN'T MAKE MAINSTREAM MEDIA
The caption of the post read:
Congratulations to these inspirational young achievers !!!! c
This is what the post looked like on Facebook on July 28, 2021:
(Source: Facebook screenshot taken on Wed Jul 28 17:18:28 2021 UTC)
With no date in the text or with the photo, social media users are left to assume the team's victory was recent. It wasn't -- it was in 2016 and it received media coverage then.
The team competed at the 13th annual Knights Chess Foundation All-Girls National Championship, which was held in 2016 and included more than 440 players, winning first place in the "Under 14 Team" category. Their win was noted in 2016 not only by local press such as The Detroit News (archived here) but also by national outlets such as HuffPost (archived here) and Essence (archived here). Graphics similar to the one included in the Facebook post claiming that the team did not receive mainstream media attention have appeared since at least 2017, according to a TinEye search of the graphic.
Commenters on the Facebook post even pointed out that there has been media coverage about the team (and subsequent chess teams from the school) and that the photo is not recent, with one user saying:
Sorry to say so but when you type " championship chess detroit" on google you get a lot of mainstream media covering this topic. So good job girls and bad job for sharing wrong info which has been shared a lot since 2016. Please always check before sharing cause sharing is not always caring.
According to research from Gallup and the Knight Foundation, Americans overall have a more negative perception of news media's performance reflecting the diversity of the U.S. population, which seems to be the sentiment reflected in this claim. However, although the team was not featured in other major news outlets, such a lack of coverage is not unusual for a young, winning chess team. For example, searches of "chess championship," "chess team" and "chess tournament" on CNN's website almost exclusively featured news about chess on the international level or features about the development of particular youth teams.