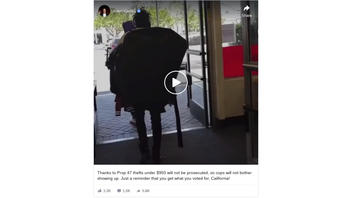 Does California's Proposition 47 state that theft of property valued under $950 will not be prosecuted, so police will not show up if such theft occurs? No, that's not true: The proposition, which passed in 2014 and has been on the books for more than six years, says that such a theft would be considered a misdemeanor rather than a felony.
The claim appeared in a Facebook video (archived here) published on July 21, 2021, on radio personality Adam Carolla's official Facebook account. The caption of the video read:
Thanks to Prop 47 thefts under $950 will not be prosecuted, so cops will not bother showing up. Just a reminder that you get what you voted for, California!
This is what the post looked like on Facebook on July 22, 2021:
(Source: Facebook screenshot taken on Thu Jul 22 18:33:07 2021 UTC)
According to an explanation from California Courts, Proposition 47, also known as The Safe Neighborhoods and Schools Act, actually says:
The proposition added to create a new misdemeanor offense called "shoplifting," punishable by up to 6 months in county jail. Shoplifting would be defined as "entering a commercial establishment with intent to commit larceny while that establishment is open during regular business hours" where the value of the property does not exceed $950. Any other entry into a commercial establishment with intent to commit larceny is burglary. Any act of shoplifting as defined above must be charged as shoplifting. No person charged with shoplifting may also be charged with burglary or theft of the same property.
Therefore, shoplifters could still be put under arrest and receive legal consequences.
While the footage in the Facebook video, taken from a YouTube posted by CBS Los Angeles, actually does show two individuals exiting a TJ Maxx location in Granada Hills, California with unpaid merchandise, it is possible that they were not immediately apprehended for safety reasons. In fact, the Los Angeles Police Department, which serves the Granada Hills area, suggests that store employees do not verbally accuse anyone of shoplifting or physically try to stop a shoplifter. Lead Stories reached out to TJ Maxx and TJX Companies, Inc. for more information on their shoplifting guidelines and procedures, and will update this story with any response.