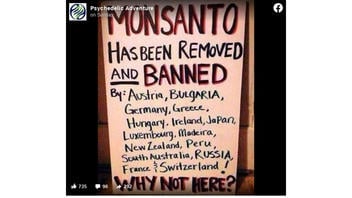 Has Monsanto, the agribusiness controversial for its widely used herbicides, been banned in 15 locations? No, that's not true: The company no longer exists under the name "Monsanto" since it was acquired by Bayer, a company best known for its health care products. Glyphosate, an active ingredient in a herbicide created by the company, has been criticized by and even restricted in several countries, but not all those claimed.
The claim appeared in a July 18, 2021, Facebook post (archived here). The post featured an image of a sign that reads:
MONSANTO HAS BEEN REMOVED AND BANNED By: Austria, Bulgaria, Germany, Greece, Hungary, Ireland, Japan, Luxembourg, Madeira, New Zealand, Peru, South Australia, Russia, France & Switzerland! WHY NOT HERE?
This is what the post looked like on Facebook on July 21, 2021:
(Source: Facebook screenshot taken on Wed Jul 21 21:44:15 2021 UTC)
Bayer acquired Monsanto in 2018. Bayer is headquartered in Germany and, with the exception of Madeira, is represented in all of the locations listed in the Facebook post, including Austria, Australia and New Zealand and Peru. It now produces Roundup, a glyphosate-based herbicide. Glyphosate has been deemed "probably carcinogenic to humans" by the World Health Organization, although according to the U.S. Food and Drug Administration, the chemical compound "has a low toxicity for people."
In an email to Lead Stories on July 21, 2021, Susan Luke, deputy director of external communications for Bayer's Crop Science division in North America, said:
Bayer is not banned in any country.

Additionally, there are currently no country-wide glyphosate bans anywhere in the world that are based on a scientific regulatory risk assessment. There are a few countries that have implemented country-wide restrictions on glyphosate, but these restrictions are politically driven and are not based on any new science or regulatory risk assessment showing glyphosate is unsafe for use. These are Togo, Vietnam, and Luxembourg.

Leading health regulators around the world have repeatedly concluded that our glyphosate-based products can be used safely as directed. Just last month (June 2021), health authorities in France, Hungary, the Netherlands, and Sweden conducted a thorough review and stated that "glyphosate meets the approval criteria for human health." Similarly, in January 2020, the U.S. Environmental Protection Agency (EPA) stated "EPA has thoroughly evaluated potential human health risk associated with exposure to glyphosate and determined that there are no risks to human health from the current registered uses of glyphosate." Additionally, the European Food Safety Authority (EFSA), the European Chemicals Agency (ECHA), the U.S. Environmental Protection Agency (EPA), and the leading health authorities in Germany, Australia, Korea, Canada, New Zealand, Japan, and elsewhere around the world continue to conclude that glyphosate-based products are safe for use as directed. Glyphosate-based herbicides are one of the most thoroughly studied products of their kind, which is a major reason why farmers around the world continue to rely on these products not only for effective weed control, but also to minimize tillage farming practices, reduce greenhouse gas emissions, preserve more land for native habitats, and provide enough food to meet the needs of a growing population worldwide.
Glyphosate has had a somewhat tumultuous reception on the world stage. Some of the member countries of the European Union -- which include several of the locations mentioned in the Facebook post -- have placed restrictions on glyphosate or, in the case of Luxembourg, already have a ban for the chemical in place. Even Germany, Bayer's stomping ground, has announced phasing out the chemical. However, glyphosate is approved in the EU as a whole until December 15, 2022. According to the EU:
... glyphosate can be used as an active substance in Plant Protection Products (PPPs), until that date, subject to each PPP being authorised by national authorities following an evaluation of its safety.
Other locations mentioned in the post have tackled issues related to Monsanto's products. For example, Peru banned the entry and production of living modified organisms (LMOs), also known as genetically modified organisms (GMOs). Monsanto produced many of the world's GMOs.