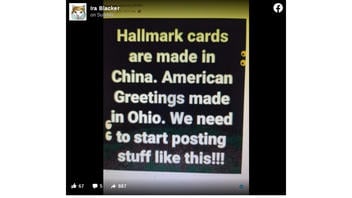 Are all Hallmark cards made in China and all American Greetings cards made in Ohio? No, that's partly false: About 70% of Hallmark's cards are made in the United States, with about 30% made in China, Vietnam and Sri Lanka. American Greetings Corp. is headquarted in Cleveland, Ohio, and on its website lists manufacturing facilities in Tennessee, Kentucky and Arkansas. The company does make some products in China and other Southeastern Asian countries, according to a previously published fact check.
The claim appeared as a Facebook post (archived here) on July 11, 2021. It opened:
Hallmark cards are made in China. American Greetings made in Ohio. We need to start posting stuff like this!!!
This is what the post looked like on Facebook at the time of writing:
(Source: Facebook screenshot taken on Thu Jul 15 17:50:02 2021 UTC)
The Facebook post is a screenshot of a post that was shared in December 2020 and was debunked by Reuters when it was first shared.
Jiaojiao Shen, public relations and social media director for Kansas City, Missouri-based Hallmark Cards Inc., provided to Lead Stories the breakdown of where the greetings cards are made via email on July 15, 2021:
The vast majority of Hallmark cards, about 7 out of 10, are made at our manufacturing facility in Lawrence, Kansas. And we are making plans to produce even more of them there. Our other cards are made in Vietnam, China and Sri Lanka.
Ohio-based American Greetings makes most of its products in Greeneville and Ripley, Tennessee; Danville, Kentucky; and Osceola, Arkansas, according to its website.
The company told Reuters it does get some products from China, saying, "the majority of greeting cards and gift wrap are manufactured in the US." Some products are sourced from China and other Southeast Asian countries, it said.
Lead Stories has reached out to American Greetings for comment and will update the story when received.