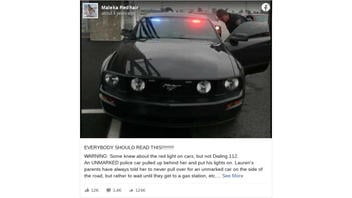 Does dialing 112 provide a direct link to "state trooper info," and does it apply to all 50 states in North America? No, that's not true: 911 is the official local and nationwide emergency number in the United States, while 112 is a global emergency number primarily used in European countries. The additional claim that dialing 112 is a way to verify if an unmarked police car is following you was debunked by the 9-1-1 Association (NENA) as long ago as 2013, with that organization calling it "bad advice."
The claim appeared in a Facebook post (archived here] on May 17, 2017. Alongside an image of an unmarked police car with what looks like an officer standing beside it, the caption starts:
EVERYBODY SHOULD READ THIS!!!!!!!!!

WARNING: Some knew about the red light on cars, but not Dialing 112.
An UNMARKED police car pulled up behind her and put his lights on. Lauren's parents have always told her to never pull over for an unmarked car on the side of the road, but rather to wait until they get to a gas station, etc.
This is how the post looked on July 15, 2021:
(Source: Facebook screenshot taken on Thu Jul 15 21:18:09 2021 UTC)
The post continues with a lengthy purported scenario of a woman who who was pulled over by what she thought was an unmarked police car, became suspicioius and summoned real cops by dialing 112. The writer of the post claims a representative of the phone carrier "confirmed that 112 was a direct link to State trooper info."
But it's not.
And as for the post's "...This applies to ALL 50 states ..." that's not correct, either.
112 is the official emergency number in the European Union. Although it has been adopted by many wireless mobile phone providers in other countries, it's not the main emergency number everywhere.
911, the primary emergency assistance number in the U.S., provides nationwide coverage. NENA's website says (emphasis theirs):
FACT: While dialing 1-1-2 in the United States may work on certain devices and on certain wireless networks, the only way to ensure that your call for emergency assistance gets through is to dial 9-1-1. When a caller tries to use 1-1-2 in the United States, the call may not go through. Even if it does, 1-1-2 provides no special emergency call handling -- in fact, it adds a delay due to it having to be converted to "9-1-1" and then routed to the appropriate 9-1-1 call center.
This rumor began circulating as early as 2002. Previous debunks can be found here and here.
Lead Stories reached out to the National Highway Traffic Safety Administration (NHTSA) and will update this fact check if a response is received.