Does this picture show a man walking past a super-realistic mural painted on a building featuring two kittens napping? No, that's not true: This is not a mural on a building. This image is part of a digital art series by Andrey Shcherbak. The digitally created images feature cats and kittens that have been added to various scenes with the scale altered to make the cats appear gigantic.
The claim appears in a Facebook post (archived here) published on July 11, 2021 with the caption "Fantastic Street Art."
This is what the post looked like on Facebook at the time of writing: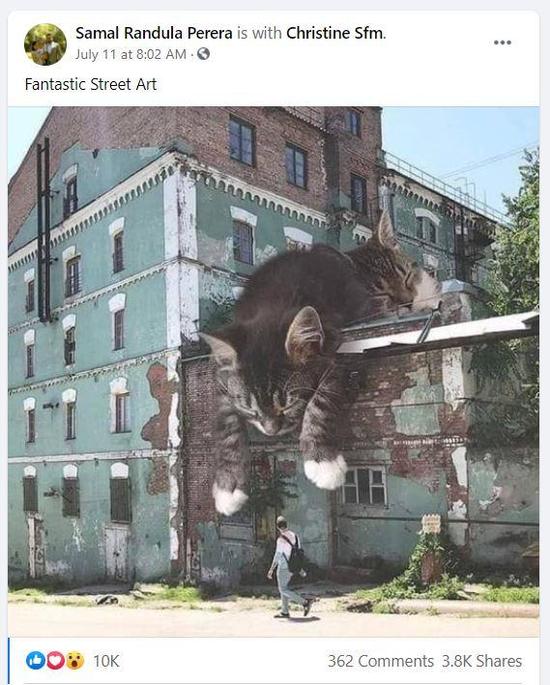 (Source: Facebook screenshot taken on Thu Jul 15 16:55:51 2021 UTC)
The caption has caused some confusion. People who would otherwise correctly assume this was created by photo editing think it is actually a super-realistic mural painted on a building. Others seem disappointed that things are not what they were told.
The artist who created the image, Andrey Scherbak from Rostov-on-Don in Russia, didn't try to deceive by passing it off as street art.
His pictures can be found on his Instagram account and in articles on websites like sadanduseless.com or Bored Panda, where a reader vote chose this image as number one of the original 89 images. The article contains a few paragraphs about the artist and his original inspiration:
The artist explained to Bored Panda that the idea for his giant cat project 'came about by chance.' 'I was looking through a photo album and one picture I had taken in a forest on a corporate retreat caught my eye, and that's how the idea was born. I liked it, so I took another photo with the intention of placing a cat in it. I decided to create an Instagram account full of pictures of only me and cats because that's not very different from the reality I live in. I lead a rather isolated way of life.'