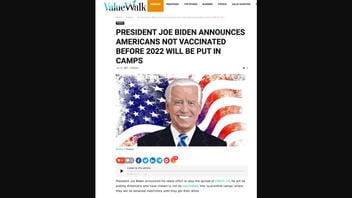 Did President Joe Biden announce that Americans who are not vaccinated before 2022 will be put into "quarantine camps"? No, that's not true: There is no record of Biden ever saying anything about "quarantine camps" for unvaccinated Americans. This claim originated on a satirical website and was then republished by an investment website. While the republished article does include a disclaimer from the original site far down the page, it is not easily seen by readers of the investment site, and the claim has been shared on social media with no disclaimer that it's from a satire site.
The republished claim appeared as an article titled, "President Joe Biden Announces Americans Not Vaccinated Before 2022 Will Be Put In Camps" on ValueWalk.com on June 21, 2021. Underneath the title of the article and under an illustration of Joe Biden in front of the U.S. flag, it opens:
President Joe Biden announced his latest effort to stop the spread of COVID-19, he will be putting Americans who have chosen to not be vaccinated, into 'quarantine camps' where they will be detained indefinitely until they get their shots.
This is what the article looked like at the time of writing: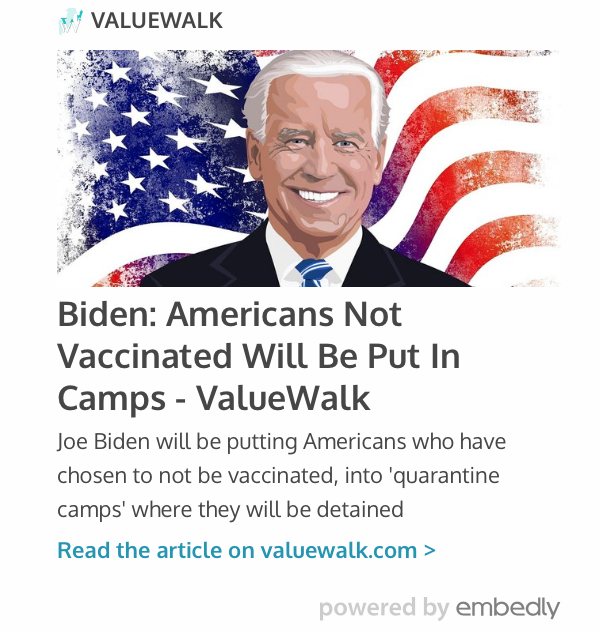 The story originally appeared on thestonkmarket.com, which describes itself as "a financial satire site ... Mission: To provide daily humor and make stonks go up."
It was republished on valuewalk.com, a site that says it provides framework coverage on investing. By scrolling down the page past the end of the article and several unrelated advertisements, a reader can find a line that says: "This post first appeared on The Stonk Market." Below that is another standalone line that says: "Disclaimer: This is a satirical article."
The bogus story has been shared on social media without any indication that it is satire:
Lead Stories has debunked multiple false claims concerning the Biden administration and COVID-19 vaccinations. Articles on this topic can be found here and here.