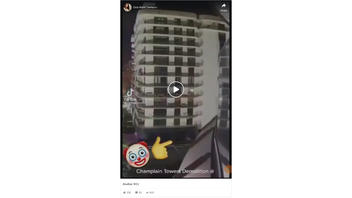 Was the initial collapse of Champlain Towers South in Surfside, Florida, on June 24, 2021, triggered by explosives that were planted to take the building down? No, that's not true: There is no evidence that a portion of the building initially collapsed due to explosives that were meant to destroy data collected by John McAfee, the founder of the security software company McAfee, as is suggested in the video examined in this fact check. Explosives were subsequently placed at the remaining portion of Champlain Towers, which had partially collapsed on its own, as a part of a controlled demolition.
The claim appeared in a Facebook video (archived here) published on July 6, 2021. The video features footage of a building collapsing from explosives placed at its base, with text over the video that reads:
McAfee's apartment didn't kill itself
They thought McAfees 31TB of data killzwich was there
It's time to wake the fuk up people
The caption of the video is:
Another 9/11
The bottom of the video has text that reads "Champlain Towers Demolition."
This is what the post looked like on Facebook on July 8, 2021:
(Source: Facebook screenshot taken on Thu Jul 8 15:48:28 2021 UTC)
Lead Stories confirmed that the footage showed the demolition after finding an identical video labeled as such. Although the video is attributed to Miami-Dade Fire Rescue, we could not locate the video on media published directly by the organization:
Another angle of the demolition is featured in this video:
In contrast, here is a surveillance video of the initial collapse of the condominium:
The Facebook video also builds on the claim that McAfee owned a unit at Champlain Towers, where he was storing 31 terabytes of data that implicated government officials in corruption. However, Lead Stories previously found there is no evidence that McAfee owned any of the property at Champlain Towers.