STORY UPDATED: check for updates below.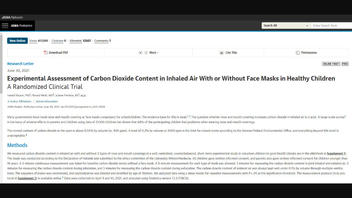 Does a "research letter" published by JAMA Pediatrics prove that face masks are dangerous for children? No, that's not true: The medical journal that published the lab report on July 16, 2021 announced editors have retracted it, after peer scientists pointed out the measuring device was unsuitable, the data dubious and therefore the conclusions unwarranted. Despite being published in a well-respected medical journal, experts had almost immediately expressed serious concerns about the study and its findings. When Lead Stories first published their concerns in the July 6, 2021 version of this fact check, JAMA Pediatrics editors were asking the author for more information, which led to the July decision to retract it.
The study (archived here) appeared online as a research letter in JAMA Pediatrics on June 30, 2021. Titled "Experimental Assessment of Carbon Dioxide Content in Inhaled Air With or Without Face Masks in Healthy Children," the study opens:
Many governments have made nose and mouth covering or face masks compulsory for schoolchildren. The evidence base for this is weak.

The question whether nose and mouth covering increases carbon dioxide in inhaled air is crucial.
Users on social media saw this title, description and thumbnail:
This randomized clinical trial measured inhaled and exhaled carbon dioxide in children with and without face masks.
JAMA Pediatrics' retraction, published July 16, 2021, said:
In their invited responses to these and other concerns, the authors did not provide sufficiently convincing evidence to resolve these issues, as determined by editorial evaluation and additional scientific review.
In a nutshell, the study found that children wearing face masks inhale unacceptable levels of carbon dioxide and, thus, shouldn't be forced to wear them. Both its conclusion and methodology have been called into question.
Lead Stories reached out to Eve Bloomgarden, one of the doctors who wrote a public response to the study and asked JAMA to retract it. In a phone conversation on July 6, 2021, she said about the study:

The challenge is that it looks science-y and it comes from a good place, and that's why it's so dangerous.
She added:
We always say that extraordinary claims require extraordinary evidence and this is an extraordinary claim with no evidence.
Specifically, Bloomgarden and her colleagues found several apparent flaws in how the study was conducted. Researchers used an incubator analyzer, which is used to measure CO2 levels in incubators. There's no data to support using such an instrument for measuring carbon dioxide levels behind a mask, she said. Using the methods they used, Bloomgarden said, it's not clear how researchers could have distinguished between inhaled and exhaled air, which would obviously have higher CO2 levels.
Also, although researchers said they were going to collect data on key health metrics, such as breathing frequency or blood oxygenation, such data was not included in their letter, meaning they either didn't collect it or chose not to report it, according to Bloomgarden.
Joseph Allen, an associate professor at Harvard's T.H. Chan School of Public Health, similarly criticized the study. He posted a lengthy thread on Twitter detailing its flaws; the biggest he identified is the fact that the carbon dioxide measured in a mask is a fraction of what someone breathes. "The actual EXPOSURE concentration in the lungs is the CO2 they measured in the mask + the majority of air that comes from outside the mask," he wrote.
I study the impact of CO2 on human health so I figured I would weigh in on this JAMA article purporting to show masks create high and unsafe CO2 exposures for kids. (spoiler alert: they don't)

(I'm not linking to the study because I'm certain it will be retracted)

THREAD

-- Joseph Allen (@j_g_allen) July 3, 2021
Like Allen, Bloomgarden told Lead Stories she expects the study will be retracted. We reached out to JAMA to ask about the study's claims. In an email dated July 6, 2021, a spokesperson responded that they have become aware of the concerns and will be evaluating them.
In the same section as the comments on the study, Dimitri Christakis, the editor of JAMA Pediatrics, wrote on July 6, 2021:
We are reviewing and evaluating the many comments and concerns about this study and are asking the authors to respond and provide additional information.
The lead author of the study is Harald Walach, a clinical psychologist. His name has been in the headlines for another study, originally published in the journal Vaccines, which said that "for three deaths prevented by vaccination we have to accept two inflicted by vaccination." That paper was retracted in early July 2021, following an outcry.
Walach, who had been affiliated with Poznan University of Medical Sciences in Poland, had his relationship with that school terminated as a result of the vaccine study. The university distanced itself from Walach in a statement on Twitter.
We wish to emphasize that the claims included in dr Harald Walach's recent article in @Vaccines_MDPI do not represent the position of @PUMS_tweets. We find that the article lacked scientific diligence and proper methodology. Dr. Walach's affiliation with PUMS was now terminated.

-- Poznan University of Medical Sciences (@PUMS_tweets) July 6, 2021
Bloomgarden and her colleagues claim in their comments that Walach and his co-authors have a "known bias against masks and other non-pharmaceutical interventions against COVID, as well as vaccinations."
Lead Stories reached out to the American Academy of Pediatrics (AAP) to ask about Walach's new study, as it specifically deals with the question of masks and children. Dr. Sean O'Leary, vice chair of the AAP Committee on Infectious Diseases, wrote in an email:
This is a single study with significant concerns about its methodology that is not consistent with everything else we know about masks.
The AAP recommends that children ages 2 and up who are not fully vaccinated continue to wear masks to help slow the spread of COVID-19. That's consistent with guidance from the Centers for Disease Control and Prevention (CDC), which says that children ages 2 and up should wear a mask in indoor public spaces, assuming they aren't vaccinated. The World Health Organization (WHO) says that children ages 5 and under should not be required to wear masks, and the decision for children ages 6-11 should be based on a number of factors, which can be seen here.
On its website, the WHO also addresses the question of whether medical masks can cause CO2 intoxication. They can't. According to the WHO:
The prolonged use of medical masks can be uncomfortable. However, it does not lead to CO2 intoxication nor oxygen deficiency. While wearing a medical mask, make sure it fits properly and that it is tight enough to allow you to breathe normally. Do not re-use a disposable mask and always change it as soon as it gets damp.
Lead Stories has written various fact checks on the question of whether masks are dangerous and, specifically, whether the constant use of a mask can cause hypercapnia -- a buildup of carbon dioxide in the bloodstream. See here, here and here for those stories, in which we found that concerns about CO2 poisoning from masks run counter to existing evidence.
Dr. Amesh Adalja, senior scholar at the Johns Hopkins University Center for Health Security, advocates for more research and the development of new masks that can be worn for long periods of time without negative consequences. In an email, dated July 5, 2021, he wrote:
The one thing to keep in mind is that it's one thing to show elevated carbon dioxide content and another to show that it is impairing physiology or causing harm.
In their response to the study, Bloomgarden and her colleagues wrote that one of the most convincing arguments against the authors' claims comes from real-world experience. They wrote:
Lastly, we have real life evidence from millions of children who have been successfully wearing masks every day for months. We have extensive evidence that masking is an essential protective strategy to slow and prevent the transmission of SARS-CoV-2. If this study were accurate and reflective of the real world we would see adverse health events reported worldwide. We do not.
2021-07-16T17:01:08Z

2021-07-16T17:01:08Z

Updated July 16, 2021 to reflect JAMA Pediatrics' decision to retract the paper, noting the author did not supply adequate evidence to explain the serious methods, data and conclusion concerns raised by medical peers.

2021-07-07T19:57:43Z

2021-07-07T19:57:43Z

Updated to add comment by Dimitri Christakis, editor of JAMA Pediatrics.