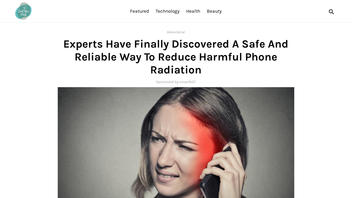 Are the claims made in smartDOT advertising all verifiable? No, that's not true: Claims in smartDOT advertising have not been proven by scientific studies, and promotional references citing features in well-known publications appear to be fabricated.
The claims are twofold: the assertion that electric and magnetic fields (EMF) radiation from electronic devices can cause physical symptoms like headaches and anxiety, and that the smartDOT harmonizing device will filter and "re-tune" EMF radiation simply by placing the sticker on any device.
The smartDOT product has been promoted through multiple Facebook pages since at least 2015 with promotional posts linking to multiple websites. One promotional video posted to Facebook on May 15, 2021, contains a link to an advertorial (archived here) published by Coolnewfinds.com under the title "Experts Have Finally Discovered A Safe And Reliable Way To Reduce Harmful Phone Radiation." The caption of the Facebook post reads:
Get smartDOT up to 50% OFF Today!
Absolute life saver. My dad always warned me about the harmful effects of radiation from all these wireless devices we use today... and I just had this creeping sensation that some of my daily symptoms might be caused by that.

That's when a friend told me about smartDOT. I didn't even realize something like it existed... but now I have it on all my devices and can't live without it.

smartDOT re-tunes EMF radiation from all devices: phones, laptops, tablets, WiFi routers, game consoles & more - so they are no longer harmful for the body to absorb.

The best part is since I started using them I've felt increased energy, better sleep, and an improved sense of calm. Not to mention it was a fraction of the cost of what I would have spent trying to get relief with modern medicine.
This is how the advertorial appeared on coolnewfinds.com on July 5, 2021:
(Source: Screenshot coolnewfinds.com taken on Mon Jul 05 22:39:19 2021 UTC)
The advertisement begins:
"I felt an almost immediate improvement in my energy levels and clarity of my thoughts..."
250+ Scientists and a breakthrough new device are fighting back against harmful radiation.

Did you know that radiation levels today are 100 million times higher than they were 50 years ago?1

Cell phones. WiFi networks. Laptops. Tablets. Game systems. Study after study has shown that our bodies absorb radiation from these devices like a sponge.2

One study highlighted by the American Cancer Society had people hold a phone to their ear for 50 minutes. It found significant changes to brain tissues ... but only on the part of the brain that was close to the phone.3
The reference to more than 250 scientists is misleading. It makes it sound as though they are promoting the smartDOT product to fight radiation. Instead, these EMF scientists signed a petition to the World Health Organization that has nothing at all to do with smartDOT:
These findings justify our appeal to the United Nations (UN) and, all member States in the world, to encourage the World Health Organization (WHO) to exert strong leadership in fostering the development of more protective EMF guidelines, encouraging precautionary measures, and educating the public about health risks, particularly risk to children and fetal development.
The claims in this introduction are referenced at the bottom of the advertisement:
References: Radiation Absorption1 Radiation Absorption2 Brain Tissue3
The first link returns a 404 error from getsmartdots.io. The second reference is to an overview page on "Electromagnetic Fields and Cancer" on the website of the National Cancer Institute at the National Institutes of Health. This page does not say anything about "our bodies absorb[ing] radiation from these devices like a sponge." However, it does make a statement that is in line with that of other health and science authorities, that there is not consistent evidence of association and harm from non-ionizing electromagnetic fields:
Numerous epidemiologic studies and comprehensive reviews of the scientific literature have evaluated possible associations between exposure to non-ionizing EMFs and risk of cancer in children (12-14). (Magnetic fields are the component of non-ionizing EMFs that are usually studied in relation to their possible health effects.) Most of the research has focused on leukemia and brain tumors, the two most common cancers in children. Studies have examined associations of these cancers with living near power lines, with magnetic fields in the home, and with exposure of parents to high levels of magnetic fields in the workplace. No consistent evidence for an association between any source of non-ionizing EMF and cancer has been found.
The third reference links to the American Cancer Society. This reference is supposed to be a citation to the claim that the American Cancer Society highlights a study that "found significant changes to brain tissues." But the overview page on the Cancer Society's website does not highlight such a study. Instead, the webpage actually says:
At very high levels, RF waves can heat up body tissues. But the levels of energy given off by cell phones are much lower, and are not enough to raise temperatures in the body.
The University of Surrey conducted independent tests on the stickers and found they have no measurable effect on frequency or power, according to a January 11, 2021, article on BBC.com. The smartDOT company was also caught up in a false claim publicly touting a partnership with a university hospital:
Last November, the company published a press release saying it was extremely proud to announce a partnership with the NHS that would see 'brand-new patient engagement units' installed in Torbay and Royal College of London hospitals.

At the time, an Energydots spokeswoman told BBC News adverts for its products would appear in the two hospitals, though she clarified the London hospital was in fact University College Hospital.

But a Torbay Hospital spokesman then told BBC News it knew nothing of this partnership.

And within hours, the press release had disappeared from the company's website.
In the coolnewfinds.com advertorial, smartDOT claims that their product can be seen featured in three publications. Lead Stories conducted a refined Google search for smartDOT on each of the websites of these publications, Businessinsider.com, Bustle.com and Theecologist.org. None of these searches returned any results for smartDOT.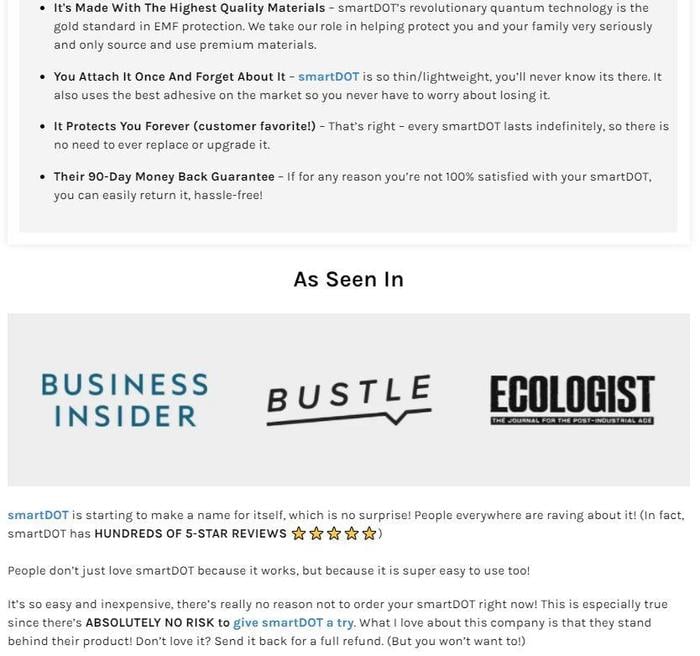 (Source: Screenshot from coolnewfinds.com on Tue Jul 06 00:35:33 2021 UTC)
As for the question of whether EMF radiation from cellphones and electronic devices is dangerous, the World Health Organization says in its answer to "Biological effects or health effects? What is a health hazard?"
Conclusions from scientific research
In the area of biological effects and medical applications of non-ionizing radiation approximately 25,000 articles have been published over the past 30 years. Despite the feeling of some people that more research needs to be done, scientific knowledge in this area is now more extensive than for most chemicals. Based on a recent in-depth review of the scientific literature, the WHO concluded that current evidence does not confirm the existence of any health consequences from exposure to low level electromagnetic fields. However, some gaps in knowledge about biological effects exist and need further research.
The Federal Communications Commission, which is the agency responsible for approving all wireless devices sold in the United States and ensuring that they do not exceed exposure limits, has published some guidelines for people who wish to reduce their exposure to radiofrequency, while emphasizing it "does not endorse the need for these practices."
Reduce the amount of time spent using your wireless device.
Use a speakerphone, earpiece or headset to reduce proximity to the head (and thus head exposure). While wired earpieces may conduct some energy to the head and wireless earpieces also emit a small amount of RF energy, both wired and wireless earpieces remove the greatest source of RF energy (the cell phone or handheld device) from proximity to the head and thus can greatly reduce total exposure to the head.
Increase the distance between wireless devices and your body.
Consider texting rather than talking - but don't text while you are driving.