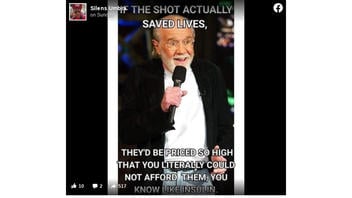 Is the COVID-19 vaccine free because it doesn't save lives? No, that's not true: The claim does not specifically mention the COVID-19 vaccine -- referring instead to "the shot" -- but it is implied, given current ongoing vaccination efforts amid the coronavirus outbreak. The cost of a vaccine or a shot is not established based on effectiveness, for COVID-19 or insulin. Statistics and research have proven all three of the COVID-19 vaccines approved for use in the U.S. are highly effective against infection and death from COVID-19.
While they are free to individuals, the government used taxpayer money to pay each of the three companies that produce them billions of dollars for the shots.
The comparison to the price of insulin is unfounded, as pharmaceutical companies set the price for insulin shots.
The claim appeared as a Facebook post (archived here) on July 18, 2021. It opened:
IF THE SHOT ACTUALLY SAVED LIVES, THEY'D BE PRICED SO HIGH THAT YOU LITERALLY COULD NOT AFFORD THEM, YOU KNOW LIKE INSULIN.
This is what the post looked like on Facebook at the time of writing:
(Source: Facebook screenshot taken on Wed Jul 21 18:40:57 2021 UTC)
The text in the post is over an image of George Carlin, the comedian who died in 2008. He never made the comments about the "shot," as the novel coronavirus outbreak did not happen until more than a decade after his death.
The text on the image says, "IF THE SHOT ACTUALLY SAVED LIVES ..." Studies and reports on the COVID-19 vaccines have shown them to be highly effective in stopping the spread and deaths of people who received it in the United States. The Associated Press reported on June 29, 2021: "Nearly all COVID deaths in US are now among unvaccinated."
An Associated Press analysis of available government data from May shows that 'breakthrough' infections in fully vaccinated people accounted for fewer than 1,200 of more than 107,000 COVID-19 hospitalizations. That's about 1.1%.

And only about 150 of the more than 18,000 COVID-19 deaths in May were in fully vaccinated people. That translates to about 0.8%, or five deaths per day on average.
Over 607,280 people have died from COVID-19 in the United States as of July 20, 2021, per the Centers for Disease Control and Prevention (CDC) website. There have been 336,054,953 COVID-19 vaccines administered in the United States as of July 16, 2021. At least 185,135,757 people have received at least one dose and 160,408,538 people are fully vaccinated.
CDC Director Rochelle Walensky said cases, hospitalizations and deaths from the coronavirus are increasing nationwide, adding that over 97% of new hospitalizations are in patients who are unvaccinated, U.S. News & World Report reported:
'There is a clear message that is coming through,' Walensky said at a press briefing. 'This is becoming a pandemic of the unvaccinated. We are seeing outbreaks of cases in parts of the country that have low vaccination coverage because unvaccinated people are at risk, and communities that are fully vaccinated are generally faring well.'
Clinical trials for the three COVID-19 vaccines have proven their efficacy. According to separate documents on the CDC website:
Pfizer-BioNTech: Based on evidence from clinical trials in people 16 years and older, the Pfizer-BioNTech vaccine was 95% effective at preventing laboratory-confirmed infection with the virus that causes COVID-19 in people who received two doses and had no evidence of being previously infected.

Moderna: Based on evidence from clinical trials, in people aged 18 years and older, the Moderna vaccine was 94.1% effective at preventing laboratory-confirmed COVID-19 infection in people who received two doses and had no evidence of being previously infected.

J&J/Janssen: The J&J/Janssen COVID-19 Vaccine was 66.3% effective in clinical trials (efficacy) at preventing laboratory-confirmed COVID-19 infection in people who received the vaccine and had no evidence of being previously infected. People had the most protection 2 weeks after getting vaccinated.
The U.S. Department of Health and Human Services posted on its website about the COVID-19 vaccine:
COVID-19 vaccines are 100% free for every individual living in the United States - even if you do not have insurance.
The U.S. government has used billions of dollars in taxpayer money to pay the three pharmaceutical companies for the COVID-19 vaccine, enabling people to not have to pay for it when they receive the shots:
Pfizer/BioNTech: U.S. government placed an initial order of 100 million doses for $1.95 billion and can acquire up to 500 million additional doses

Johnson & Johnson: The Biomedical Advanced Research and Development Authority (BARDA), part of the U.S. Department of Health and Human Services' Office of the Assistant Secretary for Preparedness and Response, in collaboration with the U.S. Department of Defense, is committing over $1 billion for this agreement.

Moderna: New U.S. government award up to $1.525 billion for 100 million doses.
The price of insulin shots are not set by the government. According to the New England Journal of Medicine:
Approximately 90% of insulin sold in the United States is manufactured by one of three companies (Eli Lilly, Novo Nordisk, and Sanofi). The rising cost of insulin in the United States can be attributed primarily to two phenomena. First, U.S. law allows pharmaceutical manufacturers to price their products at whatever level they believe the market will bear and to raise prices over time without limit. Second, direct competition in the insulin market is lacking. The most effective form of price competition for prescription drugs in the United States comes from interchangeable generic drugs made by manufacturers independent of the brand-name drug's supplier. But such products have been blocked from entering the insulin market because many current insulin products are protected by recently obtained patents covering aspects of the drug's formulation or its delivery device. Insulin manufacturers have recently begun marketing 'generic' versions of their brand-name products, also known as authorized generics. Although the list price of these products is less than that of their brand-name equivalents, it remains unclear whether authorized generics will provide meaningful cost savings to patients.