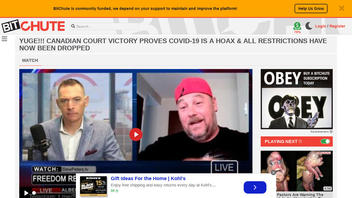 Did Alberta, Canada resident Patrick King prove that COVID-19 is a hoax, causing an end to COVID restrictions in Alberta? No, that's not true: King's attempt to subpoena the province's chief medical officer for his COVID-19 ticket was denied because the health agency successfully argued his request was irrelevant to the case. The timing of Alberta's changes to mask requirements and other restrictions is not related to King's case, which he lost.
The claim appeared in a video (archived here) posted to the "Stew Peters Show" BitChute account on August 3, 2021, titled "YUGE!!! Canadian Court Victory Proves Covid-19 Is A Hoax & All Restrictions Have Now Been Dropped" (archived here), which opened:
Patriot Patrick King represented himself in court after being fined $1200 dollars for protesting against the Covid-Hoax, he slew the beast and emerged VICTORIOUS. He issued a subpoena to the Provincial Health Minister for proof that the so-called Covid...
Users on social media only saw this title, description and thumbnail:
Patriot Patrick King represented himself in court after being fined $1200 dollars for protesting against the Covid-Hoax, slew the beast and emerged VICTORIOUS. He issued a subpoena to the Provincial Health Minister for proof that the so-called Covid...
King made the false claims on the "Stew Peters Show," an online forum known for peddling COVID-19 conspiracy theories, several of which Lead Stories has debunked. Readers can review past debunks here.
Peters introduced King as a man who was fined $1,200 for violating COVID-19 rules in December 2020. King claimed that in his court case he was able to prove the Canadian government admitted COVID-19 does not exist. King said he did this by issuing a subpoena to Deena Hinshaw, the chief medical officer of health in Alberta, and being refused. At the 2:21 mark in the video King says:
I produced some information that I needed to request in order to put up a good plausible defense. ... my material I requested was the 'isolation' of the SARS-COV2 virus. And I wanted it isolated and not in a lab setting, nor in a PCR test, we know a PCR test, they're overspun. We're not stupid people. We know the research. In doing that they kind of shut me out of court.
King and Peters said in the video that the virus was never isolated. Lead Stories has reported there is proof of the isolation of the virus. Clinicians and lab researchers working to stop the spread and to treat the most stricken of the millions of Americans infected so far with COVID-19 rely on the following proof: The SARS-CoV-2 virus has been isolated and its means and ease of transmission have been proven by multiple scientists working independently of one another. For examples, see this Centers for Disease Control and Prevention (CDC) footnote list of 25 published research papers about airborne spread of the virus.
King claimed he was allowed to subpoena Hinshaw. At the 5:21 mark, King claims as the case progressed, Hinshaw's attorney said, "Mr. King is requesting evidence that we cannot give." He shared a screenshot from what he claims are court documents that read, "The CMOH Has No Material Evidence."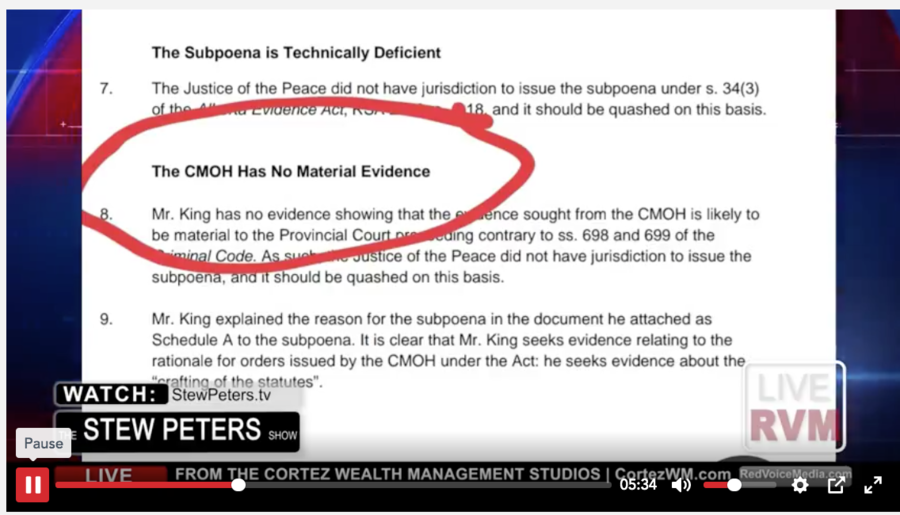 (Source: Bitchute.com screenshot taken on Sat Aug 07 at 3:20:17 2021 UTC)
King's recapitulation of the government's position misses the nuance, which is that the agency successfully argued King has no evidence to support his claim the virus doesn't exist. The document provided on the Stew Peters show spells it out:
Mr. King has no evidence showing that the evidence sought from the CMOH is likely to be material to the Provincial Court proceeding contrary to ss. 698 and 699 of the Criminal Code. As such, the Justice of the Peace did not have jurisdiction to issue a subpoena, and it should be quashed on that basis.
Hinshaw's office emailed Lead Stories a statement refuting King's claims on August 6, 2021:
This concerns a violation of a CMOH Order, which is an offence under the Public Health Act. The Court decision regarding the subpoena was a preliminary technical matter. It was argued that Dr. Hinshaw did not have any material evidence to provide that would be relevant to the matters to be decided at trial. The Court decided to quash the subpoena. It is false to claim there is any relationship between the decision on the subpoena and the lifting of public health measures. Mr. King was ultimately found guilty of the offence at trial and sentenced to pay a fine.
Timothy Caufield, University of Alberta Canada research chair in health law and policy, told the Edmonton City News that the claims King made were a conspiracy theory that is both legal and scientific misinformation.
"No, this guy did not end the COVID restrictions," Caufield says in the news report and explained the problem with King's claims. "... The government came back and said, 'We don't have to give you this proof legally, and he took that as a slam dunk win, which makes no sense.'"
Lead Stories has reached out to Caufield for comment and will update the story with his response when received.
Another conspiracy theory Peters recycles is that COVID-19 does not exist, saying what King was trying to do was force the government to "prove to me that a pandemic exists. Prove to me that we're all going to die. Prove to me that this thing is raging out of control and that people are dying from this thing."
COVID-19 had killed 613,658 people in the United States as of August 6, 2021, according to the Centers for Disease Control and Prevention (CDC) and 26,654 in Canada according to the Government of Canada. Independent tallies collected by the Johns Hopkins Bloomberg School of Public Health corroborate the CDC and Canadian numbers.