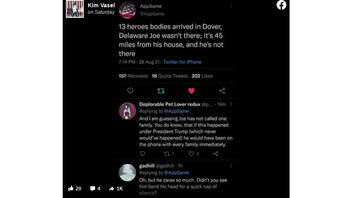 Did President Joe Biden not go to Dover Air Force Base (AFB) on August 29, 2021, to attend the dignified transfer of the remains of service members killed in a suicide bombing at Kabul airport in Afghanistan? No, that's not true: A spokesperson from Mortuary Affairs at Dover AFB told Lead Stories that "President Biden was here" for the transfer ceremony. Many news outlets in the U.S. and elsewhere reported on both the president and first lady attending the service.
The claim appeared from a Facebook post (archived here) where it was posted on August 28, 2021. The post appears to be a screenshot of a tweet. It read:
13 heroes bodies arrived in Dover, Delaware Joe wasn't there; it's 45 miles from his house, and he's not there
This is what the post looked like on Facebook at the time of writing:
(Source: Facebook screenshot taken on Mon Aug 30 15:55:12 2021 UTC)
A spokesperson for the Air Force Mortuary Affairs Operations at the Dover AFB responded to our inquiry on August 30, 2021, with:
President Biden was here 8/29/21 as part of the official party for the dignified transfer of fallen service members.
CNN, NPR and other major news organizations covered Biden's attendance at the dignified transfer in Dover, as well. News coverage included articles and video.
The 13 U.S. service members were among those killed in the suicide bombing at the airport in Kabul on August 26, 2021.