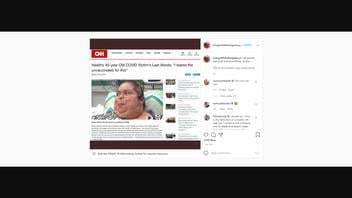 Did CNN publish an article describing a 40-year-old COVID-19 victim's sentiments toward unvaccinated people? No, that's not true: The satirical story about a severely obese woman who was vaccinated and is now dying from COVID-19 was not published by CNN.
The claim appeared in an Instagram post (archived here) published on August 26, 2021. It featured what appeared to be a screenshot of an article attributed to CNN with the headline "Healthy 40-year Old COVID Victim's Last Words: 'I blame the unvaccinated for this.'" The "article" read:
Sheila Johnson lived the way any healthy American would, waking up at 6am to eat a dozen eggs, 36 pancakes, 40 sausages and washing it down with a gallon of maple syrup. That was until she caught COVID from her unvaccinated neighbor, 58 year old triathlete Richard Sorenson who had COVID but wasn't aware of it. Sheila was vaccinated with the Pfizer vaccine months before and was constantly encouraging Richard to get the vaccine, but he refused stating "I'm 6 feet tall, 190 pounds and run the mile in 6 minutes and 20 seconds, why do I need a vaccine I'm perfectly healthy!". The day Sheila passed away Richard won his 10th triathlon.
This is how the post looked on Instagram on August 27, 2021:
(Source: Instagram screenshot taken on Fri Aug 27 16:02:59 2021 UTC)
CNN did not post this article, which contains obvious grammatical errors unlikely to slip past CNN copy editors. A search for the headline on its website did not produce any results, as seen in the screenshot below:

(Source: CNN screenshot taken on Fri Aug 27 14:28:36 2021 UTC)
The picture of "Sheila Johnson" featured in the article is actually of Cindy Vela, the star of the fourth episode of the ninth season of the TLC reality series "My 600-lb Life". Footage of Vela on TLC's Instagram page can be found here. A screenshot of an article (archived here) about Vela that uses an identical picture to the one seen in the Instagram post is included below: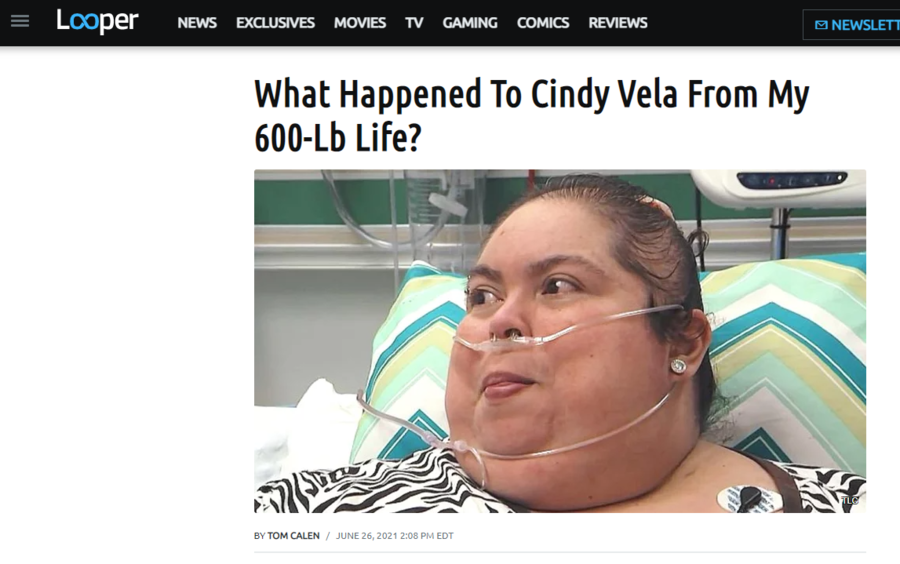 (Source: Looper screenshot taken on Fri Aug 27 14:39:03 2021 UTC)
Lead Stories conducted a Google search of text from the satirical piece, which reaped limited results. All the results indicated that the screenshot of the article was meant to be satirical. The earliest appearance we could find of the screenshot of the article was on the meme website iFunny. It was posted on August 25, 2021, as seen in the circled portion of the screenshot below:

(Source: iFunny screenshot taken on Fri Aug 27 15:53:25 2021 UTC)