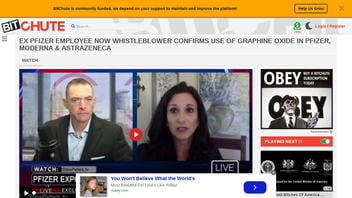 Do the COVID vaccines contain graphene oxide as claimed by a "whistleblower" on the "Stew Peters Show"? No, that's not true: The claim rests on made-up connections between vaccine makers and a company that produces polyethylene glycol derivative products.
The person making the claims, Karen Kingston, can't correctly be called a Pfizer vaccine whistleblower since she sold erectile dysfunction pills, which is a different part of the 78,000-employee company. Pfizer says the claim is not true and there is no publicly available evidence supporting the claim that there is graphene oxide in any of the COVID-19 vaccines.
The Stew Peters episode first aired on July 28, 2021, from Red Voice Media. This video of it was published on BitChute and also mirrored on other video hosting platforms on July 29, 2021. Titled "Ex Pfizer Employee Now Whistleblower Confirms Use Of Graphine Oxide in Pfizer, Moderna & Astrazeneca" (archived here), it opened:
*** MUST WATCH *** Karen Kingston, a former Pfizer employee and current analyst for the pharmaceutical and medical device industries, came forward with indisputable documentation that should be shared with the ENTIRE WORLD! All credit to Stew Pete...
Users on social media only saw this title, description and thumbnail:
*** MUST WATCH *** Karen Kingston, a former Pfizer employee and current analyst for the pharmaceutical and medical device industries, came forward with indisputable documentation that should be shared with the ENTIRE WORLD! All credit to Stew Pete...
Researching the claim, Lead Stories found the following:
Karen Kingston sold Viagra™ for Pfizer and did not work on the vaccine
To call ex-Pfizer employee Kingston a whistleblower implies that she had inside knowledge to make public. But Kingston did not work on developing the COVID-19 vaccine at Pfizer.
Kingston's own LinkedIn bio describes a career in pharmaceutical marketing strategy:
She began her career as a top performing Pfizer sales representative in NYC and was quickly recruited to the marketing side of the business. She played an integral role in the re-launch of VIAGRA shifting the focus to younger men and empowering patients to speak to their doctors about Viagra. She has led sales training, marketing and communication workshops and has appeared on FOX, MSNBC, and CBS as the spokeswoman and Director of US Marketing for InnoVision Labs.
Lead Stories reached out by email to Pfizer to ask about Kingston's employment at Pfizer as well as the claims she made about graphene oxide. A media relations officer wrote back in an August 4, 2021, email:
... it's a lengthy process to verify former employees but I can confirm that she was not involved in the research, development or manufacturing of the Pfizer-BioNTech COVID-19 vaccine.
Lead Stories has written about evidence-free graphene oxide claims presented on the "Stew Peters Show" in the past. On July 5, 2021, Jane Ruby was a guest on the show, claiming that the vaccines were made of 99.99% graphene oxide. This July 28, 2021, episode of the show with a new guest, Kingston, makes a similar-sounding claim -- that graphene oxide is in the vaccines -- but Kingston's claims are very different from the earlier claims presented by Ruby.
Pfizer says there is no graphene oxide in its vaccine, citing the Food & Drug Administration's fact sheet on the drug.
In the same email, the Pfizer media relations officer wrote:
Graphene oxide is not used in the manufacture of the Pfizer-BioNTech COVID-19 vaccine. The full list of ingredients are listed on page 2 here.
Kingston explains away the absence of graphene oxide in the vaccine ingredients listed on the patent by saying it's a "trade secret" but promises she can show proof that there is graphene oxide in the vaccines through a patent in China.
Slides that look like documentary proof are misleading montages and in one case completely unrelated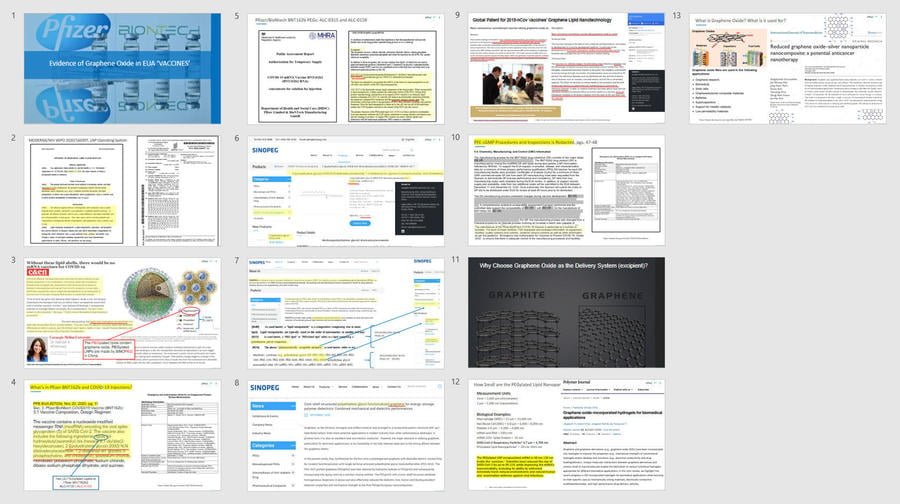 (Source Lead Stories screenshot collection of thumbnail images of PowerPoint slides taken on Fri Aug 06 19:23:30 2021 UTC)
The video uses technical documents to support Kingston's claim. But several gaps are not bridged. A link on redvoicemedia.com allows users to download a PowerPoint slideshow of documents that appear throughout this video.
Lead Stories examined the slides and cross-checked them against the webpages cited on them. In some cases Kingston has merely used yellow highlighting or red underlining to help guide the viewer to the points being made. But, Lead Stories also detected several instances where additional content was added to a screenshot or where images from multiple sources were combined in a way that would lead viewers to mistakenly conclude they are looking at a single document.
Slide No. 9 is an unlabelled montage of four unrelated documents made to look like a single document
At the 3:00 mark in the video, Kingston introduces the term "PEGylated lipid nanoparticle" and she talks about the Moderna COVID vaccine patent. The Moderna patent is slide No. 2, but rather than show that document, a "Stew Peters Show" producer inserted slide No. 9. This slide misleads viewers by not disclosing it is a montage of elements from four different sources that makes it look as though vaccine-maker Moderna used a patented nano-material containing graphene:
(Image source screenshot of PowerPoint slide No. 9 taken on Thu Aug 05 22:25:50 2021 UTC)
Slide No. 9 is an example of Kingston making connections from thin air. The patent for a vaccine with graphene oxide as the carrier is not the Moderna vaccine; it is assigned to the Shanghai National Engineering Research Center for Nanotechnology Co Ltd. in China. The photo of the "U.S. & Global Pharma & Biotech leaders meeting at the Shanghai National Engineering Research Center" is of an event at least six years prior to the emergence of SARS-CoV2 and was not relevant to COVID-19 vaccines or the patent application.
Kingston has not made a case for a connection between SINOPEG BIOTECH Co. and this patent. The only connection visible is that the contact information taken from the SINOPEG website was cut and pasted into the slide with patent application CN112220919A, which is not registered to SINOPEG.
Slide No. 3 puts words in a scientist's mouth
Slide No. 3 is another example of an unlabelled montage offered as a single document, making it sound as though a Carnegie Mellon chemist says there is graphene oxide in the mRNA vaccines against COVID-19. She did not and there are not.
It appears at the 5:40 mark of the video. It features a March 6, 2021, article and illustration from Chemical & Engineering News titled, "Without these lipid shells, there would be no mRNA vaccines for COVID-19." Included in the article were quotes from Kathryn A. Whitehead, a chemical and biomedical engineering professor at Carnegie Mellon University. This is not a screenshot of the article as it appears on the cen.acs.org website. Selected paragraphs have been pieced together and highlighted and others omitted. Whitehead's credentials and photo were copied from her faculty profile and added to the slide. A text box with a red outline was added, connecting to the Pegylated lipid illustration. The box says:
The PEGylated lipids contain graphene oxide. PEGylated LNPs are made by SINOPEG in China.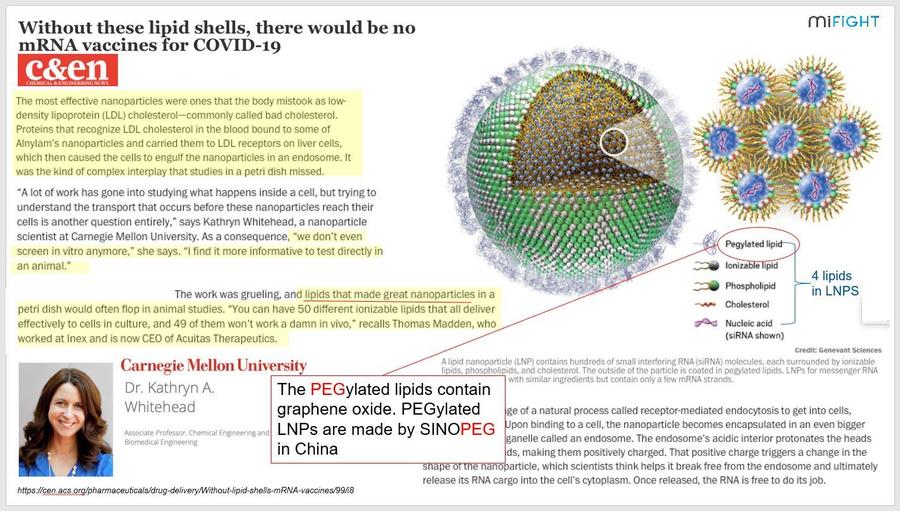 (Image source screenshot of PowerPoint slide No. 3 taken on Thu Aug 05 22:37:40 2021 UTC)
Lead Stories reached out by email to Kathryn Whitehead to ask if all PEGylated lipids contain graphene oxide, as was stated in the text box in Kingston's slide. She replied, by email, on August 5, 2021:
There is no graphene oxide in these particles. PEG can be conjugated to an infinite number of molecules. For the vaccine nanoparticles, PEG is conjugated to a lipid- this is required because the rest of the particle is made of lipids, and you need a lipid "anchor" for the PEG that likes to hang out with the other lipids inside. The actual PEG is hydrophilic, doesn't like hydrophobic lipids, and hangs off the outside of the particle because the particle is surrounded by water. Because the lipid anchor works well, there is no reason that we'd choose to use something less physiologically relevant.

Of course, PEG-GO is manufactured and people are exploring it for various applications like energy applications. And yes, some scientists have examined it for cancer therapy because GO is especially good at carrying chemotherapeutic agents, which are difficult to deliver to cancer cells ... and it's worth noting that the bar for safety is much lower for a cancer therapy (which is an active treatment for a sometimes lethal condition) than for a vaccine (which is preventative).
Slide No. 7: Combining two companies' mentions of "excipients" as proof graphene oxide (one of many) is in COVID-19 vaccines
Pharmaceutical Excipients are crucial to drug delivery within the body. Generally, an excipient has no medicinal properties. Its standard purpose is to streamline the manufacture of the drug product and ultimately facilitate physiological absorption of the drug. Excipients might aid in lubricity, flowability, disintegration, taste and may confer some form of antimicrobial function. Selecting the appropriate excipient to support the design of your pharmaceutical formulation is an important step in the drug manufacturing process.
Slide No. 8: Citing an article about electronic uses of graphene as evidence the material is in COVID vaccines
At the 8:30 mark of the video, Kingston is talking about excipients and shows Slide No. 8: A September 1, 2020, Industry News posting on the SINOPEG website, the
article
is titled, "
Core-shell structured polyethylene glycol functionalized graphene for energy-storage polymer dielectrics: Combined mechanical and dielectric performances.
" This article has nothing to do with vaccines; it is about advancing technology to allow graphene to be mixed with epoxy resin to make a strong insulator (or
dielectric
) for potential use in an industrial application.
Pencils aren't leaded, nor is the vaccine
Near the end of the show at the 22:40 mark, Peters makes an erroneous statement about pencils:
You know what this is, right? A No. 2 pencil. Everybody's got one. Everybody remembers filling out ... we should all be filling out our ballots with these No. 2 pencils! That's what we should be doing. But you know what's in the tip of every No. 2 pencil, right? Lead! Put it on paper, it turns into graphene. It's graphite right? Lead. They want to inject you with lead. Lead is poisonous. Graphene oxide is poisonous. Graphite is poisonous. They want to inject your children with lead.
Pencil lead is
not made of lead
. It is made of graphite, which is pure crystalline carbon whose molecular form is a three-dimensional hexagonal structure (this is shown on slide No. 11).
Graphene is the same material as graphite -- it is that same honeycomb lattice of carbon molecules but only one molecule thick.