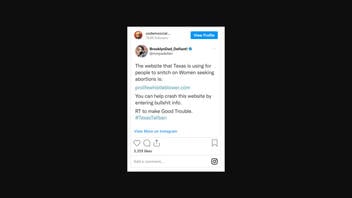 Does the state of Texas run an abortion "whistleblower" website that asks people to send anonymous tips about potential illegal abortions? No, that's not true: It's run by Texas Right to Life, a private anti-abortion organization.
The claim was implied in an Instagram post (archived here) published on September 2, 2021. The post was a copy of a tweet by "BrooklynDad_Defiant!" that reads:
The website that Texas is using for people to snitch on Women seeking abortions is:

prolifewhistleblower.com

You can help crash this website by entering bullshit info. RT to make Good Trouble.

#TexasTaliban
Users saw this on social media at the time of writing:
The way the post is written, users might be left with the impression that the website is an officially sanctioned site, run by the state of Texas. That's not true. It's run by Texas Right to Life, a well-known anti-abortion group. Its logo is at the top of the "whistleblower" site and its name is included lower down in a sentence that says the organization "will ensure that these lawbreakers are held accountable for their actions."
The site was set up because of a new law in Texas that bans abortions after about six weeks of pregnancy. Among other provisions, the law empowers individuals to enforce the rule. The "whistleblower" website, which solicits anonymous tips, reads:
The Texas Heartbeat Act is unique because it calls upon private citizens to hold abortion providers and their enablers accountable. Any person can sue any abortion provider who kills an unborn child after six weeks of gestation--and any person can sue anyone who aids or abets these illegal abortions. All of these individuals must pay damages to the person who sued them of at least $10,000 for each illegal abortion that they perform or assist.
Texas Right to Life spokeswoman Kim Schwartz confirmed that the organization created the website, not the state of Texas. When asked what the group plans to do with any potential tips, she said that it would depend. "Right now, we're glad to hear that abortionists are not killing preborn babies in violation of the law," Schwartz wrote in an email to Lead Stories dated September 2, 2021.
Activists against the Texas abortion law have flooded the organization's site with spam. Many have encouraged others online to do the same, as can be seen below:
#FloodAbortionTip 👇👇👇 and share your comment for entertainment purposes. https://t.co/J8uETI8NkP pic.twitter.com/QOn9BqAp1b

-- ReTweetMy2Cents™ (@retweetmy2cents) September 3, 2021
GOOD TROUBLE 👇

Critics of Greg Abbott's new law have been filing hundreds of fake reports to the whistleblowing website in hopes of crashing it.The site is here, have at it: https://t.co/0YILOWGpKH https://t.co/CtsPYYeliy
Schwartz said Texas Right to Life expected the reaction. She wrote:
We completely anticipated trolls spamming the site and were prepared.