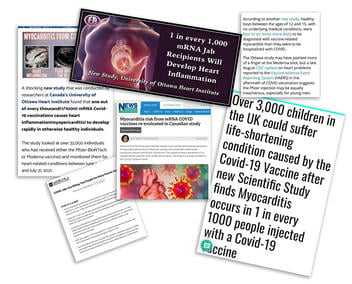 Did a study conducted at the University of Ottawa Heart Institute, which was posted as a preprint on medRxiv.org, show the incidence of myocarditis after a COVID-19 vaccination was one in a thousand -- a much higher incidence than other studies had found? The answer is both yes and no. That finding was erroneously reported in the original preprint -- a preliminary, non-peer-reviewed article that had been posted on a server for discussion. The statistic was based on an error in calculating the incidence of myocarditis. The preprint figures divided the number of myocarditis patients -- 32 -- by 32,379 doses of vaccine administered in the Ottawa region. But the denominator used -- how many people in Ottawa had been vaccinated in a given period of time -- was almost 25 times too small. There were actually about 800,000 doses of vaccine administered in Ottawa during that time. When the authors of the study were alerted to the error, they reviewed the data and then withdrew the manuscript.
The preprint was originally posted on medRxiv.org on September 16, 2021, and was withdrawn on September 24, 2021. The original findings were reported in several articles and blogs. One example is an article (archived here) published by theexpose.uk on September 23, 2021, under the title "Over 3,000 children in the UK could suffer life-shortening condition caused by the Covid-19 Vaccine after new Scientific Study finds Myocarditis occurs in 1 in every 1000 people injected with a Covid-19 Vaccine". It opened:
A new scientific study has been published based on scientific research conducted in Canada which has concluded that the Covid-19 Vaccines are actually causing 1 in every 1,000 people to suffer myocarditis, rather than the 4.3 cases per million doses administered claimed by the UK Medicine Regulator and the Chief Medical Officer, Professor Chris Whitty.

This means that if every child over the age of 12; estimated to be 3 million children, take up the offer of the Pfizer mRNA Covid-19 vaccine, at least 3,000 of them could suffer myocarditis which causes inflammation of the heart and can lead to cardiac arrest, and knock years off life expectancy.

The findings were discovered in a study conducted by the University of Ottawa Heart Institute in Canada, which was published to medRxiv on September 16th 2021.
Below is an example of how theexpose.uk article appears when shared on Facebook. The social card image shows England's chief medical officer, Chris Whitty, next to a red stamp that reads "LIAR" with the article's headline boldly captioned to reflect the erroneous preprint calculation applied to the UK's population of unvaccinated children over the age of 12.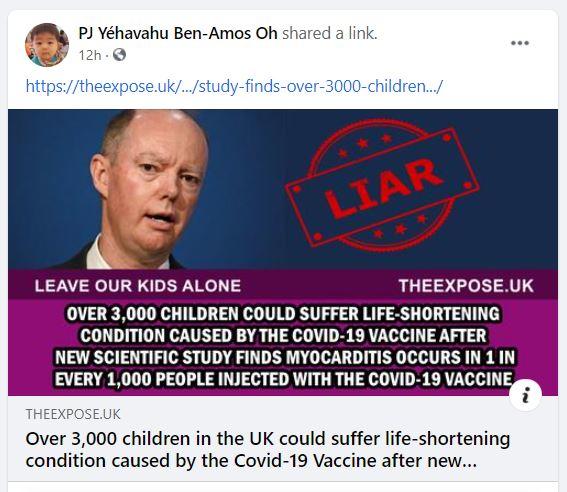 (Image source: Facebook screenshot taken on Mon Sep 27 15:37:02 2021 UTC)
There have been questions in recent weeks on what the official UK recommendation would be in regards to COVID-19 vaccines for children over 12. A collection of publications offering guidance to schools and parents was published on September 15, 2021, on the official gov.uk website, one day before the now-withdrawn preprint was posted publicly on medRxiv.org .
MedRxiv.og (pronounced Med Archive) explains "What is an unrefereed preprint? here:
Before formal publication in a scholarly journal, scientific and medical articles are traditionally certified by "peer review." In this process, the journal's editors take advice from various experts--called "referees"--who have assessed the paper and may identify weaknesses in its assumptions, methods, and conclusions. Typically a journal will only publish an article once the editors are satisfied that the authors have addressed referees' concerns and that the data presented support the conclusions drawn in the paper.
Concluding:
We also urge journalists and other individuals who report on medical research to the general public to consider this when discussing work that appears on medRxiv preprints and emphasize it has yet to be evaluated by the medical community and the information presented may be erroneous.
The preprint was withdrawn on September 24, 2021. The authors explained the error and withdrew the paper without revising it:
During the process of open peer review on MedRxiv we quickly received a number of messages from reviewers concerned that there was a problem with our reported incidence of myocarditis post mRNA vaccination. Our reported incidence appeared vastly inflated by an incorrectly small denominator (ie number of doses administered over the time period of the study). We reviewed the data available at Open Ottawa and found that there had indeed been a major underestimation, with the actual number of administered doses being more than 800,000 (much higher than quoted in the paper).

In order to avoid misleading either colleagues or the general public and press, we the authors unanimously wish to withdraw this paper on the grounds of incorrect incidence data. We thank the many peer reviewers who went out of their way to contact us and point out our error. We apologize to anyone who may have been upset or disturbed by our report.

In summary, the authors have withdrawn this manuscript because of a major error pertaining to the quoted incidence data. Therefore, the authors do not wish this work to be cited as reference for the project. If you have any questions, please contact the corresponding author.
Many of the articles reporting the original preprint findings have been captured as screenshots and are circulating on social media independently -- meaning the articles that were based on faulty information have taken on a life of their own even if these publishers issue an update or correction explaining that the preprint has been withdrawn. Below is an assortment of several screenshots found on Facebook on September 27, 2021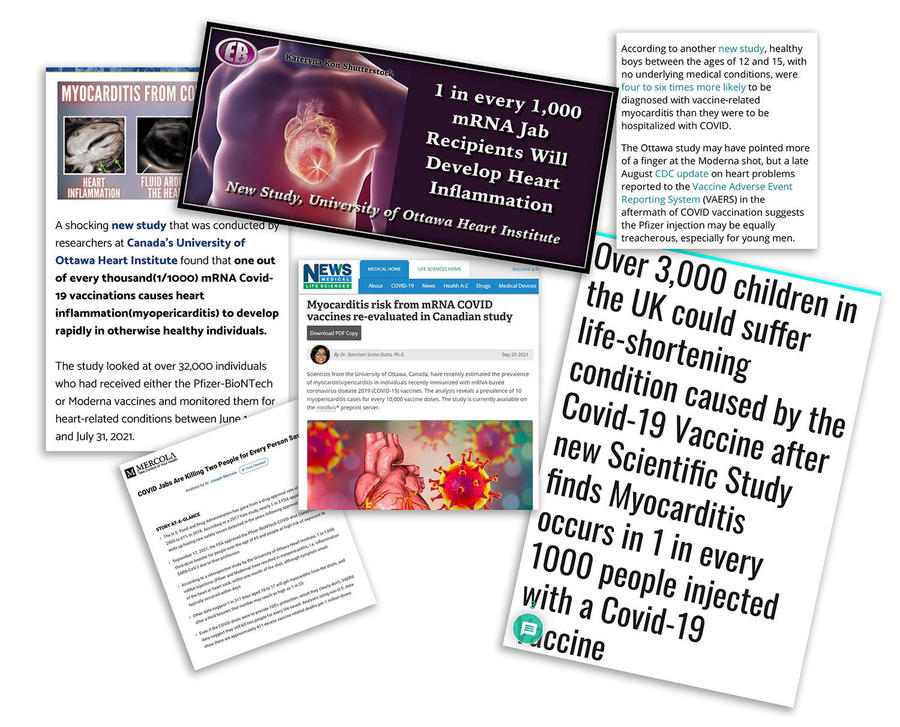 (Image source: Lead Stories collection of Facebook Screenshots taken on Mon Sep 27 17:42:36 2021 UTC)
Lead Stories has written about this study once before. Shortly before the preprint was withdrawn, Lead Stories addressed media spreading news about the Ottawa study findings. The day after they were posted to medRxiv.org, the findings were mentioned in an open public hearing of an FDA Advisory Committee meeting by Steve Kirsch, founder of The COVID-19 Early Treatment Fund.