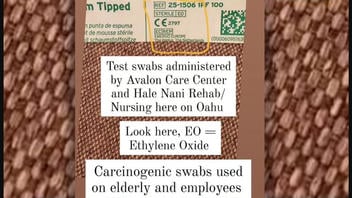 Are disposable medical swabs that have been sterilized using ethylene oxide gas carcinogenic and considered dangerous? No, that's not true: It is commonly used to sterilize medical equipment and disposable products like swabs and wound dressings that might not be able to withstand sterilization methods that include heat or moisture.
However, it is true that the Department of Health and Human Services has determined ethylene oxide to be a carcinogen and the Environmental Protection Agency says it is carcinogenic via inhalation.
The claim appears in an Instagram post by @oahuaguirre on September 1, 2021. The caption of the post reads:
Avalon Care Center & Hale Nani Rehab and Nursing uses these carcinogenic swabs on their elderly patients and employees. EO linked to cancer per OSHA and Cancer Society of America.
The text included with the photo of the packaging of a swab reads:
Test swabs administered by Avalon Care Center and Hale Nani Rehab/ Nursing here on Oahu
Look here, EO = Ethylene Oxide
Carcinogenic swabs used on elderly and employees
This is how the post appeared on Instagram: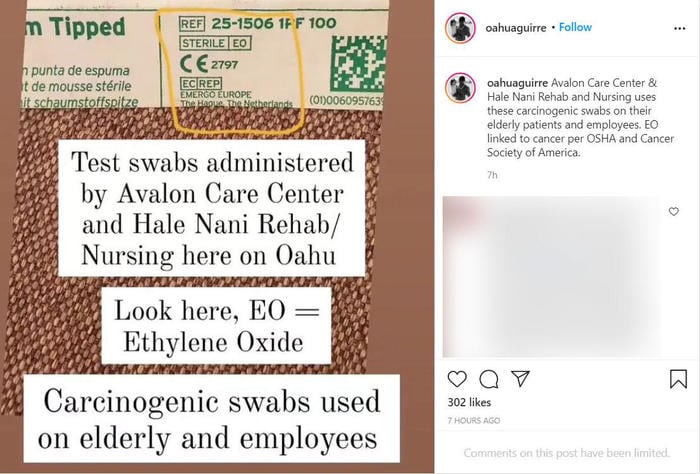 (Image source: Instagram screenshot taken on Wed Sep 01 18:08:06 2021 UTC)
Lead Stories reached out by email on September 2, 2021, to the Food And Drug Administration to learn more about the sterilization process. Press Officer Audra Harrison shared this link to the FDA website page on "Ethylene Oxide Sterilization for Medical Devices." She explained:
Ethylene oxide is a commonly used method of medical device sterilization. It's considered a safe and effective method that helps ensure the safety of medical devices and helps deliver quality patient care.

Before most sterile medical devices are on the market, the FDA reviews premarket submissions to determine if the sterility information (for example, the method the manufacturer is choosing to sterilize their device and validation activities used to show that the device can be effectively sterilized) is in accordance with internationally agreed upon voluntary consensus standards that the FDA recognizes.

For EtO sterilization, two voluntary consensus standards (ANSI AAMI ISO 11135:2014 and ANSI AAMI ISO 10993-7:2008(R)2012) describe how to develop, validate, and control ethylene oxide sterilization processes for medical devices and the acceptable levels of residual ethylene oxide and ethylene chlorohydrin left on a device after it has undergone ethylene oxide sterilization. These standards help ensure levels of ethylene oxide on medical devices are within safe limits since long-term and occupational exposure to ethylene oxide has been linked to cancer.
Lead Stories also reached out to the Centers for Disease Control and Prevention on September 1, 2021, and received a reply from a Division of Public Affairs press officer the same day. He pointed us to the National Cancer Institute's webpage on ethylene oxide. He also mentioned the American National Standards Institute's voluntary consensus standards for ethylene oxide sterilization: The last part of the sterilization process includes the evacuation of the ethylene oxide gas and "air washes," which ensure that any residual ethylene oxide is within a safe limit.
And he offered the link to the FDA's webpage on the Emergency Use Authorizations of the various types of test kits. As for our main question, are these COVID-19 testing kits dangerous or cause for concern, the answer is:
No. FDA-authorized COVID-19 tests and associated clinical specimen collection devices are not dangerous when used in accordance with the manufacturer's instructions. Specific information about each COVID-19 test kit that has been authorized by FDA for diagnostic use during the COVID-19 public health emergency may be found on FDA's website.
The Instagram post specifically mentioned OSHA, the Occupational Safety and Health Administration. Lead Stories reached out by telephone to the Indiana OSHA office on September 1, 2021, to find out if OSHA had any materials on the question of contact with single-use medical products that had been sterilized with ethylene oxide. The media contact directed us to two documents, the OSHA Fact Sheet and OSHA's laws and regulations by standard number 1910.1047 for ethylene oxide.
Both of these documents are clear about safety precautions for people who work with ethylene oxide gas, and the permissible exposure limits are outlined. There is no mention of any risk from residual ethylene oxide on medical supplies that have gone through the full sterilization, evacuation and air wash desorption process.