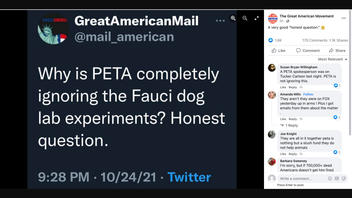 Did the People for the Ethical Treatment of Animals (PETA) "completely" ignore controversy around Dr. Anthony Fauci and the National Institute of Allergy and Infectious Diseases (NIAID) doing laboratory experiments on dogs? No, that's not true: PETA called on Fauci's boss to end experiments on dogs in labs under Fauci's supervision in August 2021.
The claim appeared in a Facebook post (archived here) on October 27, 2021. The post, which consists of a tweet from October 24, 2021, reads:
Why is PETA completely ignoring the Fauci dog lab experiments? Honest question.
This is what the post looked like on Facebook at the time of writing: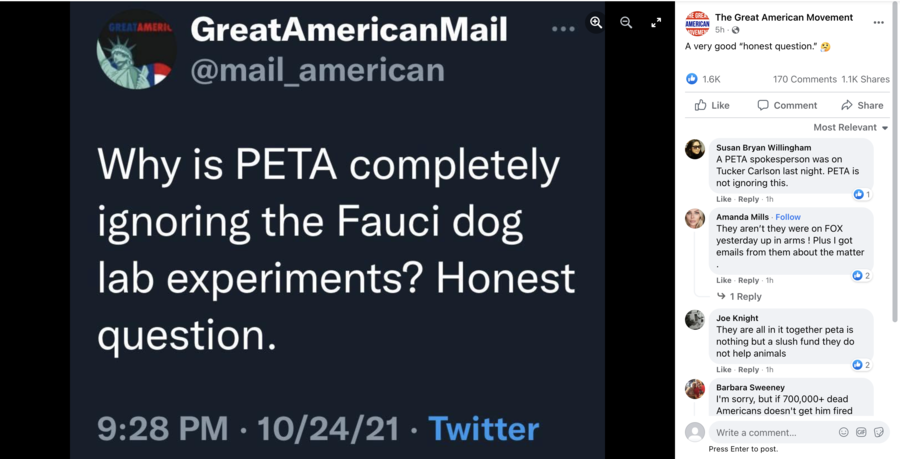 (Source: Facebook screenshot taken on Wed Oct 27 15:07:13 2021 UTC)
The experiments the claim is referring to reportedly have to do with doctors at the NIAID, which Fauci heads, "de-barking" dogs in research projects. The NIAID is one of the institutes that make up the National Institute of Health (NIH).
At the time of writing, PETA's website has a story (archived here) related to the experiments on the top of its home page. The title is, "Systemic Rot at NIH: Fauci's Dog Experiments Only the Tip of the Iceberg."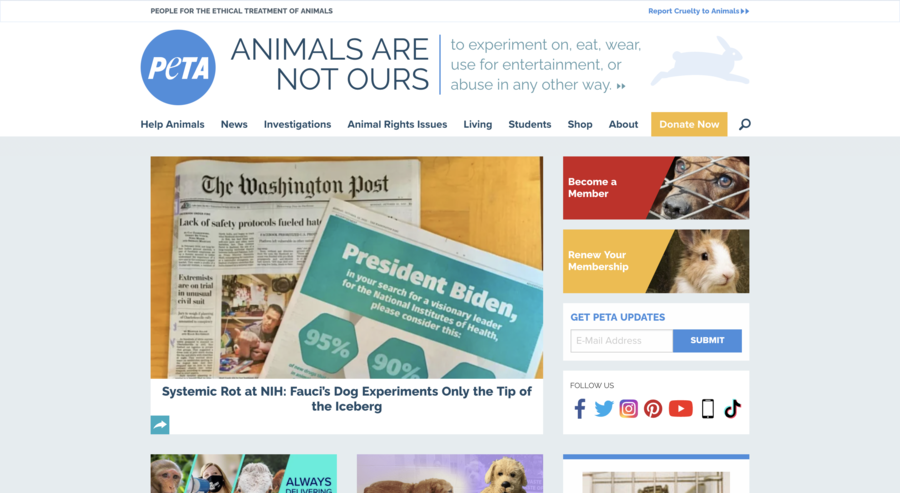 (Source: PETA.org Screenshot taken on Wed Oct 27 15:44:56 2021 UTC)
A PETA spokesperson told us in October 27 and 28, 2021, emails:
We did indeed weigh in on the beagle experiments when the first stories surfaced, though it was a case released by another organization. We had already begun calling for Francis Collins' resignation in July 2021, as we could see that NIH needs new leadership. We intensified this in August when the first dog stories emerged, as Collins is Fauci's boss and could end this (and all these horrific experiments).

PETA SVP Kathy Guillermo went public in front of 4 million Fox viewers opposing the dog experiments on August 13 ...

When the sand flea experiments were released, we published this, on Oct 25 ...

And again, this week, PETA SVP Kathy Guillermo appeared on Tucker Carlson's program in opposition to the dog experiments and calling for better leadership