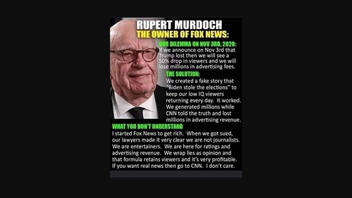 Did Fox News founder Rupert Murdoch recently say, "I started Fox News to get rich," or "We created a fake story that 'Biden stole the elections' to keep our low IQ viewers returning every day"? No, that's not true: "This report is false," a Fox News spokesperson told Lead Stories, referring to a post that attributed those and several other quotes to Murdoch. There is no evidence from searches of the public record that Rupert Murdoch ever said any of the quotes attributed to him in this post.
The claim appeared in a Facebook post (archived here) on September 26, 2021. Underneath a caption that reads, "actually true," the text in a meme including the image of Rupert Murdoch opened:
RUPERT MURDOCH THE OWNER OF FOX NEWS:
OUR DILEMMA ON NOV 3RD, 2020:
If we announce on Nov 3rd that Trump lost then we will see a 50% drop in viewers and we will lose millions in advertising fees.
THE SOLUTION:
We created a fake story that "Biden stole the elections" to keep our low IQ viewers returning every day. It worked. We generated millions while CNN told the truth and lost millions in advertising revenue.
This is what the post looked like on Facebook at the time of writing: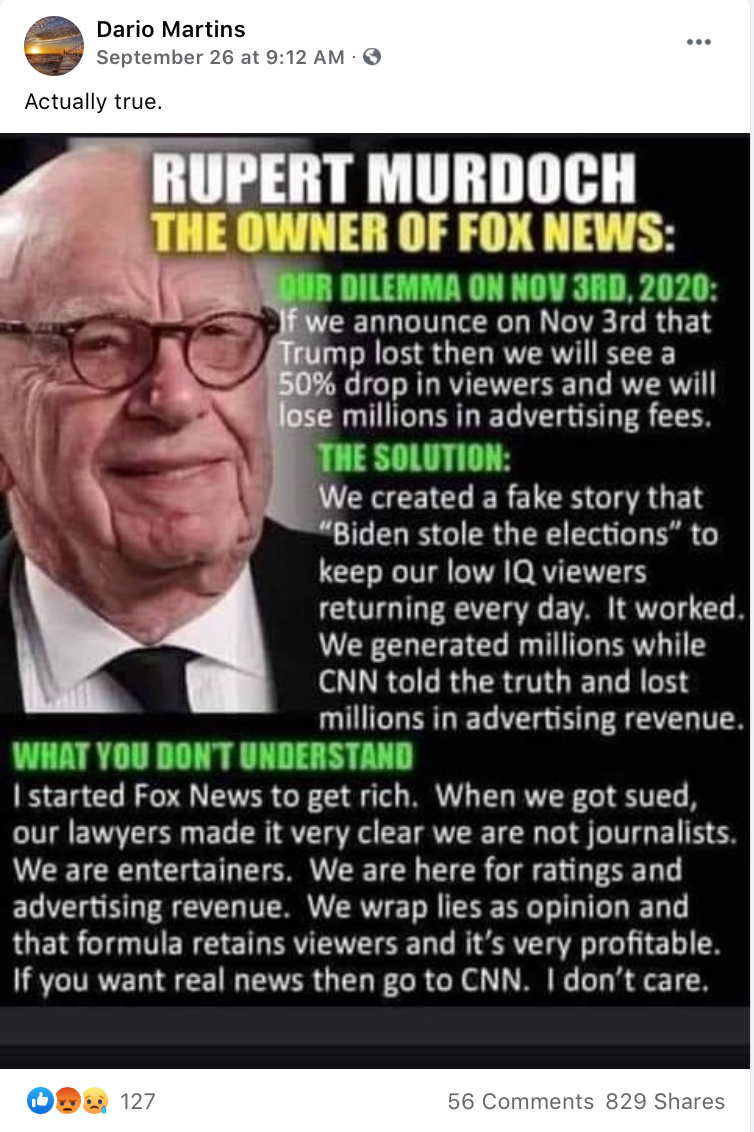 (Source: Facebook screenshot taken on Mon Oct 4 23:40:27 2021 UTC)
The post continued:
WHAT YOU DON'T UNDERSTAND
I started Fox News to get rich. When we got sued, our lawyers made it very clear we are not journalists. We are entertainers. We are here for ratings and advertising revenue. We wrap lies as opinion and that formula retains viewers and it's very profitable. If you want real news then go to CNN. I don't care.
Regarding the claim that Murdoch said, "I started Fox News to get rich," Murdoch was already worth an estimated $3.2 billion in 1996, when the Fox News Channel launched.
If Rupert Murdoch were to make any of the statements included in this post, it would be a significant news event. As of October 5, 2021, there was no evidence of this on Twitter's trending page, and a Google search for Rupert Murdoch quotes produced no results matching the claim.
A social media search on Rupert Murdoch displays his most recent post was published on Twitter in 2016.

An archival search on Trove, a digital collection of "all things Australian," for quotes made by Rupert Murdoch that would correlate to the claims in this post did not produce any results. Additional searches for recent press publications concerning Rupert Murdoch here and here did not reveal any significant events that substantiate the claims made in this post either.
Lead Stories reached out to the network, Fox News Channel regarding the post. A spokesperson with the Fox News Channel responded in an October 4, 2021 email:
This report is false.