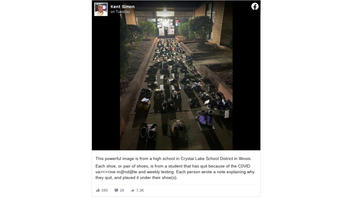 Did high school students in Crystal Lake, Illinois, protest a COVID-19 vaccine mandate by quitting and leaving their shoes outside the school? No, that's not true: The photo was taken outside the Crystal Lake Elementary District 47 School's administrative office. The protest was staged by adults in opposition to a statewide vaccine mandate for school personnel. A district spokesperson said students have not been pulled out of the elementary school en masse by parents.
The claim appeared in a Facebook post (archived here) where it was posted on September 28, 2021. The post read:
This powerful image is from a high school in Crystal Lake School District in Illinois. Each shoe, or pair of shoes, is from a student that has quit because of the C0VID va><><ine [email protected]@te and weekly testing. Each person wrote a note explaining why they quit, and placed it under their shoe(s).
This is what the post looked like on Facebook at the time of writing:
(Source: Facebook screenshot taken on Thu Sep 30 18:06:19 2021 UTC)
This protest did not take place at a high school.
Denise Barr, the director of communications for Crystal Lake Elementary District 47, told Lead Stories in an email on September 30, 2021, that the demonstration took place in front of the District's administrative office, and was carried out by adults. The children in this school district are in pre-K to 8th grade.
Even though some parents of the students that attended these District 47 schools were upset enough to protest, according to Barr, parents did not as a group take their children out of the school.
A local news article said the protest was called "Shoes for Freedom," and showed a picture of some of the signs left on the administrative office's front entrance, with the signs expressing opposition to a COVID-19 vaccine mandate for school personnel.
Regarding the claim of shoes with notes placed in them Barr told Lead Stories, "I did not see the notes. For safety reasons, the notes and shoes were cleaned up by our operations team before the work day started."
Jaclyn Matthews, the executive director of communications for the Illinois State Board of Education, told Lead Stories in a September 30, 2021 email, that an executive order regarding vaccine, masks, and COVID testing is in place for all schools in Illinois:
Regarding the vaccine mandate, yes -- all school personnel at all public and nonpublic schools must be fully vaccinated or undergo at least weekly testing.