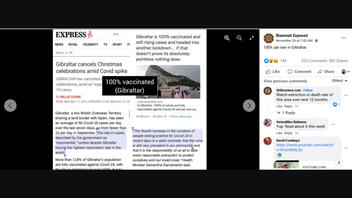 Is Gibraltar, a British overseas territory, undergoing a lockdown during the 2021 holiday season despite having a 100% COVID-19 vaccination rate? Not exactly: Although Gibraltar -- which has vaccinated most of its adult population and the workers who commute there -- has experienced a spike in COVID-19 cases since October 2021, the territory is only canceling its large, government-sponsored holiday events and encouraging its residents to exercise caution.
The claim appeared in a Facebook post (archived here) published on November 26, 2021. It featured screenshots of a Daily Express article about Gibraltar's COVID-19 holiday season precautions. There was also a screenshot of a claim that implied that COVID-19 vaccination was ineffective, that read:
Gibraltar is 100% vaccinated and still rising cases and headed into another lockdown... if that doesn't prove its absolutely pointless nothing does.
This is what the post looked like on Facebook on November 30, 2021:
(Source: Facebook screenshot taken on Tue Nov 30 19:17 2021 UTC)
Gibraltar's vaccination rate includes not only its residents but also those who commute to the peninsula for work, meaning that its vaccination rate may exceed 100%. On May 2, 2021, Gibraltar's health minister Samantha Sacramento told Sky News that 85% of the territory's entire population was vaccinated and that the vaccination rate for those over 60 years old was 98 percent. Lead Stories reached out to officials of the territory to determine its vaccination rate at the time of writing and will update the story with any response.
However, Gibraltar's high COVID-19 vaccination rate does not mean that its residents and commuters are immune to the novel coronavirus. Like any vaccination, there is no guarantee that COVID-19 vaccinations are 100 percent effective in protecting recipients from contracting the disease. One benefit of vaccination is the lessening of life-threatening symptoms. While cases were on the rise in the territory since October 2021, the Gibraltar Chronicle reported on November 23, 2021, that out of 747 cases, there was only one hospitalization.
As for Gibraltar's official stance on holiday plans, Fabian Picardo, chief minister of Gibraltar, took to Twitter to clarify that the territory has not canceled Christmas. Rather, official government events have been canceled, and residents are encouraged to heed COVID-19 guidance released by Public Health Gibraltar.
Picardo's tweet is embedded below:
Surprised I even have to say this BUT #Gibraltar has NOT cancelled Christmas. The Government has called for caution & for people to follow Public Health Advice from @PublicHealthGib. We've cancelled large, government organised events in order not to create vectors for infection. pic.twitter.com/paKodUsMhR

-- Fabian Picardo (@FabianPicardo) November 19, 2021
And, contrary to the Daily Express article's claim Gibraltar was "headed into another lockdown," the government was working to prevent such a situation. In an official public health guidance released on November 18, 2021, Picardo said in part:
We want to avoid having to provide for any lock down in the coming weeks and months. To do that, we need the support of each member of the community. We really need to see people following guidance and in particular we need people to take up the offer of the Booster Jab as soon as they are offered it. People can see the numbers of cases rising throughout Europe and lockdowns taking effect throughout the continent. Here although cases are rising, hospitalisations are currently low. We need to keep it that way, but if numbers continue to rise exponentially, we may see numbers in hospital grow too.
At the time of writing, Gibraltar's booster COVID-19 vaccination program is underway.