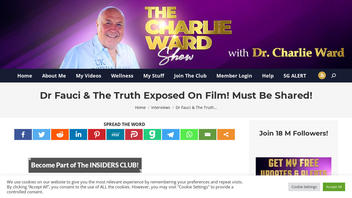 Does this video unmask new-in-November-2021 evidence that Dr. Anthony Fauci helped mastermind the COVID-19 pandemic to bring humankind under government control? No, that's not true: The October, 2019 C-SPAN video has been the subject of conspiracy theories since October, 2021. In this version of the conspiracy theory, a One America News (OAN) news reader puts words in the mouths of Fauci and others in the video and misinterprets what they say in order to claim Fauci caused the pandemic.
The claim appears in a November 28, 2021, video (archived here) posted to the drcharlieward.com website under the title "Dr. Fauci & The Truth Exposed On Film!" The caption continued:
Must Be Shared!
This is how the video appeared at the time of writing: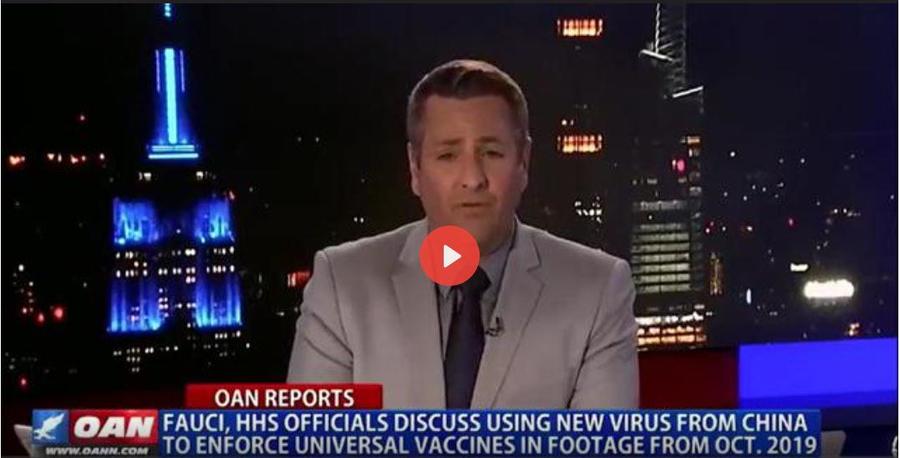 (Source: drcharlieward.com screenshot taken Tue Nov 30 at 18:54:41 2021 UTC)
The video shows Fauci and other public health experts repeating what virologists and even President George W. Bush had been saying for more than 15 years before the COVID-19 pandemic: A viral outbreak is inevitable and it is past time we modernize vaccine development. President Donald Trump's Operation Warp Speed was the first example of modernization, creating an approved vaccine in approximately nine months.
Lead Stories in October of 2021 debunked another set of false claims about the contents of the C-SPAN video.
OAN caption contains falsehood about plot to "ENFORCE UNIVERSAL VACCINES"
The video opens with a false caption that reads: "FAUCI, HHS OFFICIALS DISCUSS USING NEW VIRUS FROM CHINA TO ENFORCE UNIVERSAL VACCINES IN FOOTAGE FROM 2019."
The "footage" is video of a discussion in October 2019 between National Institute for Allergy and Infectious Diseases Director Dr. Anthony Fauci and his colleague Rick Bright, Ph.D., then-head of the Biomedical Advanced Research and Development Authority at the National Institutes of Health. The C-SPAN video and transcript contain no mention of enforcing universal vaccination.
What Fauci and Bright are talking about is the quest for a universal vaccine against seasonal flu. Under the current technology, public health officials each year engage in a guessing game, sampling early flu patients and then trying to guess which variant of the flu will become dominant. They must guess because of the time it takes to mass-produce flu virus using egg-based cultures. The "universal flu vaccine" under discussion in the 2019 Fauci/Bright discussion would be a major medical breakthrough: one shot capable of knocking down any variant of each season's flu viruses. There is no discussion in the video of enforcing a universal flu vaccine. None of the participants utter the words "enforce" or "enforcing" or "force".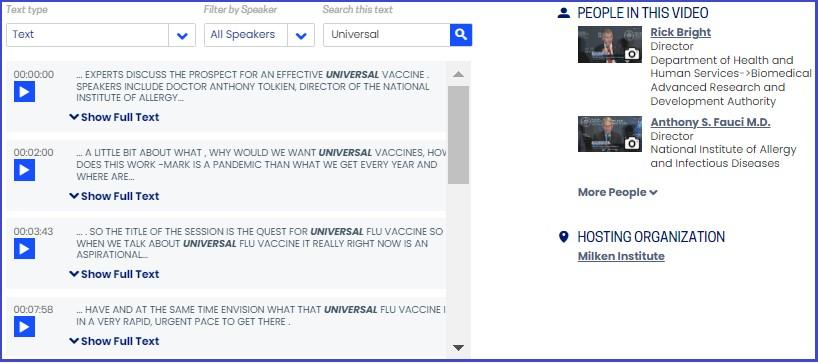 (Source: c-span.org screenshot taken Tue Nov 30 at 19:03:06 2021 UTC)
OAN caption contains falsehood about "USING VIRUS FROM CHINA" to force vaccination
What is clear from the video and transcript is that Bright was telling the audience that it will in the near future be possible to fight the spread of viruses with self-administered "patch" vaccines. Bright tells the group that when health officials capture the genetic code of an emergent virus, they can send that data digitally across the world. He said his agency is working on in-home devices that generate a messengerRNA patch a person could plaster on their arm to generate antibodies to the virus before it even arrives. To illustrate the ability to work against physically distant viruses before they become a continent-hopping pandemic, Bright used the example of an avian flu from China. There have been avian flu outbreaks in China, in Hong Kong in 1997 and avian flu was the origin of the 1918 H1N1 epidemic that killed more than 50 million people worldwide.
Three more falsehoods in the OAN video:
1. Introducing the report the OAN host says "newly uncovered video," describing a C-SPAN archive tape that has been publicly available to anyone with internet connection since October 29, 2019.
2. At the 4:45 mark of the OAN video, reporter Pearson Sharp opens with: "It's hard to misinterpret what's being said here" and then misinterprets it, saying there is something "suspiciously prescient" about the head of the U.S. infectious disease fighting agency repeating what virologists, presidents and homeland security experts have said for decades: we aren't adequately prepared to face a pandemic and it's likely going to be yet another in the series of avian and animal-origin flus from China.
3. Although it's a matter of opinion whether Sharp is correct in asserting the U.S. government has seized excessive power in enacting COVID-19-fighting measures, Sharp places that claim in false context when he says, at the 5:15 mark "...never in the history of the world has a government ever taken power and then given it back voluntarily." Among recent examples is the Wangchuk Dynasty of Bhutan, which in 2008 handed off power to a popularly-elected parliament and prime minister. Other examples of monarchs giving up power to elected governments include Italy in 1946 and Nepal in 2008.