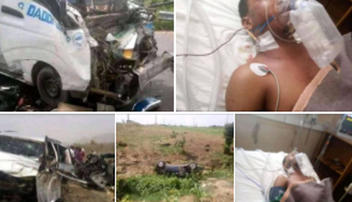 Does a direct deposit fundraising campaign go to help a 22-year-old named Jerry Stephen or a 7-year-old named Jerry David who both developed congestive heart failure for different reasons, one after a car accident, the other after a fever? No, that's not true: Many suspicious fundraising posts on Facebook contain uncanny similarities -- similar stories, similar photos and similar bank accounts. There is no evidence that these fundraising campaigns are going to help people in need.
Lead Stories found posts that fit this deceptive formula dating to July 2021, but the story about Jerry Stephen was introduced in early December. One example is a post published to the Facebook group korra obidi fan page on December 8, 2021. Included with the post are five photos. Two show a man in a hospital bed; three show car accidents that do not appear to be the same vehicles or same accident scene. The caption begins:
A word from Jerry's parents

PLS PARENT OR PARENT TO BE DONT SKIP THIS PRAYER FOR MY SON PLS, YOUR PRAYERS IS WHAT WILL NEED BECAUSE IT WILL HELP IN SAVING MY SONS LIFE.
This is what the post looked like on Facebook at the time of writing: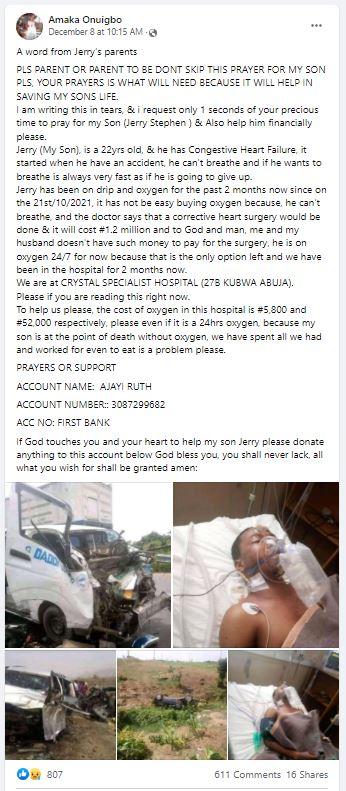 (Source: Facebook screenshot taken on Fri Dec 10 17:27:49 2021 UTC)
Lead Stories was not able to identify the man in the photo or all of the car accidents. The photo in the lower left corner was identifiable. It shows the aftermath of a head-on collision that killed 13 people in Bauchi State, Nigeria on March 31, 2019. There are articles about the accident with the photo at sunnewsonline.com and guardian.ng. This photo has also appeared in other subsequent stories as a stock image representing a car accident.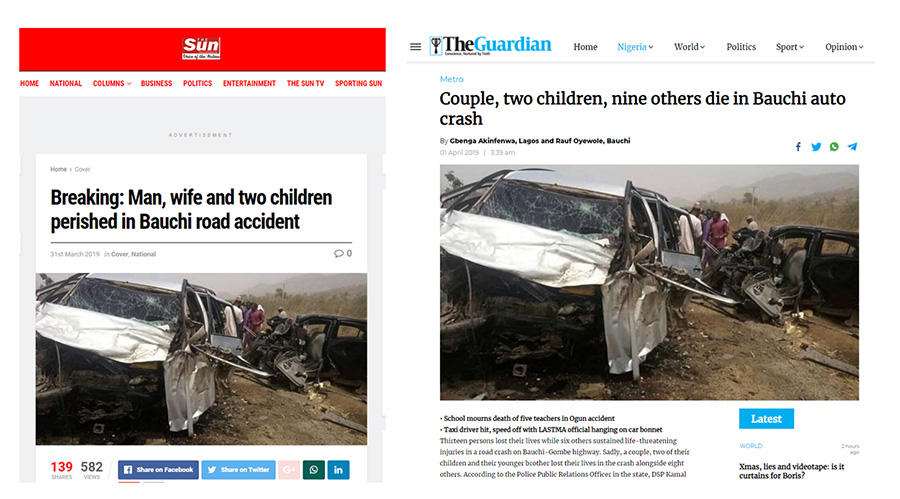 (Image source: screenshots from sunnewsonline.com and guardian.ng taken on Fri Dec 10 23:21:24 2021 UTC)
The center photo in the bottom row, showing a black car that had rolled over, could not be identified in a news story, but it was found in several additional Facebook posts. One post, from November 13, 2021, was asking people to deposit money in a specific bank account to help a young woman, "Blessing Victor," who had purportedly been in a car accident on November 7, 2021. A different post, from June 29, 2021, was asking for donations for "Temitope David" who purportedly was in an accident on June 26, 2021. Although the date of the accident and the woman's name is changed, the same photos and nearly identical text is used in both posts. The donation requests point to different bank accounts.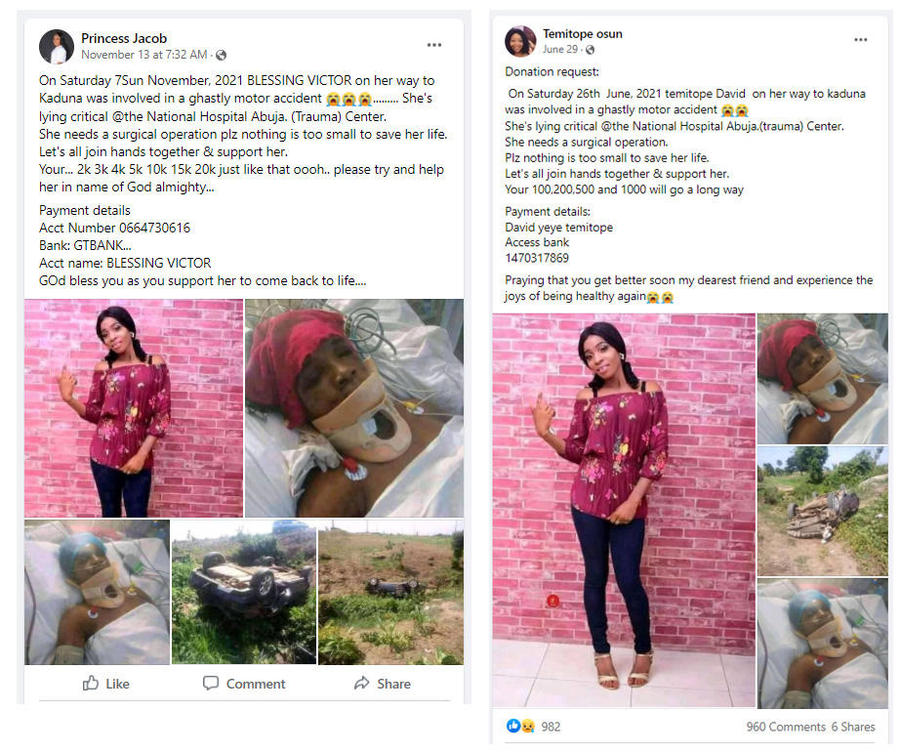 (Image source: Lead Stories composite of Facebook screenshots taken on Fri Dec 10 20:01:56 2021 UTC)
Lead Stories uncovered many examples of copy/paste construction regarding the Jerry post. Pictured below are two sets of photos, one set depicting a young adult man, "Jerry Stephen," and the other set depicting a young boy, "Jerry David." The copy/paste text of their stories was revised with some small changes, shown below in brackets and bold type, to better fit with the photos. The donation requests of the two posts point to different banks.
A word from Jerry's [parents or mom]
PLS PARENT OR PARENT TO BE DONT SKIP THIS PRAYER FOR MY SON PLS, YOUR PRAYERS IS WHAT WILL NEED BECAUSE IT WILL HELP IN SAVING MY SONS LIFE.
I am writing this in tears, i request only 1 seconds of your precious time to pray for my Son (Jerry [Stephen or David]) Also help him financially please.
Jerry (My Son), is a [22yrs old or 7yrs old baby] he has Congestive Heart Failure, it started when he [have an accident or was 2-4 months he had fever and shortened of breathe] he can't breathe and if he wants to breathe is always very fast as if he is going to give up.
Jerry has been on drip and oxygen for the past 2 months now since on the [21st102021 or 21st052021] it has not be easy buying oxygen because, he can't breathe, and the doctor says that a corrective heart surgery would be done it will cost [1.2 million or 950,000] and to God and man, me and my husband doesn't have such money to pay for the surgery, he is on oxygen 247 for now because that is the only option left and we have been in the hospital for 2 months now.
We are at CRYSTAL SPECIALIST HOSPITAL (27B KUBWA ABUJA).
Please if you are reading this right now.
To help us please, the cost of oxygen in this hospital is 5,800 and 52,000 respectively, please even if it is a 24hrs oxygen, because my son is at the point of death without oxygen, we have spent all we had and worked for even to eat is a problem please.
[Jerry is my only son after 8 years of marriage and it's hasn't been easy with me, I was mocked, kicked and restricted from touching any baby anytime we go to visit my husband's family.]
If God touches you and your heart to help my son Jerry please donate anything to this account below God bless you, you shall never lack, all what you wish for shall be granted amen
PRAYERS OR SUPPORT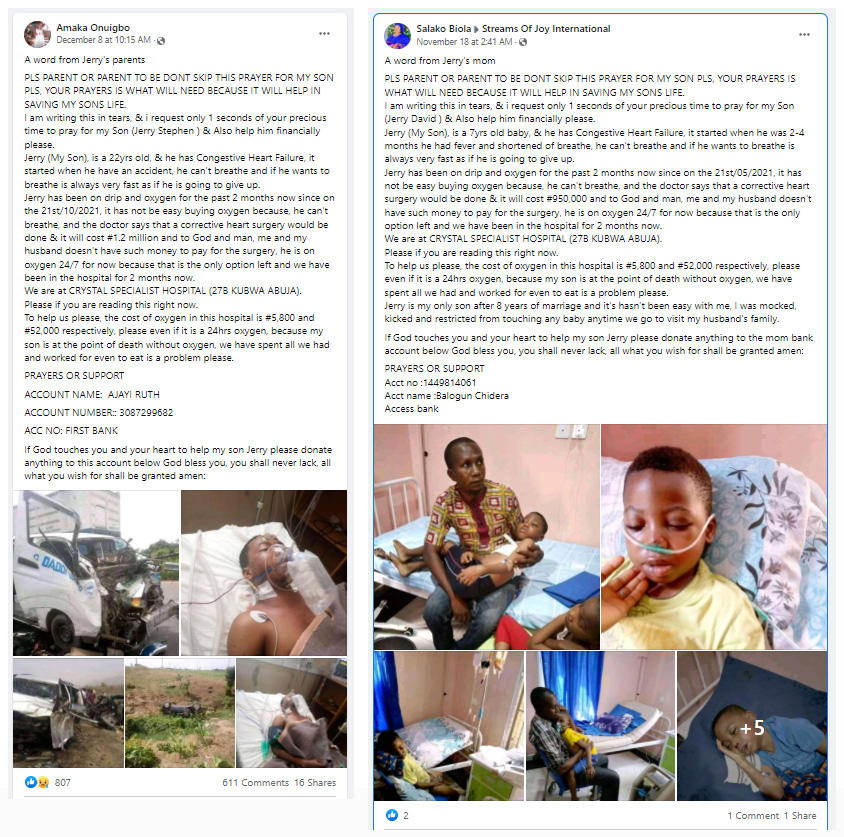 (Image source: Lead Stories composite of Facebook screenshots taken on Fri Dec 10 20:01:56 2021 UTC)
While it is clear that at some point in time the people in the photos had need for medical care, there is no clear connection between these people and the fundraising that is being done purportedly on their behalf -- this is a scam. Below is a collection of posts that all begin, "A word from Jerry's mom."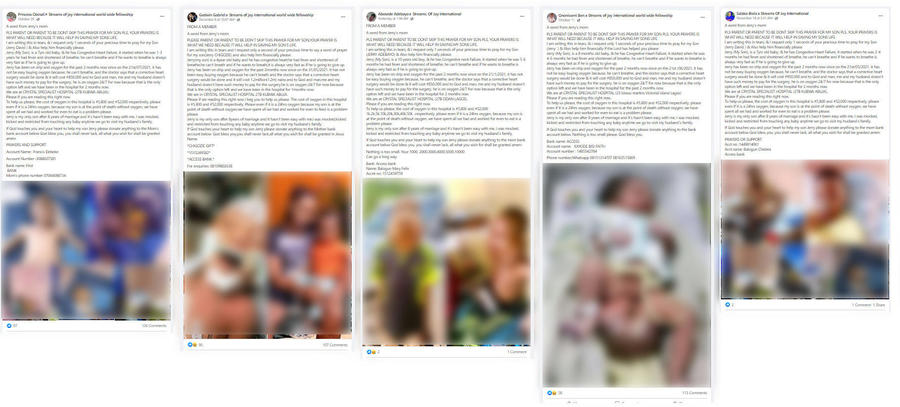 (Image source: Lead Stories composite of Facebook screenshots taken on Fri Dec 10 20:01:56 2021 UTC)