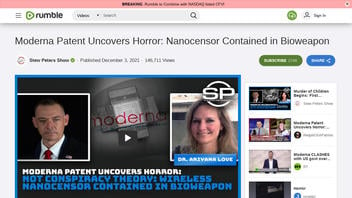 Does a Moderna patent reveal a nanosensor is contained in its COVID-19 vaccine? No, that's not true: COVID vaccines contain no nanosensors. Patents for the mRNA vaccine and an ingredients list from the Food and Drug Administration (FDA) show the Moderna shot does not have any nanosensors in it.
The interview making this claim was posted to Rumble on December 3, 2021, as a video (archived here) under the title "Moderna Patent Uncovers Horror: Nanocensor Contained in Bioweapon." It opened:
Dr. Ariyana Love returns to the Stew Peters Show to expose her findings in the Moderna Vaccine patents, confirming the La Quinta graphine oxide study and the Globalist's plan to install nano-censors in every human body that they can.
This is what the post looked like on Rumble on December 8, 2021: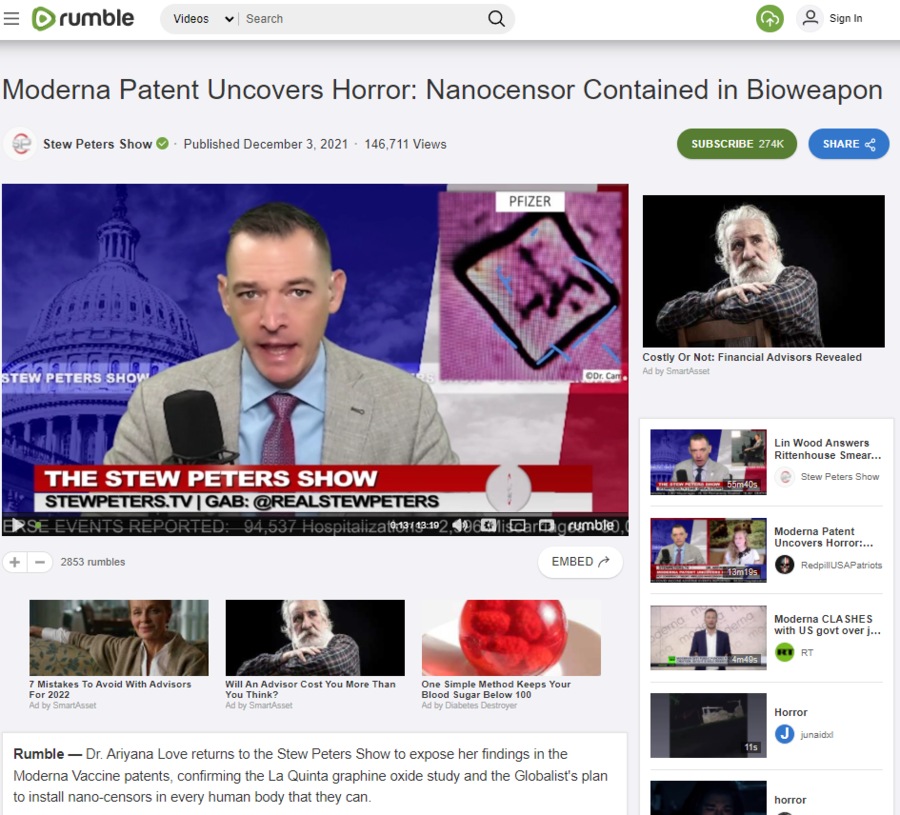 (Source: Rumble screenshot taken on Wed Dec 08 16:29:00 2021 UTC)
It appears the word "nanocensor" that appears in the headline of the claim is a misspelling of the word nanosensor. While there are chemical and mechanical sensors under development at that size, as of December 8, 2021, there was no such thing as a person smaller than .001 microns who is assigned to examine the morality of books and films.
The video features an interview with Ariyana Love, a naturopathic doctor, on "The Stew Peters Show." According to WebMD, naturopathic medicine embraces therapies that include herbs, massage, acupuncture, exercise and nutritional counseling.
Peters' introduction of Love includes the disproven claims that COVID vaccines deliver nanotechnology into our blood. He opens the video with this:
Well, earlier this week, we spoke with Dr. Pablo Campra, the Spanish doctor who tested vaccine samples and found they contain graphene oxide. Well, during that appearance, Dr. Campra also talked about the evidence that vaccines could contain a wireless nanosensor. Dr. Ariyana Love is back with us. She says that she's found evidence in Moderna's patents that back up Dr. Campra's claims and she says that she's found a lot more in addition to that.
At 0:35 in her exchange with Peters, Love begins to lay out her case that nanotechnology is included in Moderna's COVID vaccine:
They're called biochips and they're in more than one patent, so yeah, they exist. So, Dr. Campra is right. They're in the patents.
Biochips are a microchip intended to function in a biological environment, especially inside a living organism. Peters continues his interview of Love with this question:
So, a wireless nanosensor exists in this bioweapon shot that's being called a vaccine?
Love responds:
Exactly, and ... they contain graphene oxide ... they're made from graphene oxide, which also proves graphene oxide is listed in the patents. ... We have now proof that there's graphene oxide, graphene hydroxide and other graphene variants in these shots and that comes from, so far, seven scientific research teams and scientists, including the University of Almeria, Dr. Campra's report.
Lead Stories checked the eight patents for the vaccine listed on the Moderna website; none included biochips, graphene oxide or nanosensors. An ingredients list for the vaccine from the FDA does not include them either.
Campra is a professor who specializes in lab biotechnology and horticulture as it applies to the climate. Lead Stories has previously debunked claims from him about graphene oxide, and the university he works for in Spain has distanced itself from Campra's claims about graphene in COVID vaccines.
Based on those earlier claims, the University of Almeria published a tweet on July 2, 2021, "in relation to the false information disseminated on some social networks and blogs."
🔹Comunicado de la Universidad de Almería en relación con las falsas informaciones difundidas en algunas redes sociales y blogs. pic.twitter.com/Rx6ayF35eI

-- Universidad de Almería (@ualmeria) July 2, 2021
Using Google Translate, the tweet says:
COMMUNICATION FROM THE UNIVERSITY OF ALMERIA

Faced with the false information disseminated in some social networks and blogs about an interim report by a professor at the University of Almeria, who seems to question the vaccines against Covid-19, the University of Almeria conudes that::

It is flatly false that the University of Almeria has carried out a scientific study with the results that are being published by those media that, on the other hand, are misrepresenting the content of an unofficial report by a University professor about an analysis of a sample of unknown origin with total lack of traceability. Report that this university neither subscribes nor shares, as the report itself warns.

The University of Almeria, as an academic institution, seamlessly supports vaccines as scientifically unquestionable instrument to fight against diseases.

The University of Almeria studies and reserves the possibility of directing civil and criminal actions against those who continue to disclose the falsehoods that this communication denies.
At 4:10 in the interview, Love reiterated that she found graphene oxide in the COVID shots, during her research:
It's in the Moderna and Johnson & Johnson. It's listed in the patents. They're hydrogels. Hydrogels are made from graphene oxide and the hydrogels are listed in the Moderna patent. They're patented under US 8,415,325 B2.
Previously, Lead Stories debunked claims that COVID vaccines contain hydrogel nanobots, as well as injectable tracking and computing systems.
Anti-vaccine activists have repeatedly claimed, without credible evidence, that vaccine makers have added graphene oxide to vaccines as a means to control people as part of a secret plot for global dominion.