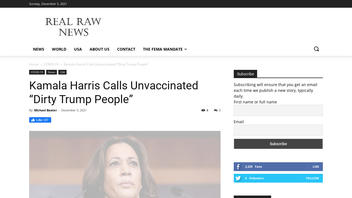 Did Vice President Kamala Harris call unvaccinated Americans "dirty Trump people" on a phone call with members of the Biden-Harris administration? No, that's not true: There is no evidence that Harris ever said this. Such a story, if leaked, would prompt extensive media coverage in reputable outlets, and there has been no such coverage. The source of the claim -- Real Raw News -- also has a history of fabricating articles about public figures.
The claim originated from an article published by Real Raw News on December 5, 2021, titled "Kamala Harris Calls Unvaccinated 'Dirty Trump People'" (archived here) which opened:
An NIH whistleblower privy to a telephone Thursday morning telephone call between the corrupt administration and members of the Biden-Harris administration COVID-19 Health Equity Task Force told Real Raw News that an enraged Kamala Harris called unvaccinated Americans "very dirty Trump people" after CDC director Rochelle Walensky admitted to the difficulty of vaccinating every American citizen.
This is what the article looked like at the time of writing:
(Source: Real Raw News screenshot taken on Mon Dec 6 16:53:18 2021 UTC)
The article continues, "Also on the call were NIH Director Dr. Francis Collins -- a vaccine pusher who Fox News' Bret Bair has called 'an American hero' -- administration Communication Director Kim Bedingfield; Secretary of Health & Human Services Director Xavier Becerra; and Secretary of Homeland Security Alejandro Mayorkas, a self-admitted Communist."
A Google search of the words "Kamala Harris dirty Trump people" showed no results of Harris saying this phrase at the time of writing.
Lead Stories has reached out to the NIH (the National Institutes of Health), the White House in an effort to reach Harris' staff and administration officials, the U.S. Department of Health and Human Services and the Department of Homeland Security. We will update this fact check, as appropriate, when they reply.
Real Raw News has a long history of publishing false claims in mock news stories, many of them about convictions and executions of various public figures at Naval Station Guantanamo Bay in Cuba. For example, the site reported former Secretary of State Hillary Clinton was hanged (she wasn't); former White House Chief of Staff John Podesta was executed (he wasn't); and that "the military" convicted former Attorney General William Barr on charges of treason (it didn't).
The website for Real Raw News includes a disclaimer that warns readers not to take its content too seriously. Specifically, it says:
Information on this website is for informational and educational and entertainment purposes. This website contains humor, parody, and satire. We have included this disclaimer for our protection, on the advice on legal counsel.

(Source: RealRawNews.com screenshot taken Tue Aug 3 16:39:48 UTC 2021)
Lead Stories has covered claims published by Real Raw News in the past. Previous Lead Stories debunks of Real Raw News items is collected here.