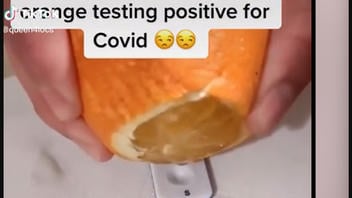 Did an orange and a lemon test positive for COVID-19? Does using a test improperly, with fruit juice rather than a nasal swab, show that home tests are unreliable and will return false positives for anything? No, that's not true: The Food and Drug Administration (FDA) has granted Emergency Use Authorization (EUA) to many makers of home antigen diagnostic tests for COVID. The EUA for each of these tests has a letter outlining the specific details of how the test is to be used, and the tests also have specific directions in their packaging. They are not designed, nor are they authorized, to be used to test anything other than the specified nasal swab or oral swab for the presence of SARS-CoV-2.
The video appears to have originated on the TikTok account @queen4locs; the video (archived here) was published on Facebook on January 13, 2022, with the caption, "Make you think????" The text in the video reads:
orange testing positive for Covid
This is how the post appeared at the time of writing: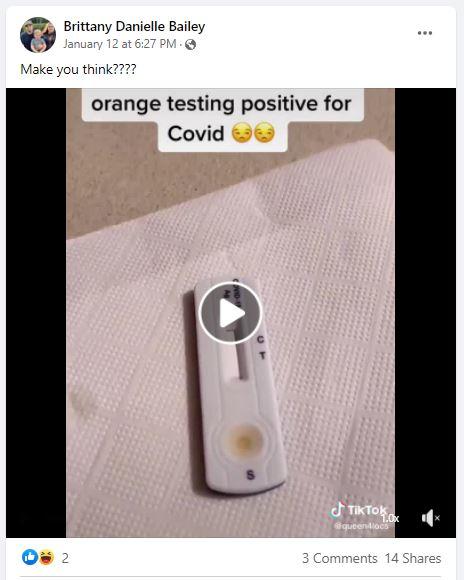 (Image source: Facebook screenshot taken on Wed Jan 19 16:09:49 2022 UTC)
Claims about non-human things testing positive for COVID go back as early as May 2020 when then-President of Tanzania John Magufuli made news. He called unspecified imported testing kits faulty after he said samples of a papaya, jackfruit, pawpaw, a rabbit, a bird, a sheep, a goat as well as motor oil were labeled with made-up human names, secretly sent for testing and some tests purportedly came back positive.
In the summer of 2021 there were social media posts that demonstrated to schoolkids how to make a fake positive test with acidic fruit juice in order to get out of school. University of Hull Professor of Science Communication and Chemistry Mark Lorch wrote an in-depth explanation of the factors at play in the faked tests in theconversation.com. Lorch even devised a way to detect a test result that had been intentionally faked. He explained how acidic beverages could change the antibodies used in the proper function of lateral flow tests (LFT):
A much more likely explanation is that something in the drinks is affecting the function of the antibodies. A range of fluids, from fruit juice to cola, have been used to fool the tests, but they all have one thing in common - they are highly acidic. The citric acid in orange juice, phosphoric acid in cola and malic acid in apple juice give these beverages a pH between 2.5 and 4. These are pretty harsh conditions for antibodies, which have evolved to work largely within the bloodstream, with its almost neutral pH of about 7.4.

Maintaining an ideal pH for the antibodies is key to the correct function of the test, and that's the job of the liquid buffer solution that you mix your sample with, provided with the test. The critical role of the buffer is highlighted by the fact that if you mix cola with the buffer - as shown in this debunking of an Austrian politician's claim that mass testing is worthless - then the LFTs behave exactly as you'd expect: negative for COVID-19.
During the COVID pandemic, the FDA has evaluated and issued Emergency Use Authorization (EUA) for antigen diagnostic testing kits from many manufacturers. On the FDA website is a searchable list of all the tests and their attributes, such as being available over the counter for home testing. Each entry has the official correspondence from the FDA granting EUA to the manufacturer. This details the way in which the test is to be used, and this corresponds with the directions in the packaging.
Below is an example of the "Authorized Product Details" outlined by the FDA. Each EUA letter has details specific to the product; none of them suggest that the tests should be used to test soft drinks or fruit juice. This example is for the BD Veritor At-Home COVID-19 Test:
This test is authorized for non-prescription home use with self-collected anterior nasal swab samples from individuals aged 14 years or older with symptoms of COVID-19 within the first 7 days of symptom onset. This test is also authorized for non-prescription home use with adult collected anterior nasal swab samples from individuals aged 2 years or older, with symptoms of COVID-19 within the first 7 days of symptom onset.
The FDA has a Safety Communication page on their website where important information about medical devices and recalls are announced. On January 11, 2022, a warning was issued to stop using unauthorized COVID-19 Antigen Tests from LuSys Laboratories sold under the company names Luscient Diagnostics or Vivera Pharmaceuticals, or with the trade name EagleDx. The FDA also has a voluntary reporting form called Medwatch for professionals, patients and consumers to report adverse events with medical products.
Another video posted to Facebook on January 16, 2022, has no caption other than the text added to the video. It shows a person using lemon juice on the COVID-19 test swab with a soundtrack of the doo-wop song "Life Could Be a Dream." Below is a composite image of stills taken from that video: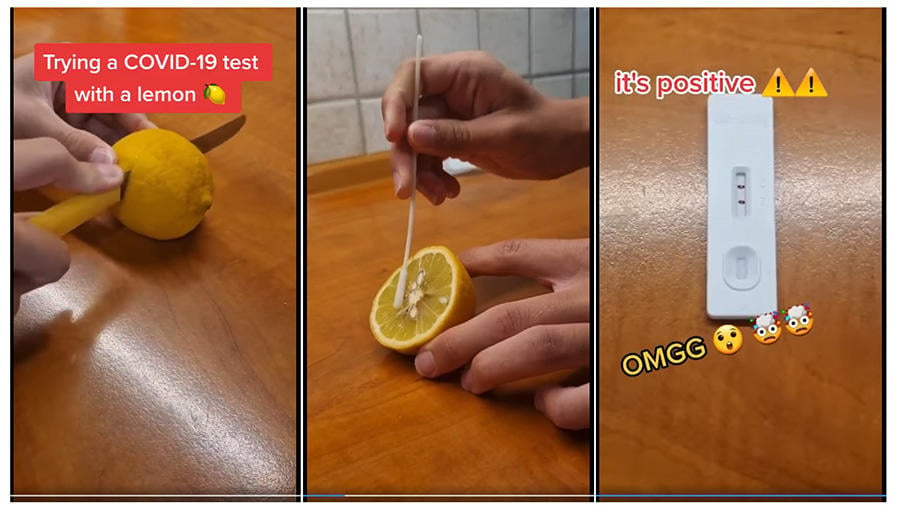 (Image source: Lead Stories composite image of Facebook screenshots taken on Wed Jan 19 16:33:52 2022 UTC)
A photo posted to Facebook on January 18, 2022, shows seven COVID-19 tests labeled with various beverages -- lemonade, Coca Cola, orange juice, water, apple juice, Fanta, Diet Coke -- and one test labeled "Real swab." The post's caption refers to the headline of a fact check by fullfact.org:
Fact checkers have already looked at this and stated Lemonade and Fanta don't test positive for Covid-19. But they didn't say anything about anything else....
This is how the post appeared at the time of writing: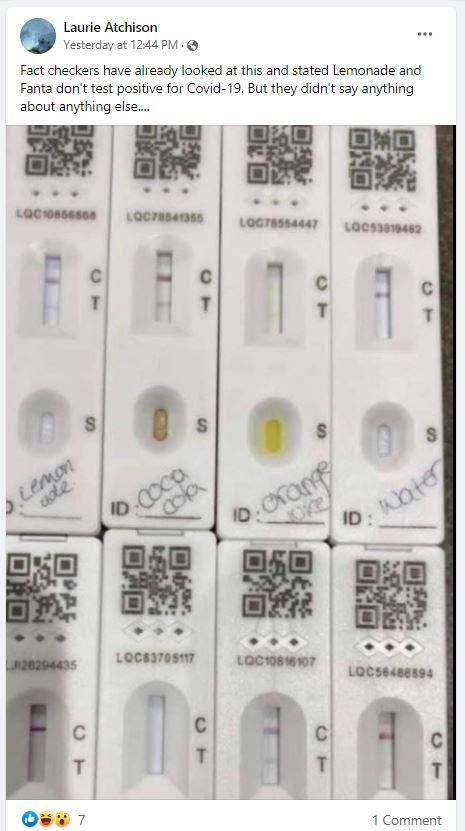 (Image source: Facebook screenshot taken on Wed Jan 19 18:27:44 2022 UTC)
Lead Stories has recently debunked another video, which showed tap water running over a different brand of at-home rapid antigen test than the ones pictured here. On December 29, 2021, the public affairs director from Abbott offered this statement about that situation:
BinaxNOW is for use with samples collected with a nasal swab inserted into a person's nostrils. BinaxNOW is not for use with water or any other foods or liquids. When used as intended, it is a highly accurate test that is helping to detect COVID-19 and can significantly improve efforts to control transmission. Spreading misinformation with deliberate misuse of a medical product during a pandemic is misleading, irresponsible and dangerous to public health. Other liquids have chemical properties which can cause a chemical reaction on the test strip, resulting in misleading or inaccurate results. Failure to follow the instructions for the test procedure and interpretation of test results may adversely affect test performance and produce misleading or invalid results.