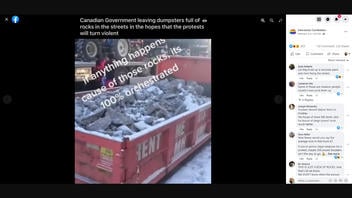 Did the Canadian government leave a dumpster full of rocks in downtown Ottawa to provoke violence during the "Freedom Convoy" protests? No, that's not true: The owner of the company that owns the dumpster confirmed with Lead Stories that the dumpster and its contents were only there for a client's construction needs.
The claim appeared in a Facebook post (archived here) published on February 9, 2022. It featured an image of a dumpster full of rocks. Text around and over the image read:
Canadian Government leaving dumpsters full of rocks in the streets in the hopes that the protests will turn violent

If anything happens cause of these rocks, its 100% orchestrated
The image seems to be a screenshot from a video that has appeared on TikTok displaying on-the-ground footage from the ongoing Canadian "Freedom Convoy," which involves protesters demonstrating against COVID-19 vaccination mandates for truckers and the general public. Although the video claims that there is more than one dumpster full of rocks, it only shows one dumpster. Therefore, this fact check will focus on the dumpster featured in the video.
This is what the post looked like on Facebook on February 11, 2022:
(Source: Facebook screenshot taken on Fri Feb 11 19:26 2022 UTC)
Lead Stories reached out to Mr. Dumpster, the company whose name is on the dumpster in the image. During a phone call on February 11, 2022, Danny Benson, one of the owners of Mr. Dumpster, told us that the dumpster was delivered to one of the company's clients doing work in the downtown Ottawa area. A still of the video shows that the dumpster was located across from the Constitution Square building in Ottawa, as shown below: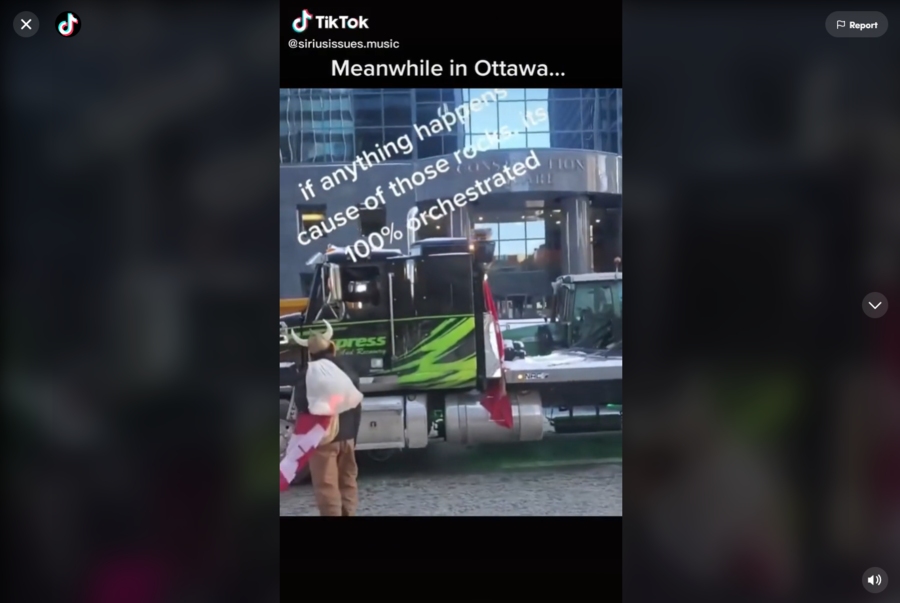 (Source: TikTok screenshot taken on Fri Feb 11 19:13:12 2022 UTC)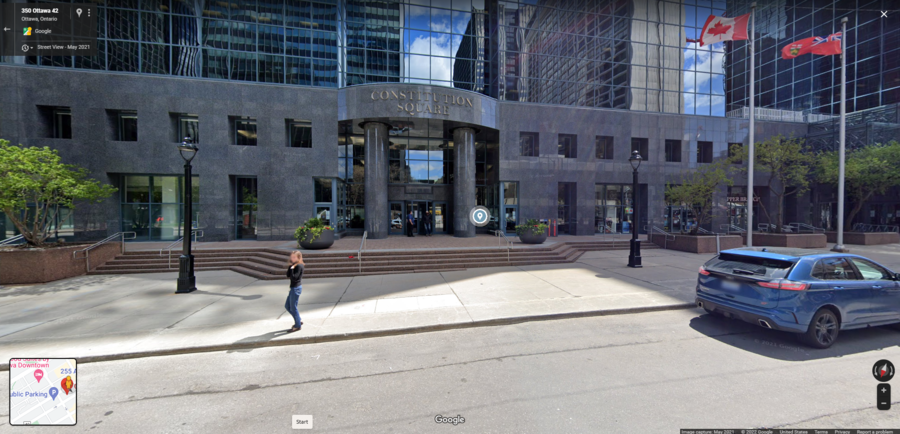 (Source: Google Maps screenshot taken on Fri Feb 11 19:15:25 2022 UTC)
Benson went on:
When we delivered the bin, it was empty, and the contractor is doing concrete work. The dumpster was ordered from our client with no intent at all of any malicious happenings.
Although Benson declined to tell us any identifying information about the company's client, he said that the government was not involved and that the dumpster was at the location on a regular basis. However, once Mr. Dumpster found out about the claim, it removed the dumpster on February 6, 2022. A fact check from AFP that examined this claim stated that one of AFP's reporters visited the location of the dumpster on February 10, 2022, and did not see it there: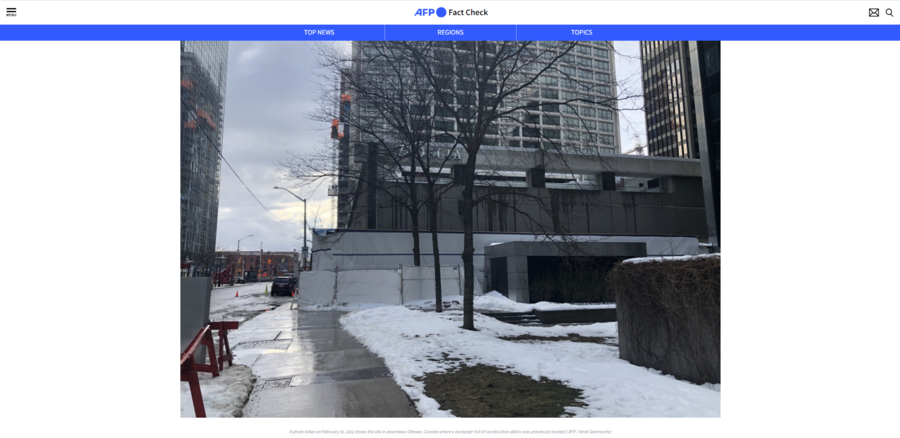 (Source: AFP screenshot taken on Fri Feb 11 19:19:23 2022 UTC)
Lead Stories also reached out to the Ottawa Police Service for more information and will update this story if they respond.
Other Lead Stories fact checks about the "Freedom Convoy" can be found here.