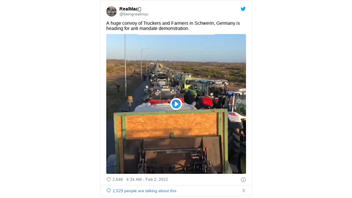 Does this video show German farmers and truckers heading out to an anti-vaccine mandate demonstration? If you thought this had something to do with a COVID-19 vaccine mandate, that's not true: This video shows a tractor parade protest in Schwerin, Germany, staged by farmers who object to a land ordinance that would regulate how much fertilizer they could use and where. The restriction is intended to curb nitrate pollution in surface and groundwater but could hurt their crop yields.
The protest happened on January 28, 2022. A video (archived here) published on Twitter by @beingrealmac on February 2, 2022, opened:
A huge convoy of Truckers and Farmers in Schwerin, Germany is heading for anti mandate demonstration.
This is what the post looked like on Twitter at the time of writing:
(Source: Twitter screenshot taken on Thu Feb 3 23:10:09 2022 UTC)
Comments left under the video voiced support for opposition to vaccine mandates, with hashtags such as #TruckersForFreedom and #NoMandatoryVaccine. The video was retweeted by Arizona state Sen. Wendy Rogers with the caption, "Germany." Many of the quotetweets of Roger's tweet included comments associating the German tractors in the video with the Canadian trucker "Freedom Convoy."
On January 28, 2022, the German public television station Norddeutscher Rundfunk reported from the outskirts of Schwerin on the 5-mile-long line of 250 to 300 tractors. At about 9:30 into the video the reporter shows the scene, then cuts to the map of the tractors' route.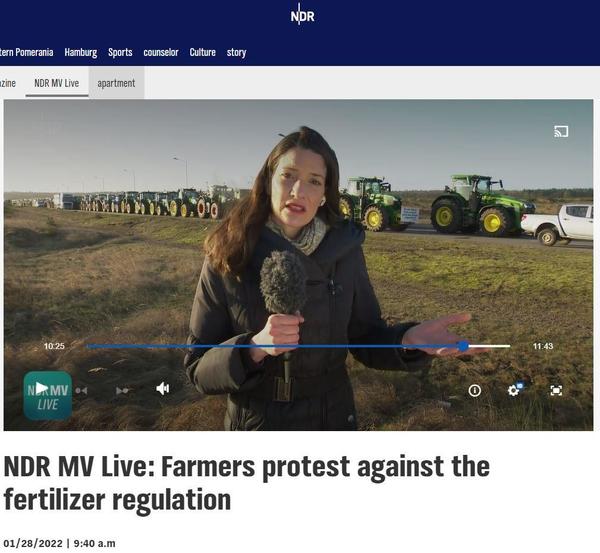 (Image source: NDR.de Screenshot taken on Thu Feb 03 23:35:04 2022 UTC)
Additional NDR reporting, in an article titled, "Farmers' protests: Hundreds of farmers with their tractors in Schwerin," described the farmers' objections:
The farmers loudly expressed their displeasure in front of the state chancellery - especially against the draft of the fertilizer state regulation: 'We want a regulation that really protects the water and not only sanctions farmers,' said farmer president Detlef Kurreck when handing over an open letter to the state government. The draft does not fully exploit the possibilities of precisely investigating and eliminating the causes of increased nitrate readings in the groundwater.