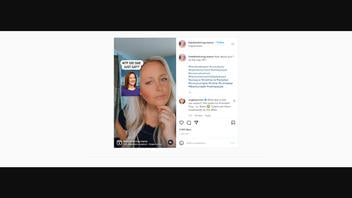 Did White House press secretary Jen Psaki imply that the Biden administration was interested in suppressing people's ability to "exercise their fundamental rights"? No, that's not true: When Psaki said the administration was "looking at efforts across the country to prevent people from being able to exercise their fundamental rights," an instagram video took that out of context to suggest Psaki was discussing vaccine mandates. Psaki was answering a series of questions about President Joe Biden's desire to block state adoptions of new restrictions on voting.
The claim appeared in an Instagram reel on February 3, 2022. The video began with a user playing audio of Psaki and text that read "WTF DID SHE JUST SAY?!" In the audio, Psaki said:
Look, I think that everyone is going to have to take a hard look at where they want to be at this moment in history, as we're looking at efforts across the country to prevent people from being able to exercise their fundamental rights.
The caption of the video included hashtags like #freedomkeepers, #mybodymychoice, #justsayno and #knowyourrights, indicating that the user who posted the video was using the quote to suggest that the government planned to take away citizens' rights, not block changes to voting laws.
This is how the video looked on Instagram on February 4, 2022:
(Source: Instagram screenshot taken on Fri Feb 4 15:55:45 2022 UTC)
The audio was taken from a White House press briefing held on January 10, 2022. Psaki was replying to a series of questions related to changing filibuster rules in the U.S. Senate so that Congress could outlaw new state restrictions on voting. The questions came amid an effort among Democratic lawmakers and the Biden administration to pass a voting rights bill in the Senate.
However, the effort was blocked by a Republican filibuster, and an attempt by Democrats to change the filibuster rules was not supported by Democratic senators Joe Manchin and Kyrsten Sinema. Because the press briefing occurred before the bill was blocked, one reporter asked Psaki, "Any response to a recent statement from Senator Sinema's office indicating she would not be in favor of changing the rules and dealing with these two pieces of legislation?" Psaki replied with the answer in the Instagram video.
The question that led to Psaki's answer can be found in a video of the press briefing at the 30:02 mark, found here and embedded below:
(Source: YouTube screenshot taken on Fri Feb 4 15:57:58 2022 UTC)