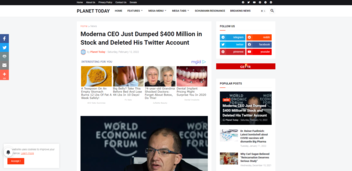 Did Moderna CEO Stéphane Bancel suddenly sell $400 million worth of stock in the company and delete his Twitter account, indicating something suspicious going on with the biopharmaceutical company? Not really: Bancel has steadily sold shares in the company through a trading plan that utilizes scheduled sales since at least 2018. Although his Twitter account seems to have been deleted close to the time of writing, the account did not show signs of activity since 2019.
The claim appeared in an article (archived here) published on February 12, 2022, by Planet Today titled "Moderna CEO Just Dumped $400 Million in Stock and Deleted His Twitter Account." The article went on:
Days after Pfizer admitted a safety audit could wipe billions off their stock market valuation, Moderna CEO Stéphane Bancel was dumped hundreds of millions of dollars in stock and deleted his Twitter account.

Nothing to see here, folks. Not suspicious at all.
This is how the article looked on February 15, 2022: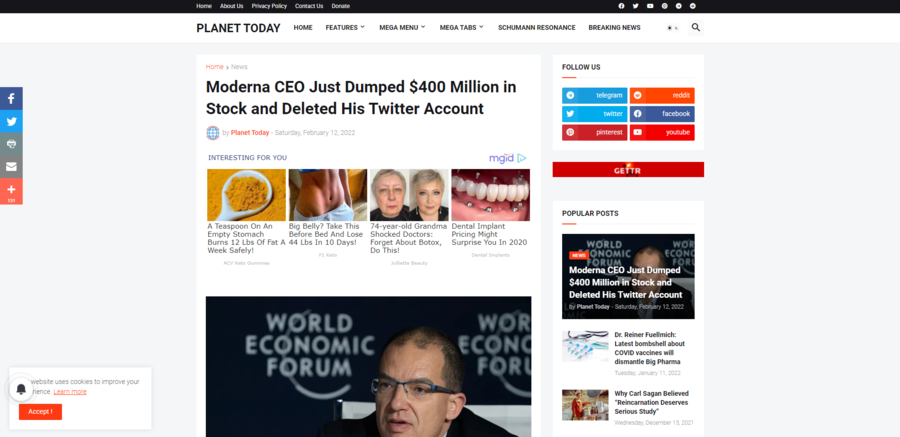 (Source: Planet Today screenshot taken on Tue Feb 15 19:01:34 2022 UTC)
Bancel has sold predetermined shares of Moderna since at least 2018, as the footnotes of his "Statement of Changes in Beneficial Ownership" form filed on February 11, 2022, show. This was done in accordance with a Rule 10b5-1 trading plan. Rule 10b5-1 is a federal regulation that allows insiders of public corporations to schedule share sales and subsequently prevents suspicion of insider trading. The 19,000 shares sold by Bancel on February 9 and 10, 2022, were valued between $154.26 and $158.05 each; the 4,000 other shares listed on the form were a "bona fide charitable gift." According to the information on the form, the 19,000 shares Bancel sold are valued at about $2.97 million. This is much less than the $400 million stated in the claim.
However, it does appear that Bancel's personal Twitter account was deleted. His account, which was found at @sbancel (see these tweets from Moderna's official Twitter account that mentioned "@sbancel" in reference to Bancel), does not exist at the time of writing, as shown in the screenshot included below: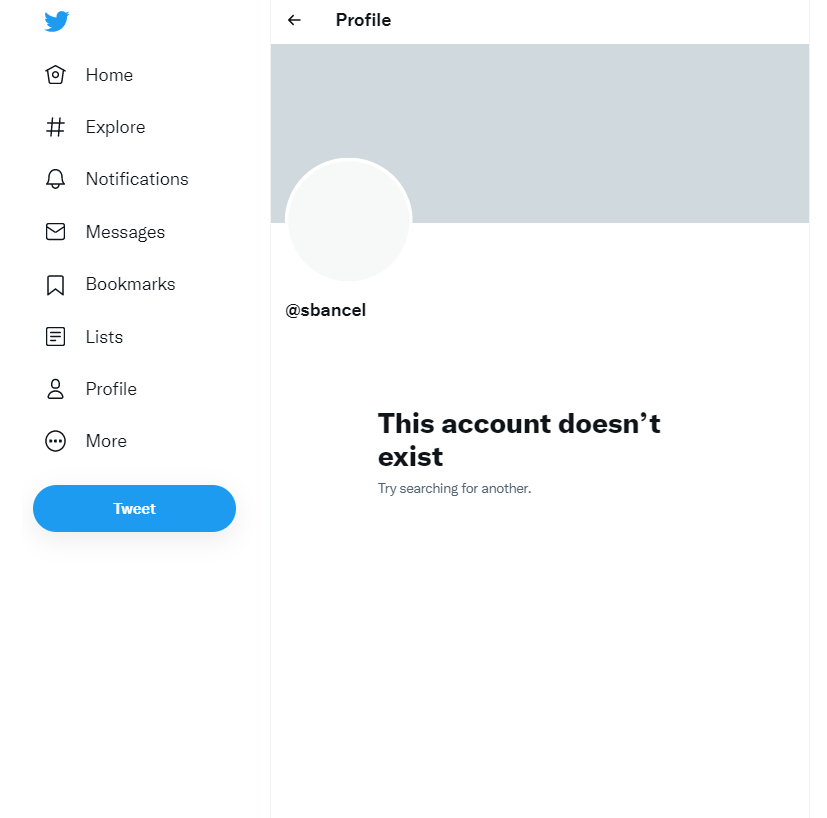 (Source: Twitter screenshot taken on Tue Feb 15 20:26:45 2022 UTC)
Web captures found on the Internet Archive show that Bancel's account was not particularly active. The most recent capture of his account when it existed was taken on November 2, 2021, and features tweets and retweets from 2019, which predate the spread of the novel coronavirus and the release of Moderna's COVID-19 vaccine.
Lead Stories debunked another claim stating that Bancel was arrested by the FBI in November 2021. That fact check can be found here.