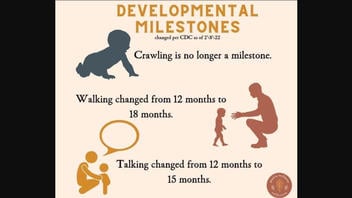 Are the Centers for Disease Control and Prevention (CDC) and the American Academy of Pediatrics (AAP) "quietly" changing the developmental milestones for children? No, that's not true: According to a senior CDC spokesperson, the organizations publicly changed the milestones, announcing the reason for the changes on the CDC website, and social media. AAP journal Pediatrics published a peer-reviewed article detailing the revision process.
The claim appeared in a Facebook post (archived here) on February 20, 2022, under the title "The CDC and AAP are quietly changing the developmental milestones for children." It opens:
You should ask yourself why...
This is what the post looked like on Facebook at the time of writing: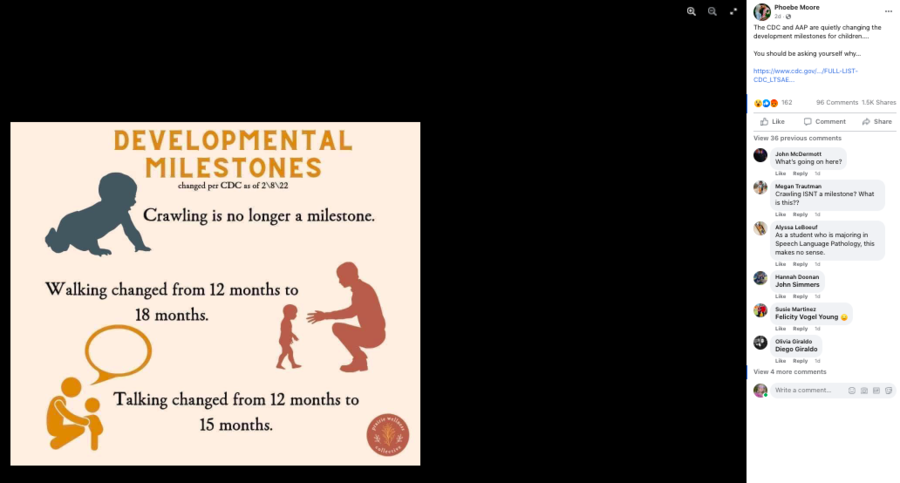 (Source: Facebook screenshot taken on Tue Feb 22 19:21:09 2022 UTC)
The CDC's "Learn the Signs. Act Early" program, funded by AAP, convened experts to make the changes. They used milestones that about 75 percent of children ranging from 2 months to 5 years old would meet at health visits and when observed in natural settings. One of the goals was to try to preclude doctors and parents from taking a "wait and see" approach.
In an email dated February 23, 2022, Belsie Gonzalez, a senior public affairs specialist at the CDC, wrote to Lead Stories:
The review of evidence and revisions were completed in 2019 and parent testing for understanding and relatability in the summer of 2020. The changes were not related to the pandemic. In relation to the announcement of the updates, they were released in conjunction with a peer-reviewed article detailing the revision process in the journal Pediatrics, information was sent out to partners, and social media posts announcing the news were posted on CDC's Twitter handles. Pediatrics also promoted the release on their website and social media handles.
The Pediatrics article was published on February 8, 2022.
Gonzalez also said that:
When possible, progression of skills is shown across checklists, for example, at 12 months: Walks, holding on to furniture; 15 months: Takes a few steps on his own; 18 months: Walks without help. Communication milestones appear on every checklist; for example, at 4 months: Looks at you, moves, or makes sounds to get or keep your attention; at 9 months: Makes different sounds like 'mamamma' and 'babababa'; at 12 months: Calls a parent 'mama' or 'dada' or another special name.