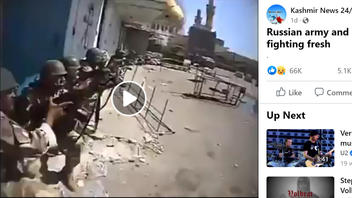 Does a video posted to Facebook show Russian and Ukrainian forces fighting? No, that's not true: The video is from the Iraq War in 2004 and shows U.S. special operations forces and the 36th Iraqi Commando Battalion during a raid on the Golden Mosque (al-Askari Mosque) in Samarra, Iraq, 18 years before Russia's military invasion of Ukraine began on February 24, 2022.
The claim appeared in a video (archived here) published to Facebook on February 24, 2022. It opened:
Russian army and ukrine army fighting fresh
This is what the post looked like on Facebook on February 25, 2022: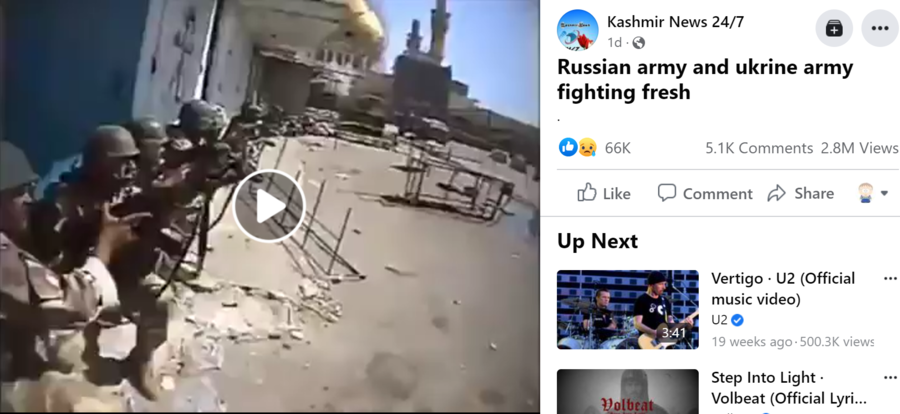 (Source: Facebook screenshot taken on Fri Feb 25 15:08:23 2022 UTC)
While the heading for the Facebook video claims it shows the Russian and Ukrainian armies fighting, it is instead a shorter version of a video that appears on the YouTube page and website for a veteran community that calls itself Funker530. During the four-minute video, no Russian or Ukrainian can be heard, just English and Arabic.
Funker530 describes itself this way on its Facebook page:
www.FUNKER530.com is a community interested in military videos & news, with over 4,000,000 followers on social media. Run by veterans, for veterans.
And like this on their website:
Funker530 was started as a hobby project on YouTube by Funker, to show his family and friends some videos from his deployment as a light machine gunner to Kandahar, Afghanistan with the Canadian Forces on YouTube in 2008.
The complete Funker530 YouTube video appears below. It includes more than two additional minutes of footage than the one falsely identified as Russian and Ukrainian troops fighting. Trimmed from the shortened video is the title page that says:
Raid to sieze the Golden Mosque

Samarra, Iraq
More text appears at the end of the video. It says:
Task Force Viper & the 36th Commando Bn
Killed 4 enemy
Captured 25 enemy
and secured the Shrine intact.