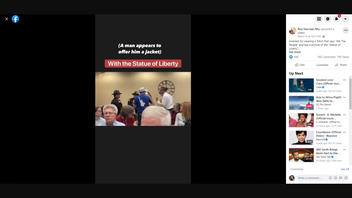 Was a man arrested at a state legislature meeting for wearing a T-shirt emblazoned with "We The People" and an image of the Statue of Liberty? No, that's not true: The man was arrested at a Utah state Senate committee meeting held on March 1, 2022, for failing to follow requests from state troopers regarding the Legislature's rules on what is called "out of order expression." He was initially asked to remove a sticker that supported HB0060, a bill that would largely prohibit public and governmental entities and employers from discriminating against an individual based on their vaccination status.
The claim appeared in a Facebook post (archived here) published on March 16, 2022. The post featured a video of the moments leading up to the man's arrest. The caption of the post read:
Arrested for wearing a Tshirt that says "We The People" and has a picture of the "Statue of Liberty". That was the majority of the country a few years back... liberal socialist NAZI's strike again! 😡
This is what the post looked like on Facebook on March 25, 2022:
(Source: Facebook screenshot taken on Fri Mar 25 22:06 2022 UTC)
KUTV, a news outlet based in Salt Lake City, Utah, reported that Utah state Senate Revenue and Taxation Committee chair Sen. Daniel McCay warned the meeting's attendees against making any outbursts or using any signage to show their support of bill HB0060. Utah Highway Patrol troopers were asked to remove a man from the meeting following his initial refusal to take off a sticker that read "Vote yes on HB60" and his insistence on not leaving the meeting. Legislative bodies sometimes enforce rules of decorum to limit disruptive protests or interruptions.
Lead Stories reached out to the Utah Highway Patrol for more information regarding the cause of the man's arrest. In an email response sent to Lead Stories on March 25, 2022, Cameron Roden, public information officer for the Utah Highway Patrol, told us:
The sticker that the individual refused to remove was not allowed in the meeting. He was asked several times to remove the sticker and to leave the meeting but he refused. The only reason he was taken into custody was because he refused to leave and resisted officers as they attempted to escort him out. This individual was given a citation at the scene and released. He was never booked into jail.
Tweets from Daniel Woodruff, a reporter for KUTV, provide additional context about and footage of the man's arrest and are embedded below:
Things just got heated FAST as the UHP took away the guy in cuffs after he didn't comply with what they were asking him to do. People here are angry. #utpol #utleg pic.twitter.com/BPfmWYhgLz

-- Daniel Woodruff (@danielmwoodruff) March 1, 2022
(Source: Twitter screenshot taken on Fri Mar 25 22:06 2022 UTC)