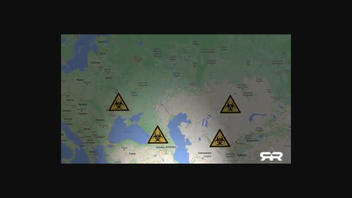 Is there verifiable evidence of U.S.-run bioweapons laboratories in Ukraine? No, that's not true: The Defense Threat Reduction Agency (DTRA) at the U.S. Department of Defense says there are no U.S.-run bioweapons laboratories in the European nation. U.S. Under Secretary of State for Political Affairs Victoria Nuland testified on March 8, 2022, that "Ukraine has biological research facilities, which ... Russian forces may be seeking to gain control of." She was talking about biological research labs, whose purpose is very different from bioweapons laboratories, and she specified that the research facilities are Ukraine's.
The claim appeared in an Instagram post and video (archived here) on March 8, 2022. It opens:
Pentagon Funded Bio-Weapons Labs in the Ukraine
This is what the post looked like on Instagram on March 10, 2022: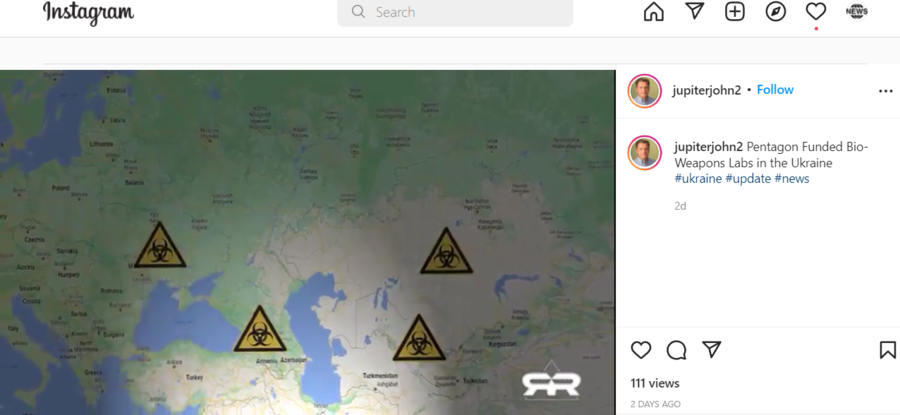 (Source: Instagram screenshot taken on Thu Mar 10 16:16:33 2022 UTC)
The video in the Instagram post is narrated by Greg Reece, a reporter for the conspiracy theory website InfoWars. It opens with ominous-sounding music and says:
For years now, Russia has made verifiable claims that the U.S. is running secret biological weapons labs around their borders. And while Western media now claims this to be misinformation, back in 2013 they reported on it.
The video misrepresents the mission of the U.S. Cooperative Threat Reduction Program (CTRP) and the DTRA. Lead Stories previously debunked a similar claim on March 2, 2022: Fact Check: There Are NO U.S.-Run Bioweapons Laboratories In Ukraine.
Robert Pope, director of the CTRP, said in an email to Lead Stories on March 1, 2022, that there are no U.S. bioweapons laboratories in Ukraine:
The Ukrainians own and operate their own laboratory infrastructure. The Department of Defense, through the Cooperative Threat Reduction Program, helps foreign partners like Ukraine with upgrading or building new labs that have the most modern equipment and training to be in compliance with International Health Regulations, and providing our foreign partners, like Ukraine, with safe and secure facilities to detect and identify disease outbreaks - before they become pandemics. Furthermore, Ukrainian Labs receive support and sponsorship from a range of international sources including the WHO, EU, and US Department of Defense.
Pope added:
... the labs in question are Ukraine's public health, animal health, and food safety labs. And the United States does not enable our foreign partners to develop biological weapons. Second, through a very robust daily disinformation campaign, yes, Russia is targeting the DoD Cooperative Threat Reduction Program and Ukrainian-owned and operated labs with dubious and untrue claims. The laboratory upgrades and training provided by the United States to Ukraine, and other partner countries, is a frequent target of Russian disinformation campaigns, making unscrupulous and baseless claims the United States is developing biological weapons, and even worse, killing people in partner countries. These claims are outright lies, designed to drive a wedge between the successful biological threat reduction efforts of the United States and its partner countries.
Pope's email also included a link to this video to show the U.S. government's public response to such claims.
During March 8, 2022, testimony on Capitol Hill, Nuland was asked by Florida Sen. Marco Rubio whether Ukraine had biological or chemical weapons (begins at 41:08 in the video):
Ukraine has biological research facilities, which, in fact, we are now quite concerned that Russian troops, Russian forces may be seeking to gain control of. So, we are working with the Ukrainians on how they can prevent any of those research materials from falling into the hands of Russian forces should they approach.
Rubio continued with Nuland:
I'm sure you're aware that the Russian propaganda groups are already putting out there all kinds of information about how they've uncovered a plot by the Ukrainians to release biological weapons in the country and with NATO's coordination. If there's a biological or chemical weapon incident or attack inside of Ukraine, is there any doubt in your mind that 100% it would be the Russians that would be behind it?
Nuland responded:
There is no doubt in my mind, Senator, and it is classic Russian technique to blame on the other guy what they are planning to do themselves.
There is a treaty between the U.S. and Ukraine signed in Kyiv on August 29, 2005. In the agreement, the U.S. Department of Defense and Ukraine's Ministry agreed to cooperate
in the Area of Prevention of Proliferation of Technology, Pathogens and Expertise that could be Used in the Development of Biological Weapons.
But, as noted above, the labs are Ukrainian-owned and funded.
The U.S. Embassy in Ukraine previously posted a statement to its website on April 22, 2020, on such misinformation:
to set the record straight regarding disinformation spreading in some circles in Ukraine that mirrors Russian disinformation regarding the strong U.S.-Ukrainian partnership to reduce biological threats.

Here in Ukraine, the U.S. Department of Defense's Biological Threat Reduction Program works with the Ukrainian Government to consolidate and secure pathogens and toxins of security concern in Ukrainian government facilities, while allowing for peaceful research and vaccine development. We also work with our Ukrainian partners to ensure Ukraine can detect and report outbreaks caused by dangerous pathogens before they pose security or stability threats.
Other Lead Stories fact checks related to the 2022 Russia-Ukraine conflict can be found here.