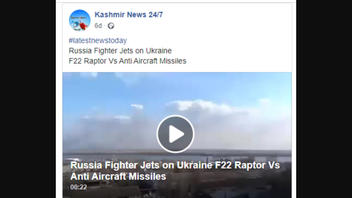 Did F-22 Raptors fly over Ukraine? No, that's not true: Only the U.S. owns and operates such aircraft, and the U.S. has no manned or unmanned aircraft operating over Ukrainian air space, according to the U.S. Department of Defense.
The claim appeared in a Facebook post (archived here) on February 24, 2022, under the title "Kashmir News 24/7." With 22 seconds of very blurred video, the post said:
Russia Fighter Jets on Ukraine F22 Raptor Vs Anti Aircraft Missiles

#latestnewstoday ...
This is what the post looked like on Facebook at the time of writing: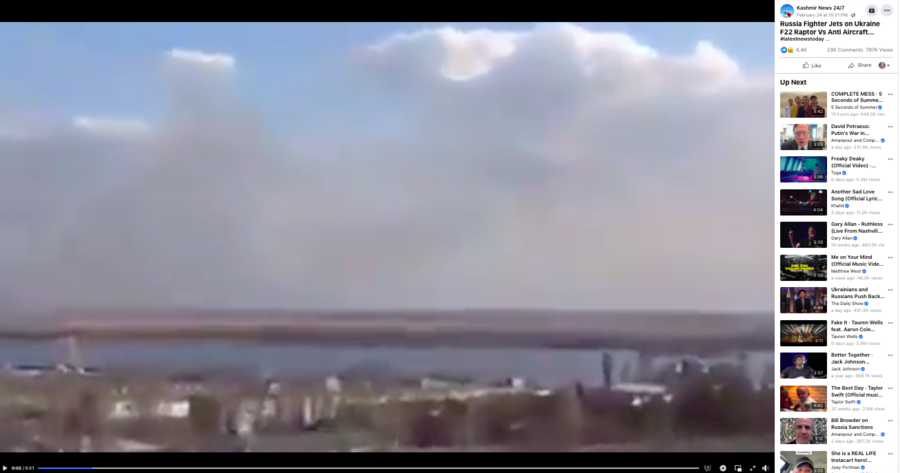 (Source: Facebook screenshot taken on Thu Mar 3 17:21:11 2022 UTC)
Rose M. Riley, deputy chief of media operations with the U.S. Air Force, emailed Lead Stories on March 4, 2022:
While there is no current ban on the export of F-22s, only the U.S. owns and operates the aircraft.
The department also pointed Lead Stories to a press conference on March 2, 2022, with Pentagon Press Secretary John F. Kirby responding to a question about how much flight assistance the U.S. is providing to NATO and Ukraine and if the U.S. Air Force is still flying over the Black Sea. They flagged the following exchange between a reporter and Kirby to show the U.S. has no aircraft at all flying in Ukrainian airspace.
Q: Hey, John, two questions. Number one, how much coordination is going on between the United States Air Force, NATO and the Ukrainian Air Force? And second question, is the U.S. Air Force continuing to fly ISR and other aircraft in international airspace, over the Black Sea? And if not, why not? Thank you.

MR. KIRBY: Abraham, I'm not going to talk about flight profiles. We don't have any aircraft manned or unmanned flying in Ukrainian airspace. And the question about specific coordination or communication with the Ukrainian Armed Forces is better put to NATO.

What I would just tell you, our support for the Ukrainian armed forces right now is very largely in the form of security assistance, which continues to flow and gets into their hands.
A few days later, on March 8, 2022, the Pentagon said a Polish proposal for sending fighter jets to Poland would not work. Kirby said in a press release:
The prospect of fighter jets 'at the disposal of the Government of the United States of America' departing from a U.S./NATO base in Germany to fly into airspace that is contested with Russia over Ukraine raises serious concerns for the entire NATO alliance. It is simply not clear to us that there is a substantive rationale for it. We will continue to consult with Poland and our other NATO allies about this issue and the difficult logistical challenges it presents, but we do not believe Poland's proposal is a tenable one.
Other Lead Stories fact checks related to the 2022 Russia-Ukraine conflict can be found here.