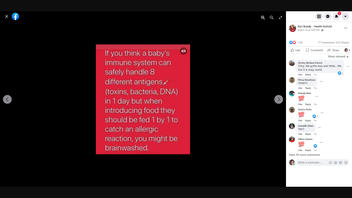 Is the comparison between testing new food items one by one on babies to determine an allergic reaction versus babies being able to safely handle "8 different antigens," presumably in a vaccine, valid? No, that's not true: Dr. James Cherry, a professor of pediatrics at UCLA, told Lead Stories vaccines do not overwhelm babies and that there is no comparison between vaccine schedules and food introduction tests for allergic reactions.
The claim appeared in a Facebook post (archived here) on March 23, 2022. It opens:
If you think a baby's immune system can safely handle 8 different antigens (toxins, bacteria, DNA) in 1 day but when introducing food they should be fed 1 by 1 to catch an allergic reaction, you might be brainwashed.
This is what the post looked like on Facebook at the time of writing: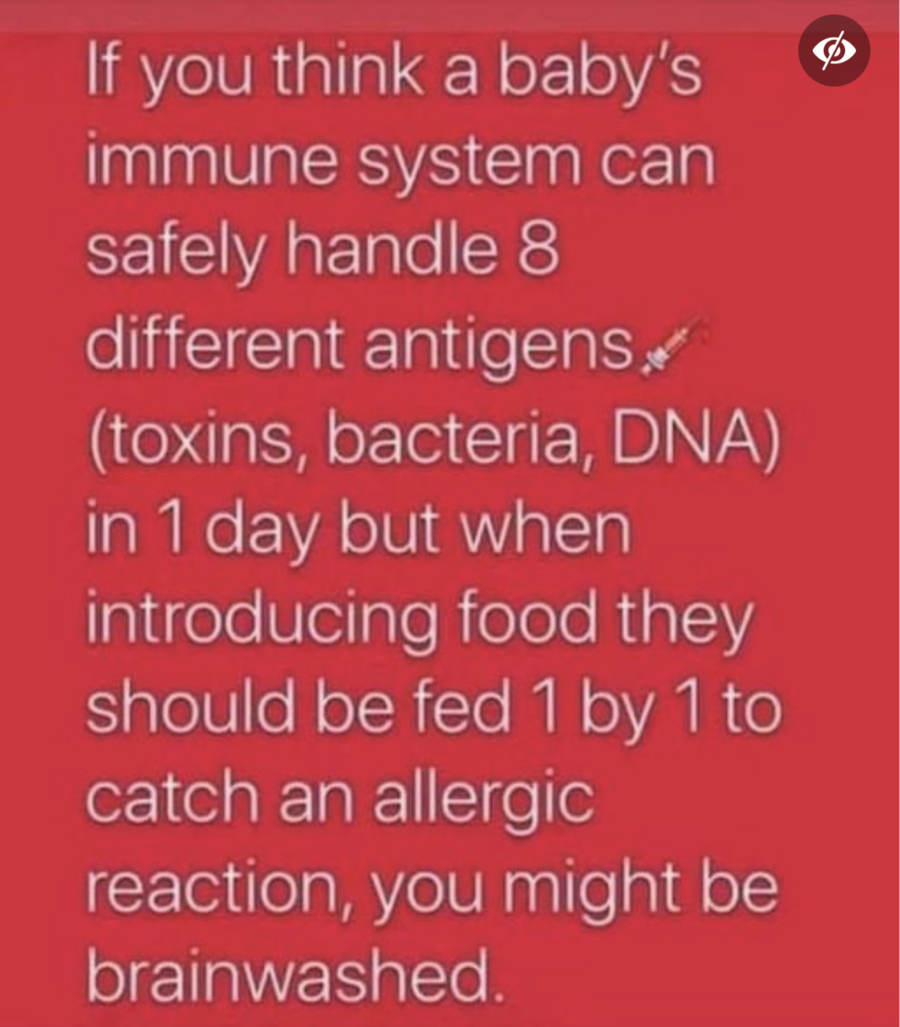 (Source: Facebook screenshot taken on Tue Apr 5 21:45:44 2022 UTC)
The claim "If you think a baby's immune system can safely handle 8 different antigens (toxins, bacteria, DNA) in 1 day," appears to be a reference to vaccines children receive.
Lead Stories spoke via phone on April 5, 2022, with Cherry, a distinguished professor of pediatrics at the David Geffen School of Medicine at UCLA. He is also the attending physician of pediatric infectious diseases at Mattel Children's Hospital UCLA.
He said he had "no idea" where the "8 different antigens" claim came from, as there are more than that in the multiple vaccines that babies receive. Vaccines for babies are not overwhelming the immune system, he said:
With our present vaccines that we give, at most there are less than 50 proteins or 50 antigens. Actually quite a bit less than that. And if a child has a bacterial infection, say a strep throat, they're exposed to a thousand antigens. And every day they're being exposed to things in the mother's mouth, for example, and father's mouth and are exposed to large numbers [of antigens]. And so the amount in vaccines is miniscule.

And with those they're exposed to, depending on the bacteria, a thousand proteins, a thousand antigens. And so the amount in the vaccines is just infinitesimal compared to what people are exposed to every day.
Cherry described why foods are introduced one at a time to babies:
Foods have thousands of individual proteins and so I assume that's the reason that if you do two things too fast, you're more likely to get allergies, but you don't get allergies from vaccines. There are rare allergic reactions, and to have a reaction to a vaccine is one in a million.
He also said the part of the claim stating that babies are given "toxins, bacteria, DNA," is incorrect:
It says toxins, but vaccines for babies don't contain toxins, they contain toxoids, which are toxins that have been modified so that they're no longer toxins. That is what diphtheria and tetanus [vaccines] are -- toxoids. And almost none of our vaccines contain bacteria.
He noted that the BCG vaccine for tuberculosis does contain bacteria but it is not routinely used in the United States.
According to the Centers for Disease Control and Prevention (CDC), babies are able to tolerate vaccines. Multiple scientific studies have shown that they are able to handle several vaccines, which include antigens, in one day. On a page titled, "How Vaccines Strengthen Your Baby's Immune System," the CDC says:
Although children continue to get several vaccines up to their second birthday and sometimes, several in one office visit, these vaccines do not overload the immune system.
The page continues:
Your child is exposed to thousands of germs every day in his environment. This happens through the food he eats, air he breathes, and things he puts in his mouth.

Babies are born with immune systems that can fight most germs, but there are some deadly diseases they can't handle. That's why they need vaccines to strengthen their immune system.

Vaccines use very small amounts of antigens to help your child's immune system recognize and learn to fight serious diseases. Antigens are parts of germs that cause the body's immune system to go to work.
The CDC recommends feeding babies new food "1 by 1 to catch an allergic reaction":
Let your child try one single-ingredient food at a time at first. This helps you see if your child has any problems with that food, such as food allergies. Wait 3 to 5 days between each new food.