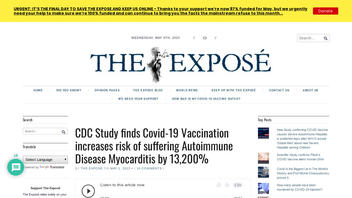 Did a Centers for Disease Control and Prevention (CDC) study find COVID-19 vaccination increases the risk of suffering autoimmune disease myocarditis by 13,200%? No, that's not true: The study never mentions autoimmune myocarditis, which is an extremely rare condition. The most common cause of myocarditis, which is rare on its own, is a viral infection, Johns Hopkins Medicine says.
The claim appeared in an article (archived here) published by The Exposé on May 1, 2022, under the title "CDC Study finds Covid-19 Vaccination increases risk of suffering Autoimmune Disease Myocarditis by 13,200%." It opened:
A study conducted by the US Centers for Disease Control and Food and Drug Administration has shown that the risk of myocarditis following mRNA COVID vaccination is around 133x greater than the background risk in the population.

This means Covid vaccination increases the risk of suffering myocarditis, an autoimmune disease causing inflammation of the heart, by 13,200%.
This is what the post looked like on The Exposé on May 4, 2022:
(Source: The Exposé screenshot taken on Wed May 4 15:50:46 2022 UTC)
Despite what the article says, myocarditis is not an autoimmune disease, but it can be caused by them. Autoimmune myocarditis is an extremely rare version of an already rare cardiovascular disease. The study by CDC researchers and others cited in the article does discuss myocarditis but never mentions the autoimmune variety. This is what Johns Hopkins Medicine says about the disease:
Myocarditis Causes

Myocarditis is rare, but when it occurs, it is most commonly caused by an infection in the body. Infections from viruses (most common, including those that cause the common cold, influenza or COVID-19), bacteria, fungus or parasites can lead to myocardial inflammation.

Autoimmune diseases such as lupus, sarcoidosis and others can also cause myocarditis because the immune system can attack any organ in the body, including the heart, causing inflammation. Drugs or other environmental or toxic exposures can lead to myocarditis as well.
The CDC acknowledges that increased cases of myocarditis and pericarditis have been reported since April 2021 in the United States after mRNA COVID-19 vaccination (Pfizer-BioNTech and Moderna), particularly in adolescents and young adults.
In a May 4, 2022, email to Lead Stories, the CDC provided these statistics on myocarditis:
More than 192 million people ages 12 years and older in the U.S. received at least one dose of mRNA COVID-19 vaccines from December 2020 through August 2021. From this population, VAERS (the Vaccine Adverse Event Reporting System) received 1,991 reports of myocarditis, 1,626 of which met the case definition of myocarditis. After a review of reports submitted to the Vaccine Adverse Event Reporting System (VAERS), scientists found that the risk of myocarditis was rare, but highest following the second vaccine dose among adolescent and young adult males:

in males aged 12-15 years

70.7 cases per million doses

of Pfizer,
16-17 years

105.9 cases per million doses

of Pfizer, and
18-47 years between

52.4 and 56.3 cases per million doses

of Pfizer and Moderna, respectively.

Approximately 96% were hospitalized, 87% of whose symptoms had gone away by the time they were discharged from the hospital. Non-steroidal anti-inflammatory drugs (589/676, 87%) were the most common treatment.
In the same email, the CDC added:
This risk should be considered within the context of the significant benefits of COVID-19 vaccination in preventing COVID-19 infection and potential serious complications from COVID-19. The benefits of COVID-19 vaccination continue to outweigh any potential risks, including myocarditis. Getting vaccinated is the best way to protect against serious illness, hospitalization and death from COVID-19.
The agency website says the risk of heart complications is higher after COVID-19 infection than after mRNA COVID vaccination among males and females of all ages: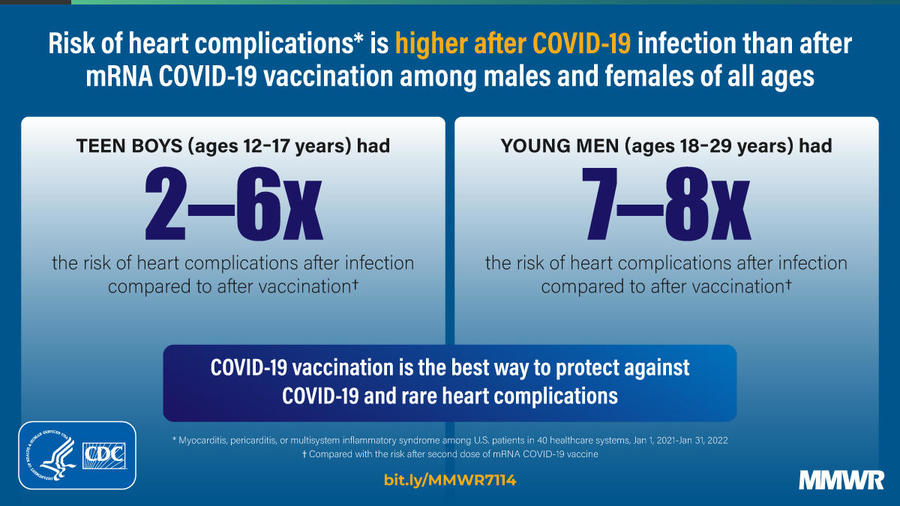 (Source: CDC infographic)
The CDC email also added:
A recent study (MMWR published in September 2021) looked at the relationship between COVID-19 infection and myocarditis and found that patients with COVID-19 had 16 times the risk of myocarditis as patients who did not have COVID-19, with level of risk varying by sex and age. CDC recommends that everyone ages 5 years and older get vaccinated as soon as possible which includes receiving a booster dose when eligible.
In a May 4, 2022, email to Lead Stories, Pfizer said it does not generally comment on third-party manuscripts it's not involved in, but provided this general statement:
We take adverse events (AEs) potentially associated with the Pfizer-BioNTech COVID-19 vaccine very seriously. Spontaneously reported AEs are collected for all products to monitor for potential safety issues that may not have been seen in clinical studies. It is important to understand, however, that the AEs reported may not have any causal relationship to the vaccine. Rather, the event may be due to an underlying disease or some other factor such as past medical history or concomitant medication or the AEs may be coincidental.

As with every medical product, Pfizer has robust processes to meet its post authorization responsibilities to closely monitor all AEs and collect relevant information to assess any new potential safety risks that may be associated with the vaccine. In addition to our pharmacovigilance efforts and compliance with various regulatory requirements related to quality and safety, we also cooperate with FDA and regulatory authorities around the world as they independently monitor the safety profile of our vaccine. The U.S. CDC, for example, describes the safety monitoring of the COVID-19 vaccines as "the most intense safety monitoring in US history."

Regulatory authorities around the world have authorized the vaccine and expert medical committees have recommended it. With hundreds of millions of people vaccinated with the Pfizer-BioNTech COVID-19 vaccine, the safety profile for the vaccine for all authorized groups continue to be favorable.