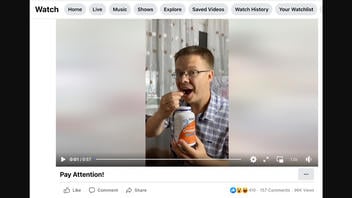 Do omega-3 capsules harm the human body by corroding it via a chemical reaction? No, that's not true: The National Institutes of Health does not describe stomach erosion as a possible side effect after consuming omega-3 pills and an expert called the claim "tenuous."
The claim appeared in a Facebook post on May 22, 2022, with the caption "Pay Attention!" The video opened with a man about to ingest what appears to be an omega-3 pill who instead puts it in what is labeled as an omega-3 bottle.
This is what the post looked like on Facebook at the time of writing: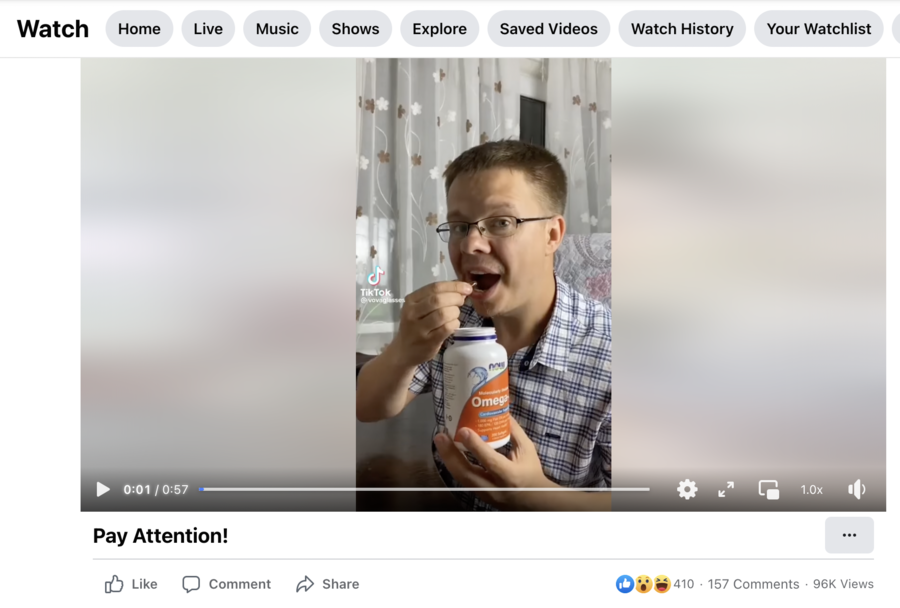 (Source: Facebook screenshot taken on Mon May 23 17:05:22 2022 UTC)
The video, which has no narration, continues with the man cutting open a capsule from an omega-3 bottle and pouring the liquid in the capsule onto plastic foam. He then allows the liquid from the pill to sit on top of the foam as he indicates two minutes have passed, then five minutes and then one hour. The liquid from the capsule seemingly eats away at the plastic foam the longer it is allowed to sit there.
The National Institutes of Health's Office of Dietary Supplements answers online the question, "Can omega-3s be harmful?" by saying the Food and Drug Administration recommends that consumers take no more than five grams per day. Any side effects are usually mild, it says, such as "unpleasant taste in the mouth, bad breath, heartburn, nausea, stomach discomfort, diarrhea, headache, and smelly sweat." It does not list stomach erosion, the claim the Facebook video alludes to.
Lead Stories reached out to NOW, the company that sells the omega-3 capsules purportedly used in the video. Neil Levin, NOW's nutrition education manager, explained in a May 23, 2022, email that corrosion of plastic foam by an omega-3 capsule is normal, and doesn't mean harm to our bodies.
Both edible oils (NOW's omega-3 capsules contain fish oil concentrate) and plastic foam are non-polar, meaning that electrons in the compound are equally shared and hydrophobic, or water-resistant. When two non-polar compounds are put together, a chemical reaction will occur.
Lead Stories also reached out to David Valentine, a professor of geochemistry and microbiology at the University of California, Santa Barbara who co-wrote a book on fatty acids and oils. In a May 24, 2022, email, he wrote:
The video is amusing and not unreasonable, but the analogy of styrofoam to human body is tenuous at best.