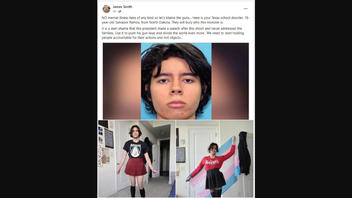 Do some photographs in some social media posts show Texas school shooter Salvador Ramos wearing skirts? No, that's not true: Images depicting a person dressed in a skirt and holding a transgender pride flag do not show Ramos. They show a Reddit user, identified as Apprehensive_Ad_995, who has posted since the shooting, writing, clearly: "it's not me."
An example of the claim appeared in a Facebook post on May 25, 2022. The post includes three images, only the first of which showed Ramos. The post opens:
NO mental illness here of any kind so let's blame the guns... Here is your Texas school shooter, 18-year-old Salvador Ramos, from North Dakota. They will bury who this monster is.
This is what the post looked like on Facebook at the time of writing: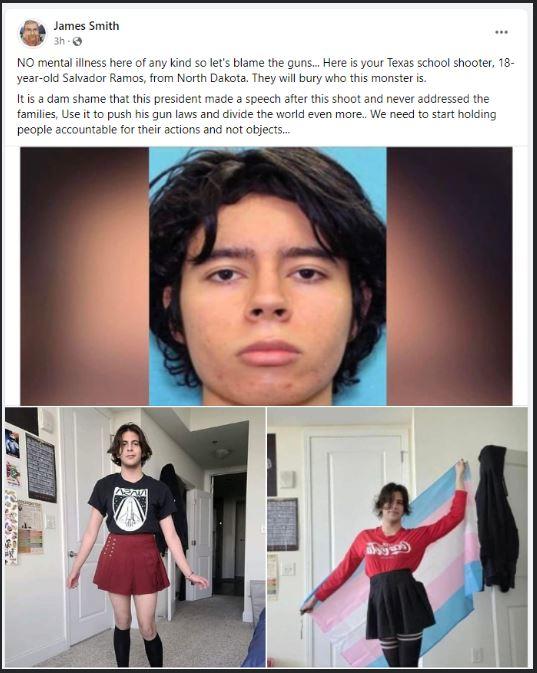 (Source: Facebook screenshot taken on Wed May 25 14:16:40 2022 UTC)
The post did not provide any sourcing to substantiate its claim that all three photographs show Ramos. And, in fact, they do not.
The second two images show Reddit user Apprehensive_Ad_995, who is wearing a skirt in both photographs and holding a transgender pride flag in the third image. A full list of Apprehensive_Ad_995's Reddit posts can be seen here. It includes the photographs being shared on social media.
Apprehensive_Ad_995 continued to post after the shooting in Uvalde, Texas, writing: "it's not me, I don't even live in texas." Ramos died at the scene of the May 24, 2022, attack, which claimed the lives of at least 19 children and two adults.
Responding to comments on Reddit, Apprehensive_Ad_995 wrote:
No they just took my photos and used it to spread misinformation
And:
They are my pics. people are using to make trans people look like murderers and blaming me for the shooting
Some of the social media posts that falsely identified Ramos using Apprehensive_Ad_995's images were explicit about describing Ramos as transgender, even though there is no evidence that's true. An example can be seen below: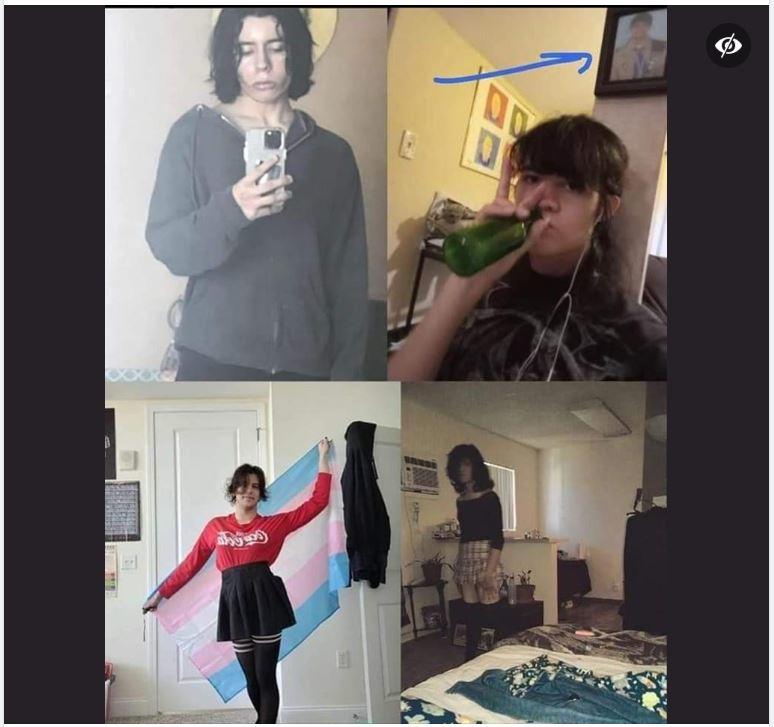 It was not immediately clear at the time of writing who is depicted in the two images on the right. The image in the upper left corner appears to be Ramos, while the image in the lower left corner is Apprehensive_Ad_995.
On Reddit, Apprehensive_Ad_995 wrote that in the wake of the shooting "people are threatening me and harassing me for no reason. They are actively trying to ruin my life instead of helping the families who were affected." Apprehensive_Ad_995 continued:
I'm annoyed about what's happening with me [but] I'm more concerned with the family's [sic] affected by the actual events